The Math Tools "toolkit" for small group instruction and support through reference mats, charts, and visuals for independent station and center work is here! Actually it has been updated and has doubled in the amount of tools it contains!  In this post, I share organization ideas as well as a peek as some of the support tools included!  Let's jump in.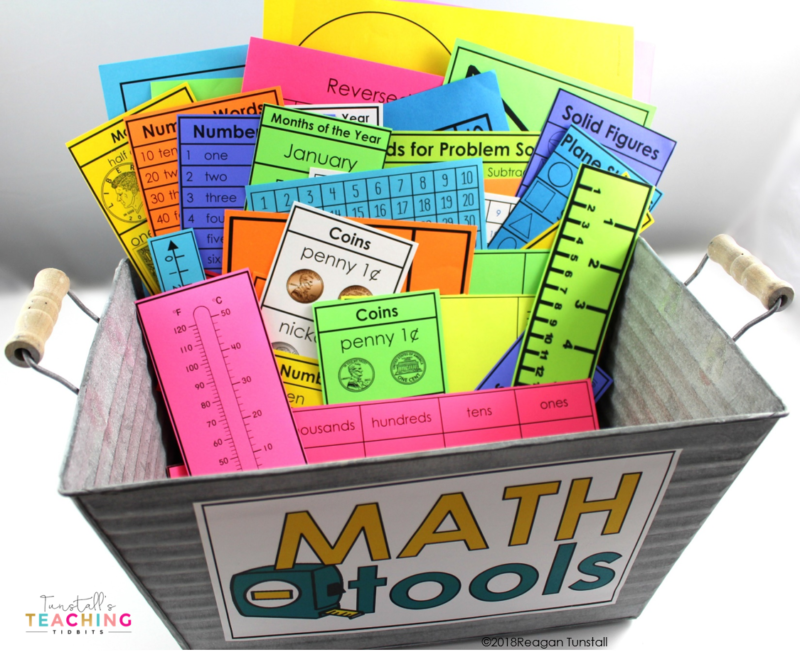 Math Tools
This resource was created out of a need I saw in my guided math classroom.  While teaching at the small group table, I would occasionally have to get up to go reference a chart or a wall display to remind students of a concept or a lesson.
These small interruptions, cause students to become less focused while eating away at those important small group minutes.  At the same time, I had students that would need help on an independent station or center activity while away from the small group table.  Again this would create another interruption.  Students really just needed a small support tool to help keep them on track.  For these two reasons, I began creating all of the support tools that would be necessary for the entire year of instruction.  This toolkit now contains tools for k-5 learners which helps you differentiate on the spot no matter what level of learners you have in your classroom!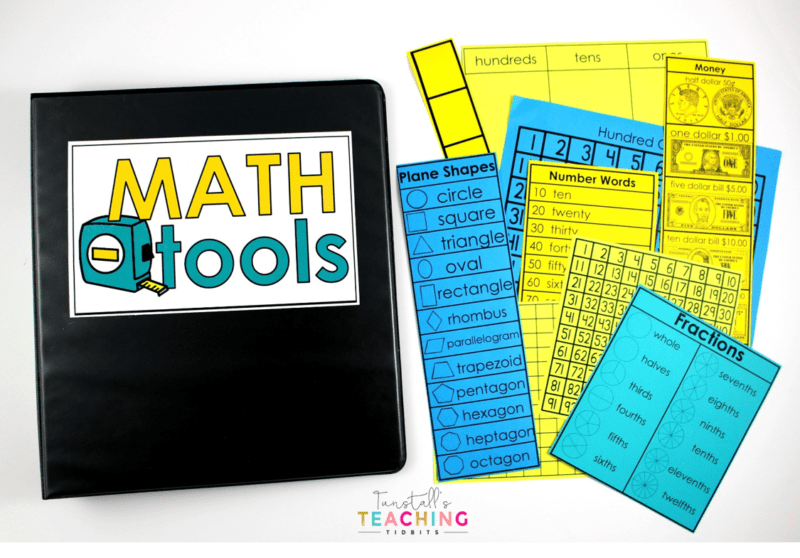 When I first began using math tools in my classroom, I created a set for each student.  These reference tools went in each student's math journal in a cute little pocket.  This system was fine, but as the year went on and tools were misplaced or lost, I ended up making a community set of math tools.  Students were able to find what they needed easily so I opted for that easier option the next year!  I created a few community sets of tools and never looked back!
Math Tools Organization
One way I shared the tools with students was to have them in a folder or a binder.  I updated the labels to meet many different size needs.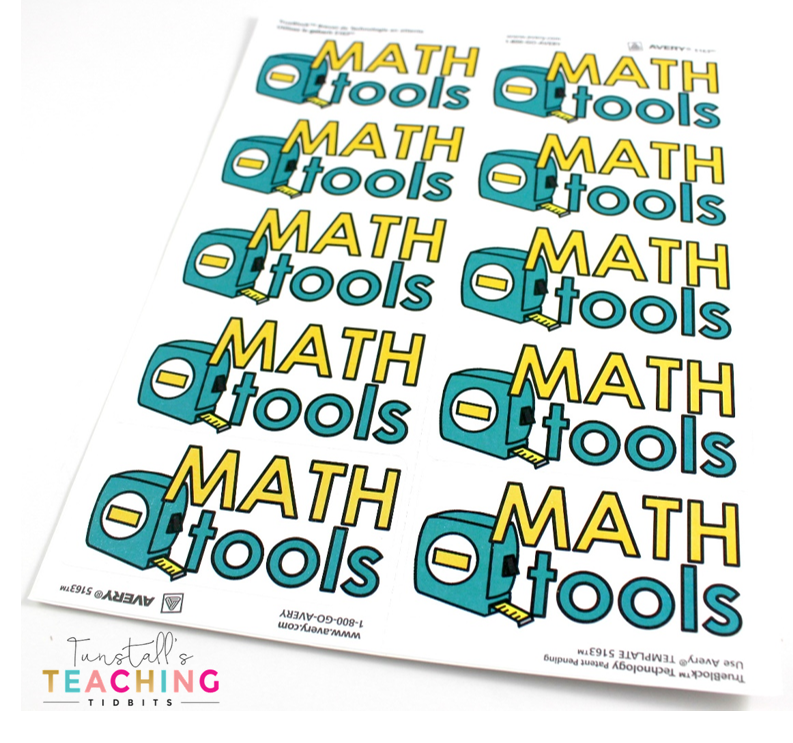 If you like students to have math tools folders or even want to just create a few community binders, you can house them in a fun container!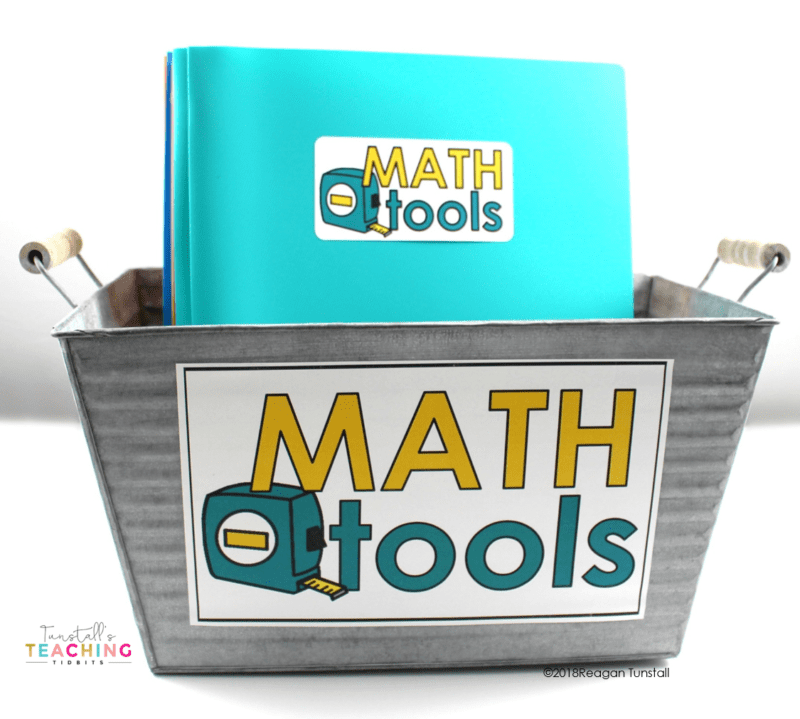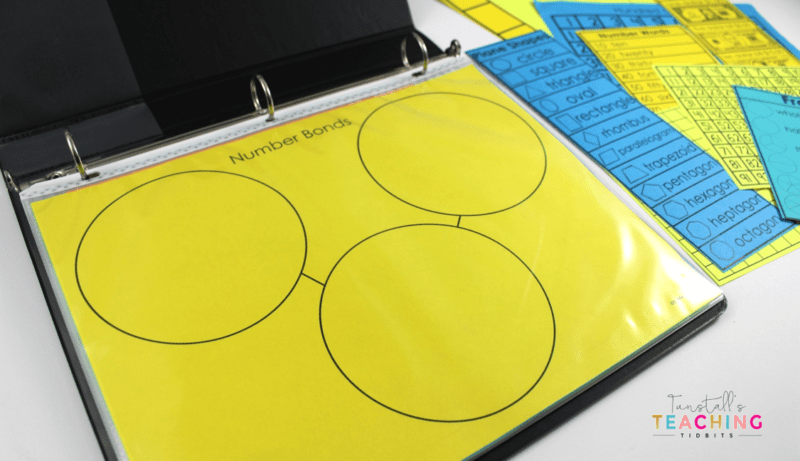 I prefer buckets, bins, and tubs with little hands.  There's an ease to grabbing a tool and tossing it back in the bin that I appreciate with the primary grades.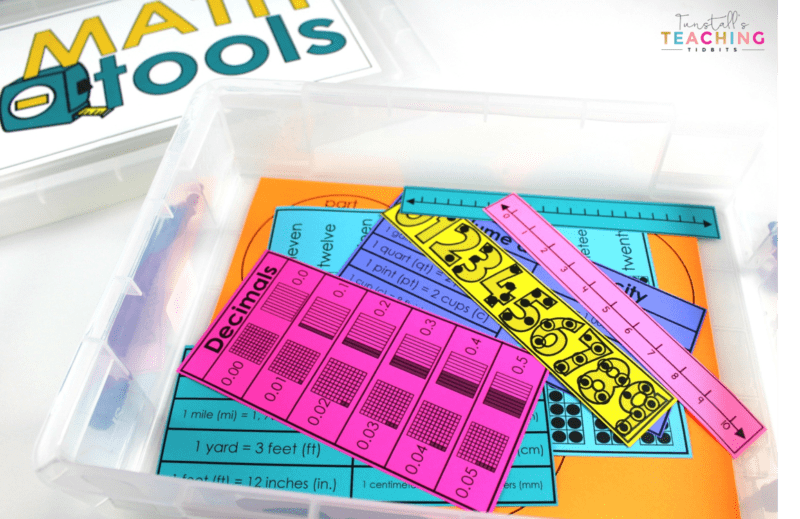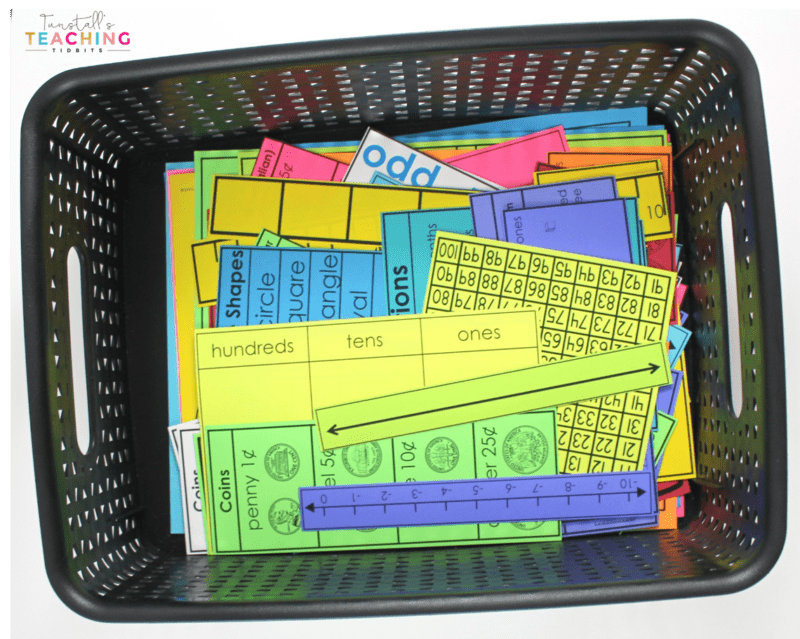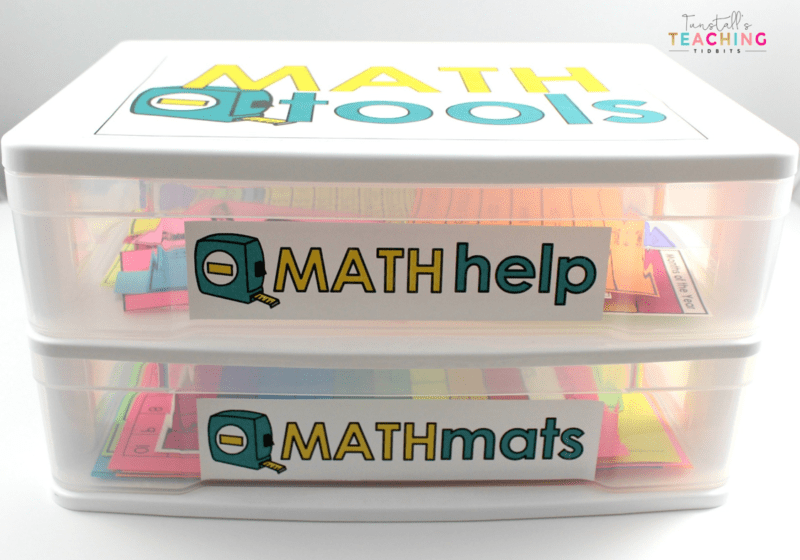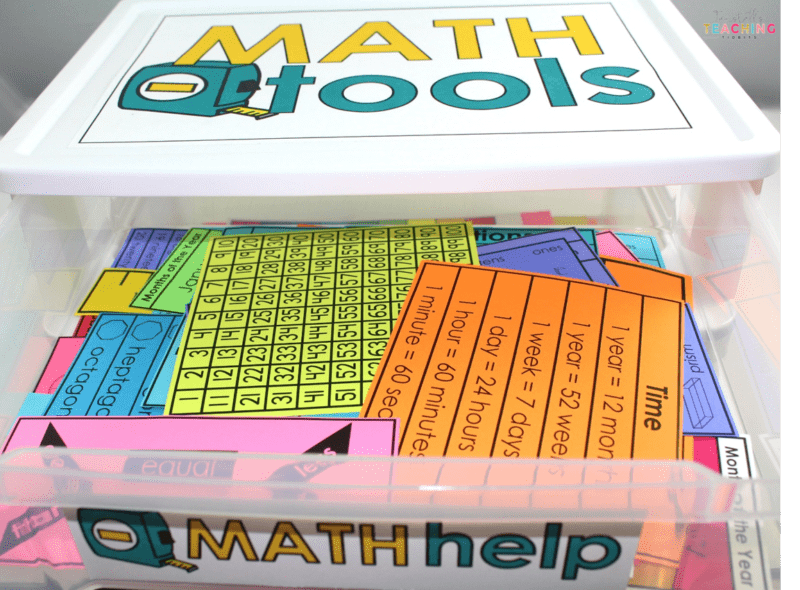 What's Inside
These tools are designed for various learners in a wide range of grade levels.  They meet the needs for conceptual and visual learning for Kindergarten through 5th grade.  Below is a list of the support tools.
1-10 visual representations
number words 1-20 and decades
odd and even
five frames
ten frames
twenty frames
number lines

(0-10)
(0-20)
(negative)
(blank with lines)
(blank)
(fraction)

fraction bars
hundred chart

(big and small)
(odd & even)
(blank)

reversed (inverted)

one hundred twenty chart
hundred chart

one hundred twenty chart

(big and small)
(odd & even)
 (blank)

addition chart
multiplication chart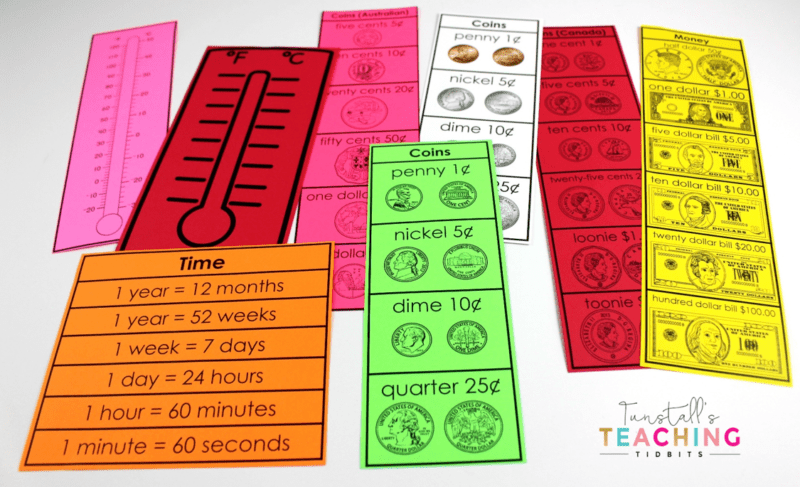 part part whole mats
number bond mats
related facts mat
place value words and places

(millions to thousandths)
(hundred thousands to thousandths)
(thousands to ones) place value words and places
(hundreds to ones) place value words and places
(tens and ones) place value words and places

place value charts

(tens and ones)
(hundreds, tens, and ones)
(thousands, hundreds, tens, & ones)
(hundred thousands, thousands, hundreds, tens, & ones)

base ten block models

(thousands, hundreds, tens, & ones)
(hundreds, tens, & ones)
(tens & ones)

number forms (model, standard form, expanded form, written form)
Coins (heads, tails, word, & value)

U.S. coins
Canadian coins
Australian coins

greater than, less than, equal to visual
keywords for problem solving

(addition, subtraction, multiplication & division)
(addition & subtraction)

numbers with counting points
days of the week
months of the year
plane shapes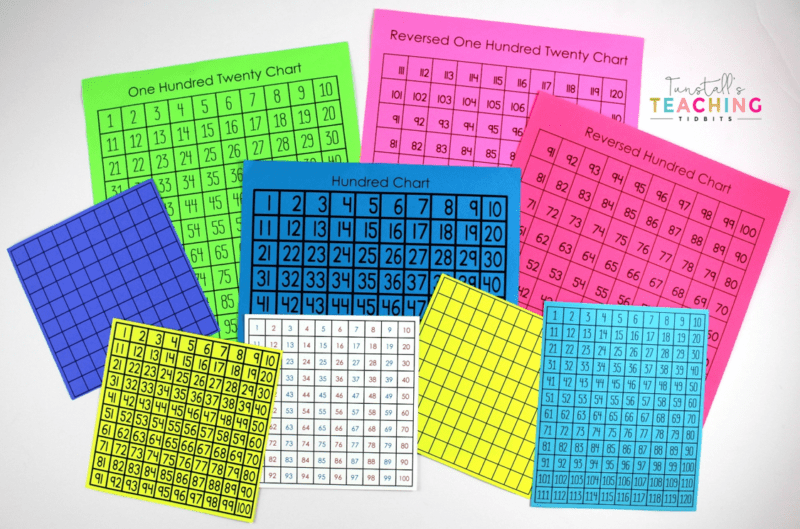 solid figures
fair shares
fractions
decimals
time
volume and capacity (customary & metric)
weight and mass (customary & metric)
length (customary & metric)
inch ruler
inch rule with half inch increments
inches and centimeter ruler
clock (just hours)
clock (with minutes)
thermometer (blank)
thermometer (with numbers)
perimeter and area
volume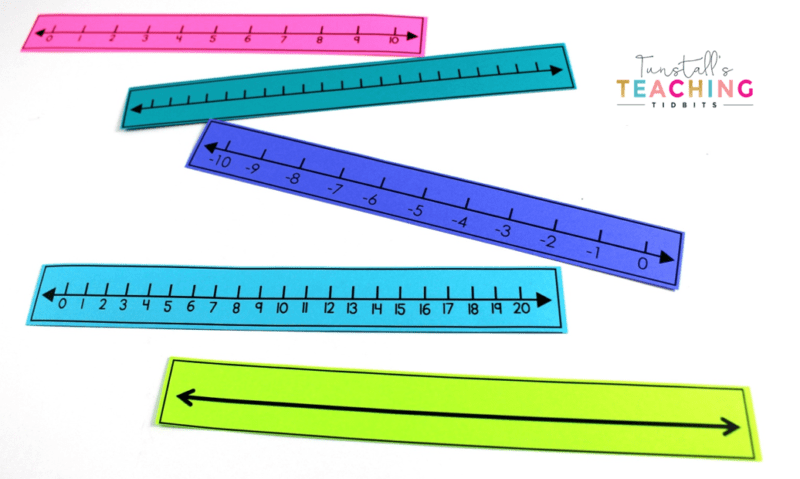 Tell me more about Guided Math
For more on the structure of guided math and how to manage your math block, check out this post!