Last month, I was humbled to be a part of the Astrobrights' Brightest Teacher classroom makeover for one very deserving kindergarten teacher.  The purpose of the Brightest Teacher contest is to celebrate an exceptional teacher and show the difference color can make in the classroom.  You may remember that Astrobrights held their Brightest Teacher contest in the spring. Parents, teachers, students, and administrators from across the country were invited to nominate a "bright" classroom teacher for a classroom makeover.
Dr. Melanie Morgan of Fort Sam Houston Elementary School was selected as the 2017 winner of the Astrobrights' Brightest Teacher contest and I am so excited to finally share Melanie's classroom makeover with you on the blog today!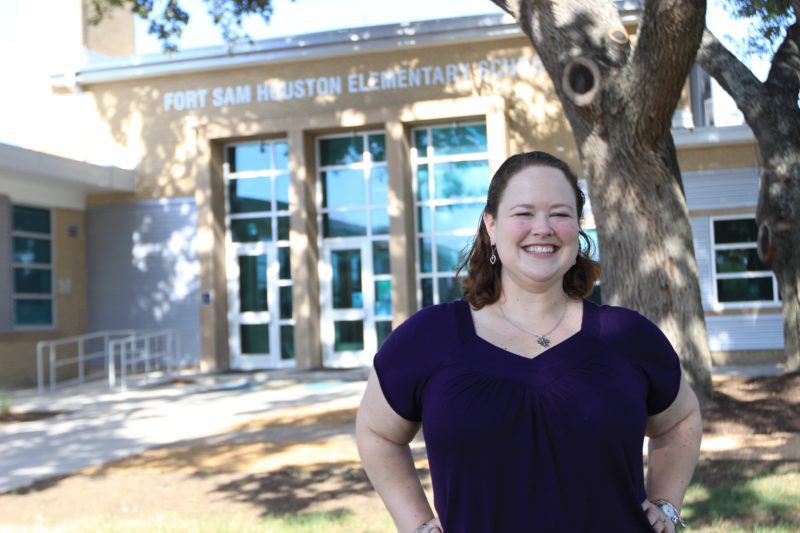 Meet Dr. Melanie Morgan
Known as "The Smiley Teacher", Dr. Melanie Morgan has a cheerful and bright personality!  She is kind, tender, and finds joy in serving her students and their families in the Fort Sam Houston military community both inside and outside of her classroom.  It was a privilege for us to be able to serve her the way she serves others in her life.   There were over 1,000 entries in the Brightest Teacher contest.  Here's an excerpt from Dr. Morgan's memorable nomination from her husband:
Dr. Morgan is an amazing kindergarten teacher. She teaches military children on a military base in San Antonio. These children endure deployments, absent parents, and additional stressors other children often don't face. As the wife of a wounded warrior herself, Dr. Morgan relates and builds connections to not only her students, but also their families. She puts 120% of herself into her classroom, her lessons, and her kids. She facetimes with students who have moved, maintains email and traditional mail correspondence with former students, and cheers on her students who have just started college. Once a child has entered her classroom, they are always her children. Don't let the title Dr. scare you away. She does not get any additional pay for that title in her role as a Kindergarten teacher. She solely worked hard, after a difficult childhood and then my severe injuries in Iraq, to just prove to herself she could do it. She is an inspiration to all. She works tirelessly to engage students in experiences that excite them about learning.
The Big Reveal
The before:  In the frantic close out of the school year, I was able to visit our Brightest Teacher to assess her classroom needs and wants in order to report back to the Bright minds team!  What a wonderful time I had getting to know Melanie and understanding her needs and wishes for her classroom!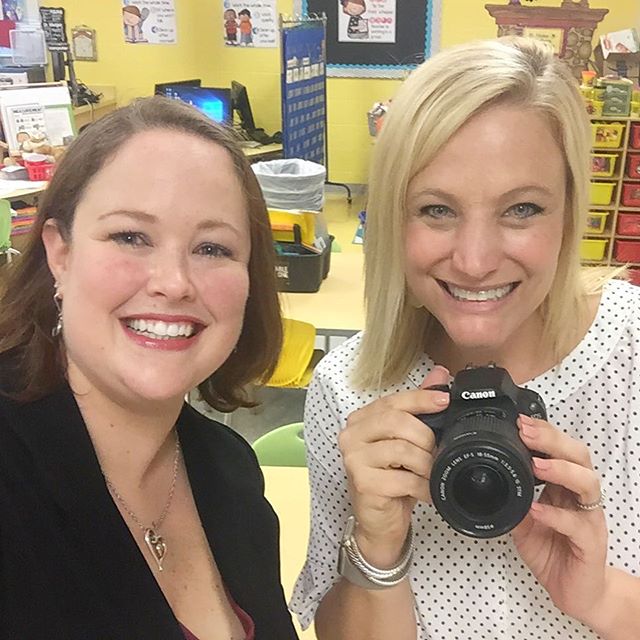 The main meeting place in her classroom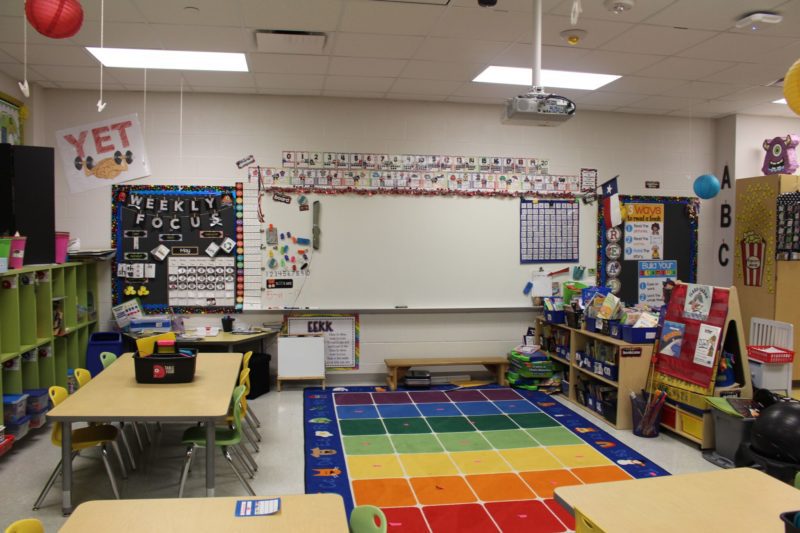 Melanie was certain that she was ready for a big change!  She wanted to move to a flexible seating style classroom.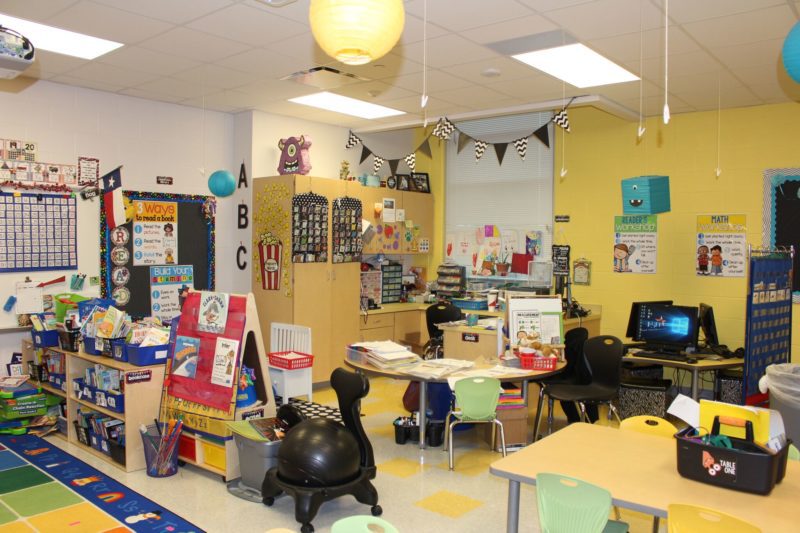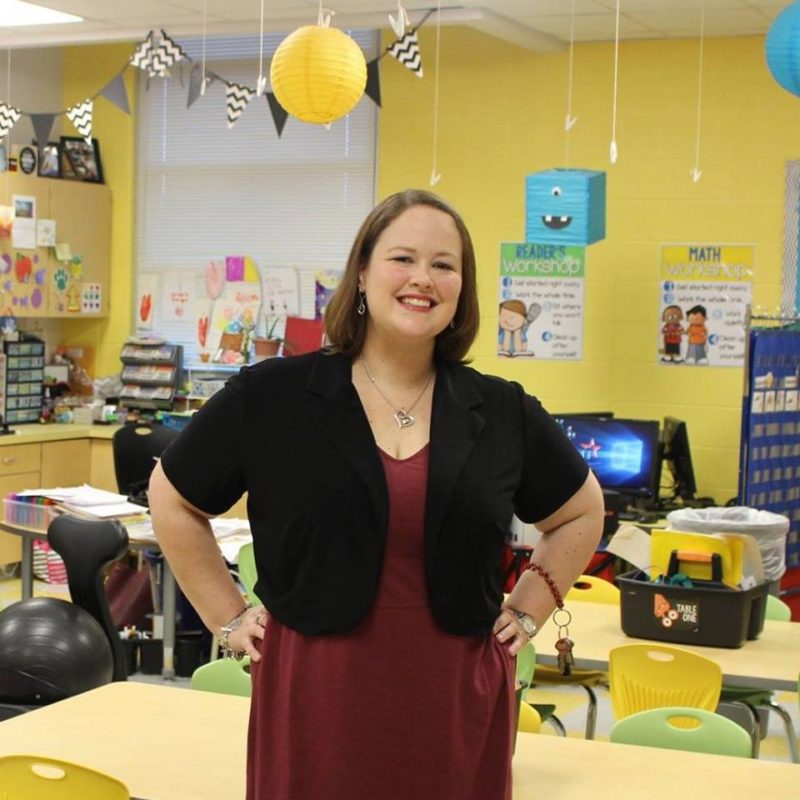 After the scouting trip, it was time to take Melanie's information back to the Bright Minds team!  The classroom make-over is a group effort full of collaboration with the Astrobrights' Team of ambassadors.
A massive collaborative discussion took place all summer long between the team at Astrobrights, Melanie, and the Bright Minds ambassadors.  I'm sure you already know and love Jennifer, Marsha, Maria, April and Jodi.   Each ambassador pulled from their expertise to collaboratively pull off Melanie's vision.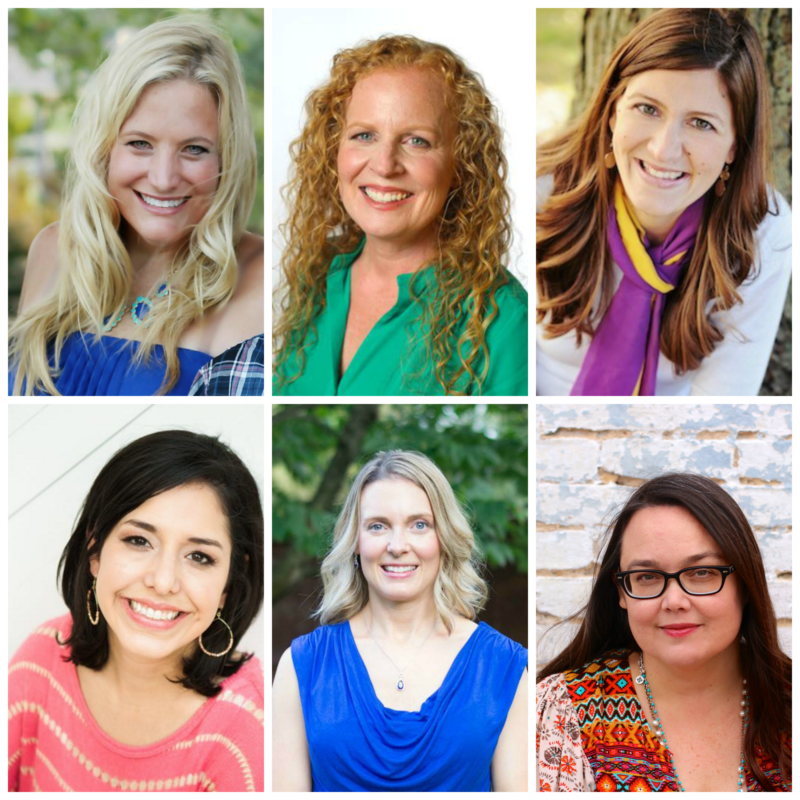 I Know I Know, Get to the Reveal!
Melanie loves bright and happy spaces.  She shared her interest in some of the elements found in the confetti crush classroom by Schoolgirl Style  and we knew it was a perfect way to infuse the gorgeous Astrobrights Paper into her space.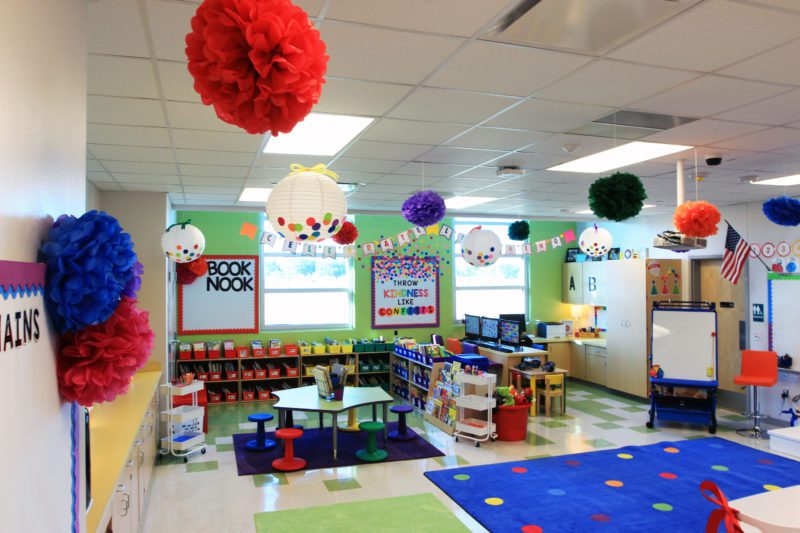 The epi-center of a primary classroom usually involves a library of books.  Let's jump right in!  Melanie's classroom had wonderful bookcases to work with.  The Astrobrights Team provided the rainbow book bins which gave a wonderful pop of color and a system for organization.  The book bins came from Lakeshore and can be found HERE.   The classroom library labels came from Maria Gavin and can be found HERE on TpT.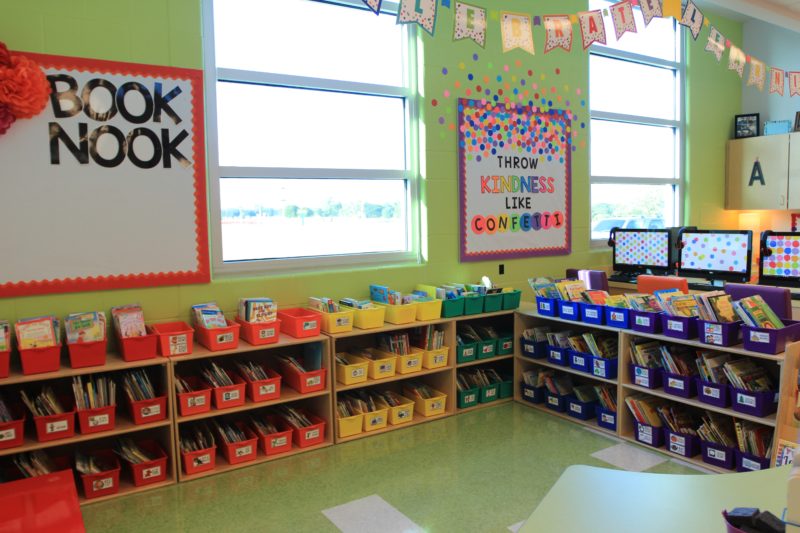 Right at the perimeter of her classroom library, is a unique table which provides ample space for flexible seating.  The size of Melanie's classroom may seem large, but remember she has done away with student tables and has opted for a flexible seating environment.  This opened up the available classroom space.  The classroom isn't as large as you might think from the pictures, but we were able to make the most of the space by carefully choosing the layout and through the use of flexible seating rather than traditional student tables in a kindergarten classroom.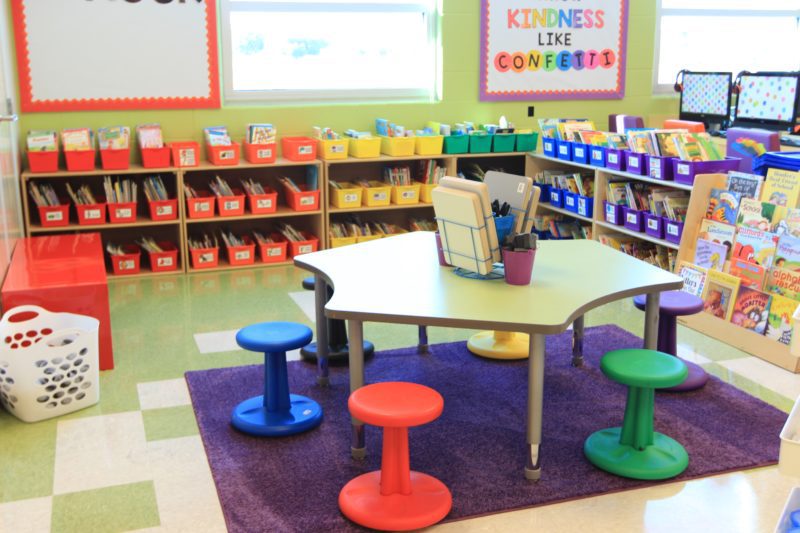 The wobble stools and the dry erase easel rack can both be found on Really Good Stuff.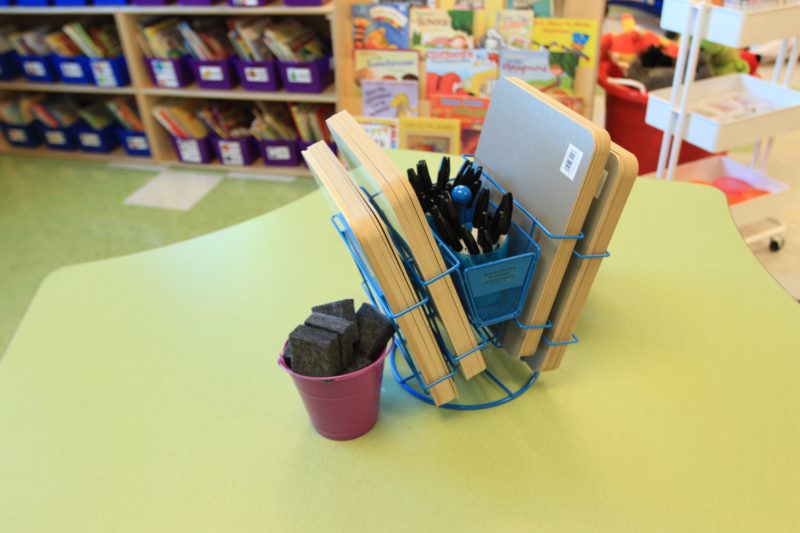 Melanie wanted a new classroom rug for her incoming Kindergartners.  She chose this blue dot rug from kid carpet.  The colors in her rug became the pallete for the room decor.  Throughout the classroom we highlighted the rainbow colors from the large class meeting rug with smaller area rugs.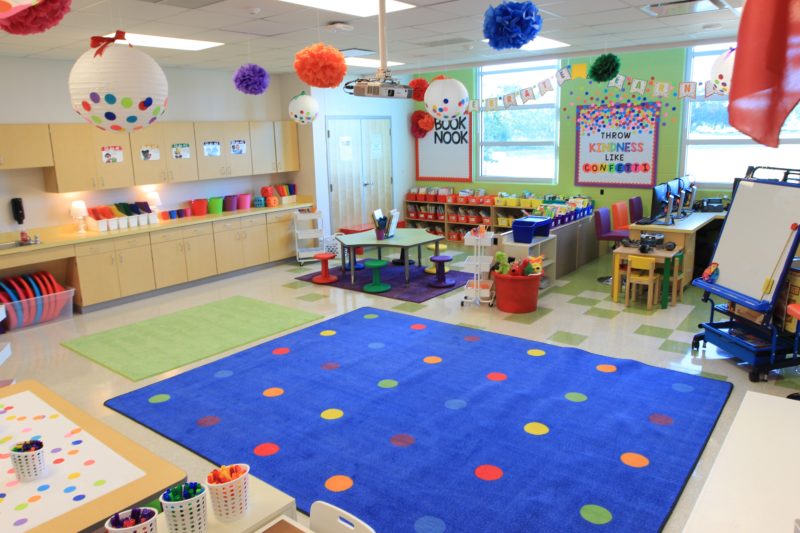 At the front left of the class meeting area, Melanie has a brand new easel from Really Good Stuff.  At the front of the room under her whiteboard, Melanie has a new classroom stage.  She loves to build up her students and make them the star of the day.  The stage was custom built on site by my talented brother, Taylor.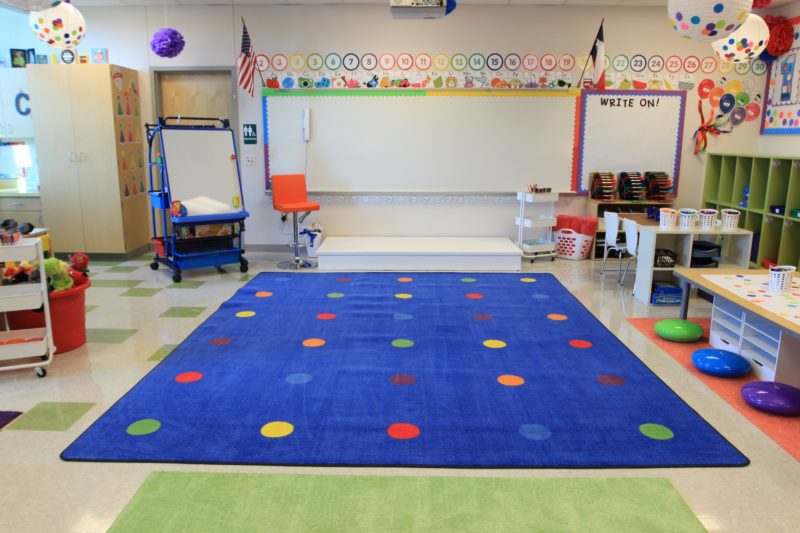 On the right side of the class rug, we find a low table providing more flexible seating options.  If you peek underneath the long low table which is set up for a working with words station, you will see 4 white organizers which are ready to hold word work activities when the time comes!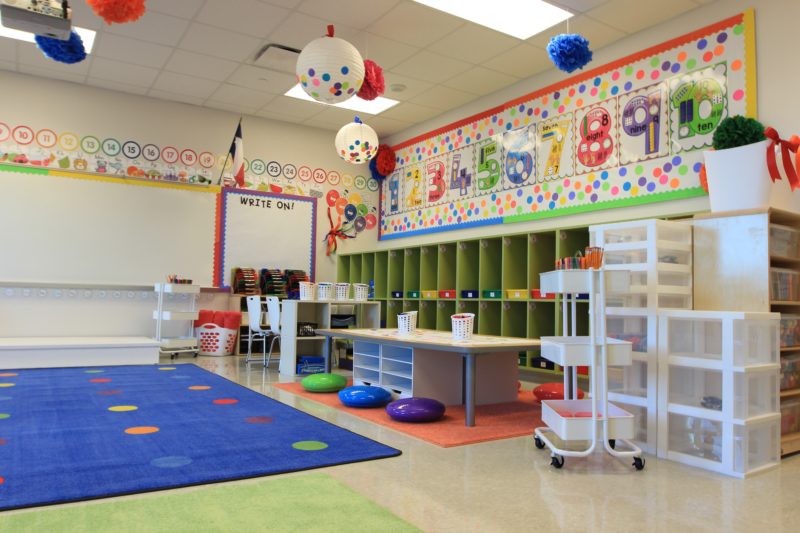 The bright and fun wobble cushions provide 6 spots for busy little learners.  The fun nuts and bolts is a word construction game found on amazon.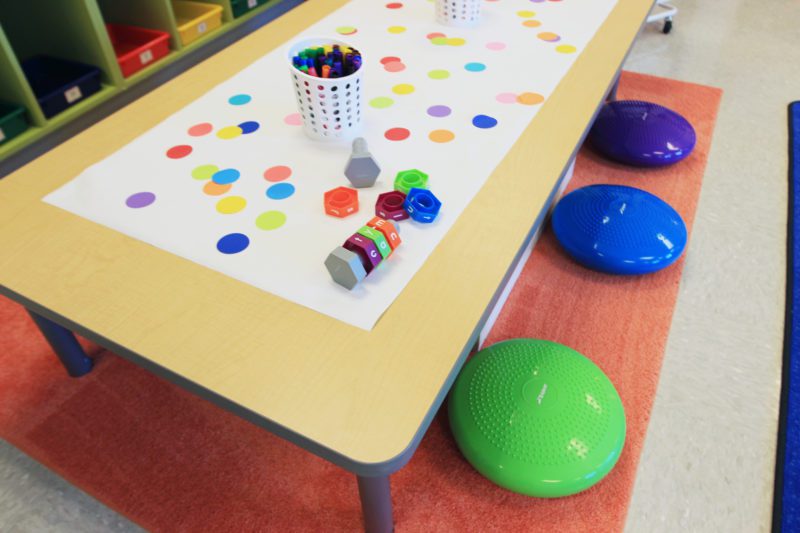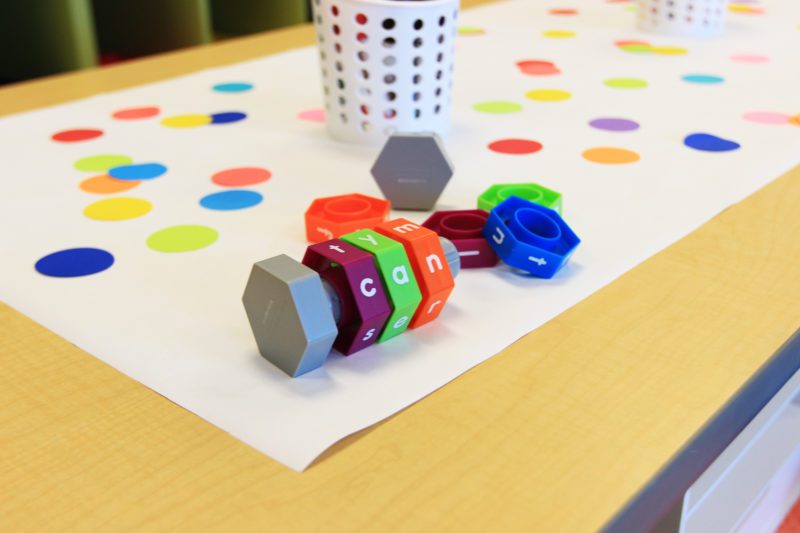 Behind the word work table we move into the writing center area.  The table ,chairs , and bookshelf all came from Target.   On the far left of this picture you can see 5 rolled up bath mats which also came from Target.  These will provide additional flexible seating options for students.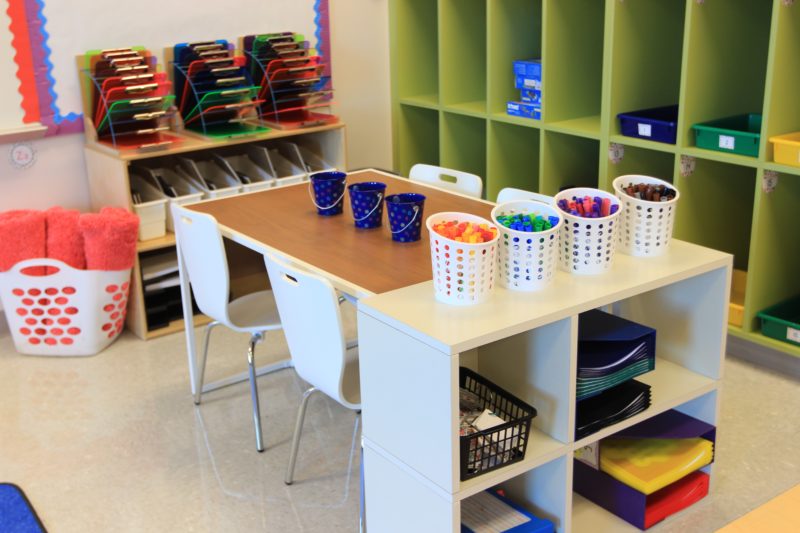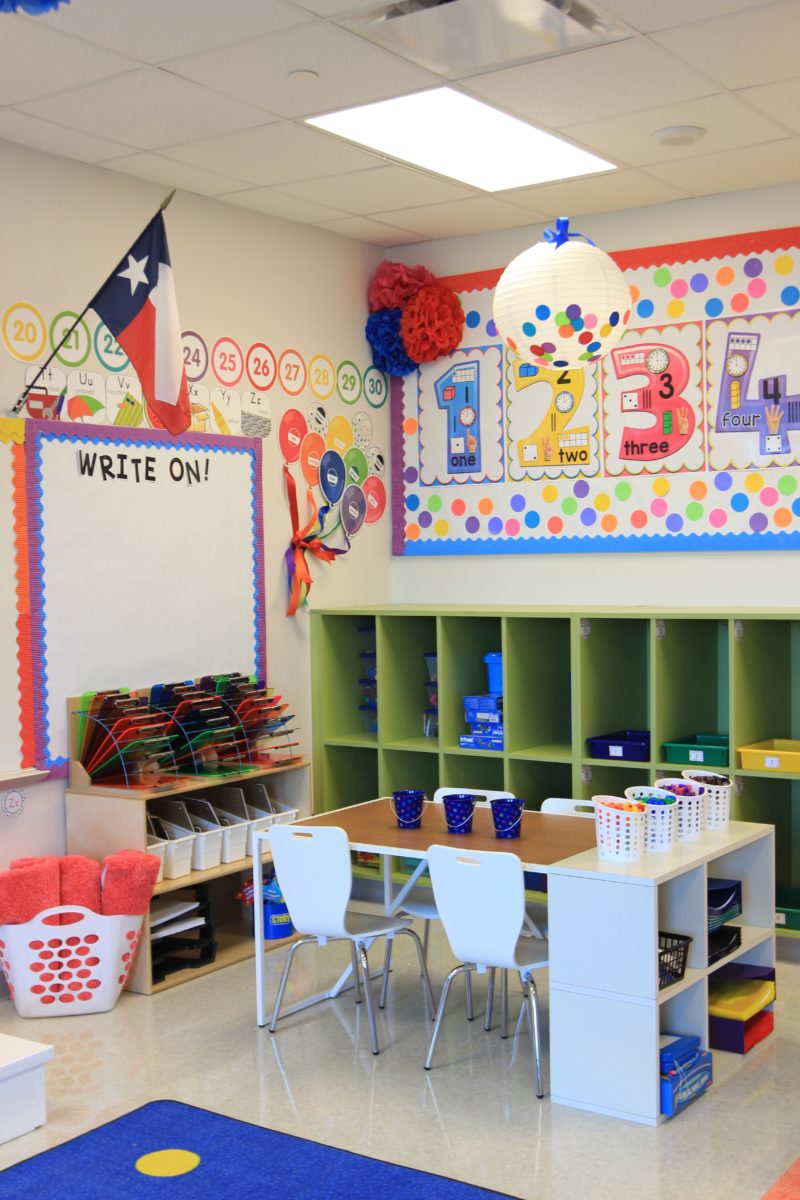 Melanie was certain she didn't want to live without  these fun clipboards and holders from Oriental Trading.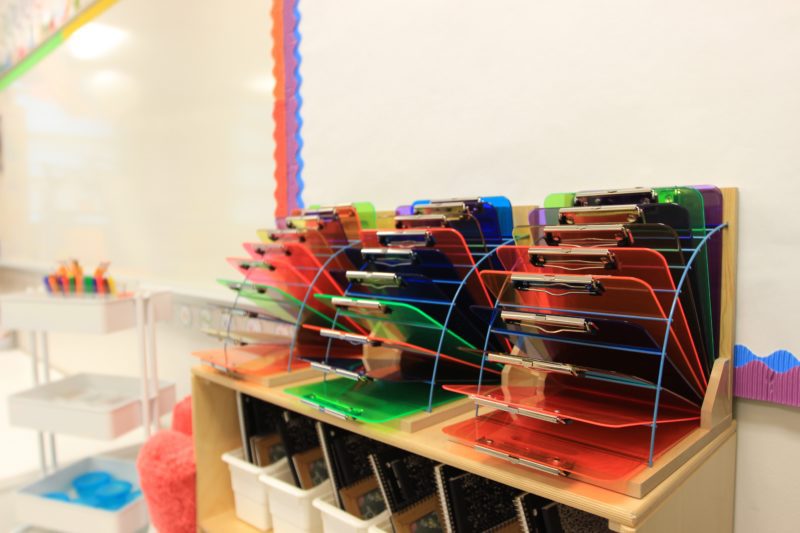 Hanging throughout the classroom were tissue pom poms and white lanterns also from Oriental Trading.
The bright colored dots on the lanterns were made using Astrobrights Paper of course!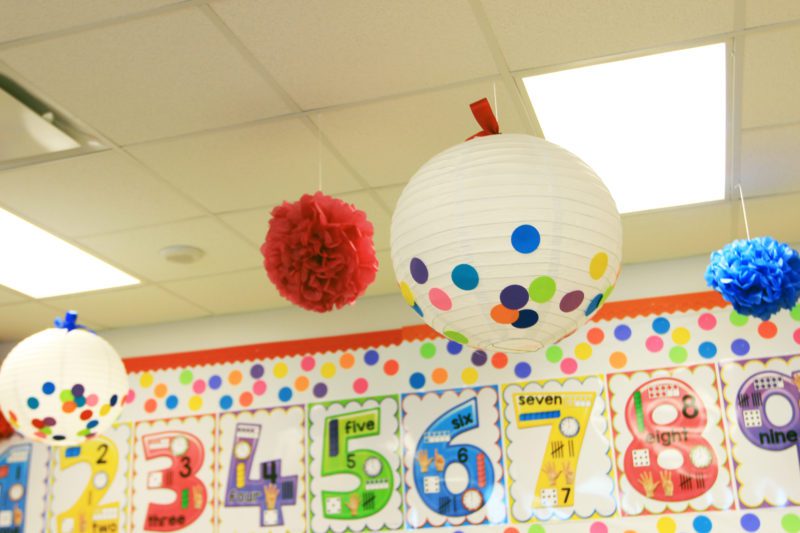 In the background on the wall, the number posters can be found on TpT.  Melanie used a poster maker to make them this large.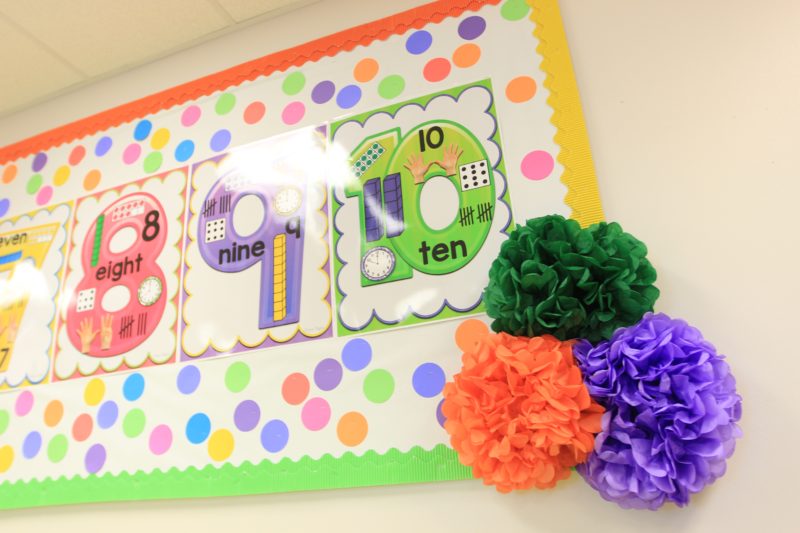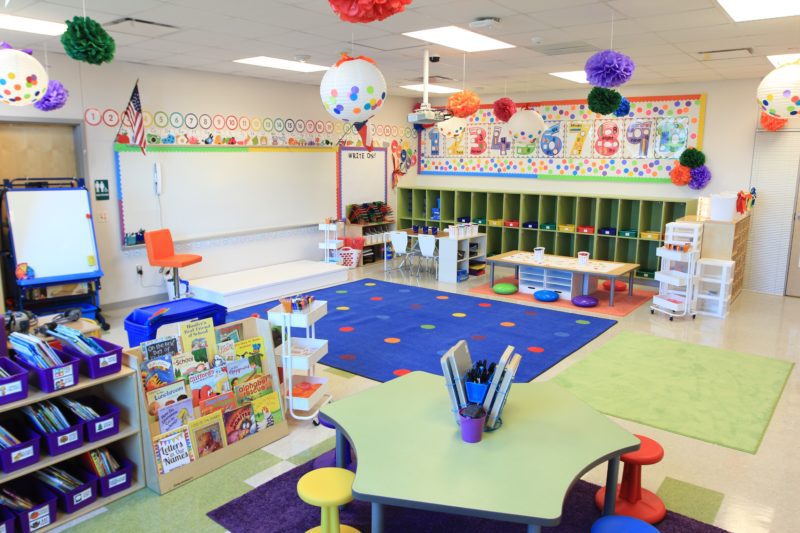 When you enter the classroom, Melanie has a large piece of furniture to hold manipulatives.  This was already in the classroom but we gave it a new look by replacing the primary colored tubs with clear plastic tubs.  This allowed the manipulatives to stand out and be the star while also being visually appealing too! The white buckets on top with the colored ribbons will hold Melanie's centers games.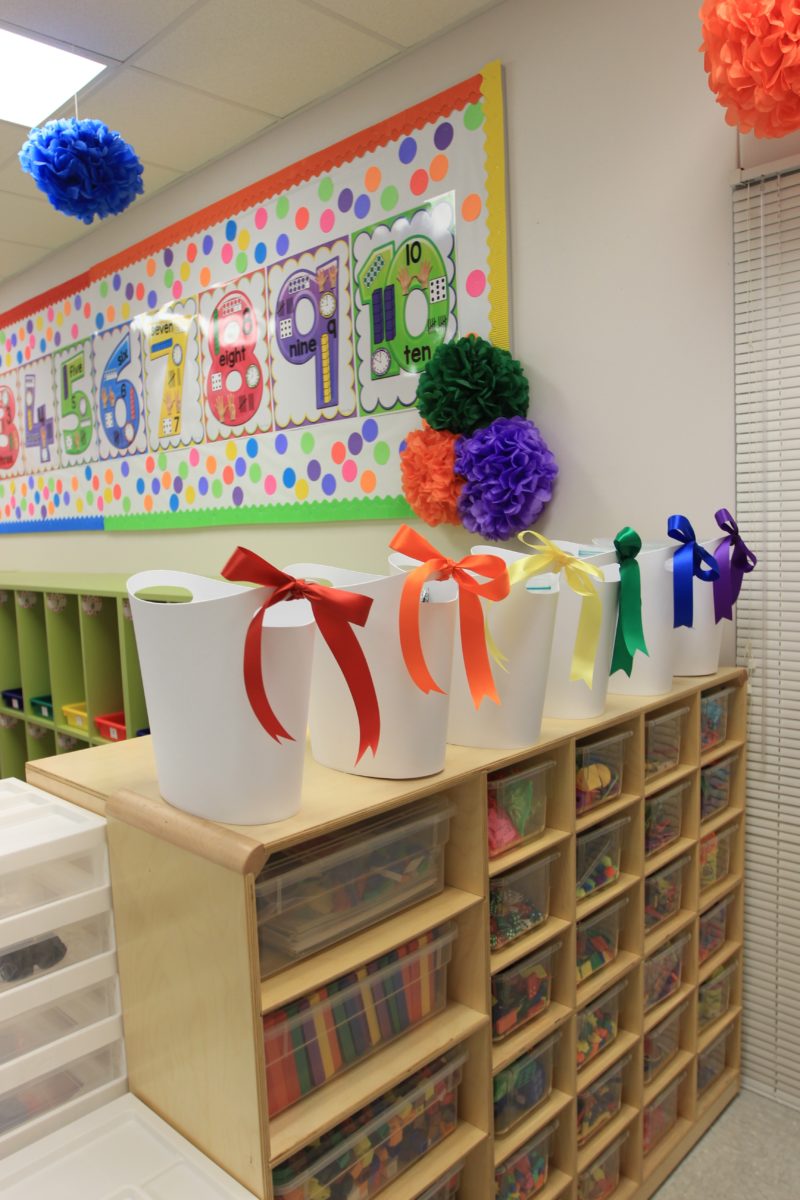 One of the challenges of a flexible seating classroom is finding the right solution to community supplies for students.  We decided on these rolling carts found at Michaels.  We placed 4 rolling carts round the room in order to hold student supplies and glue sponges.  The clear plastic supply caddies on the top shelf are from Amazon.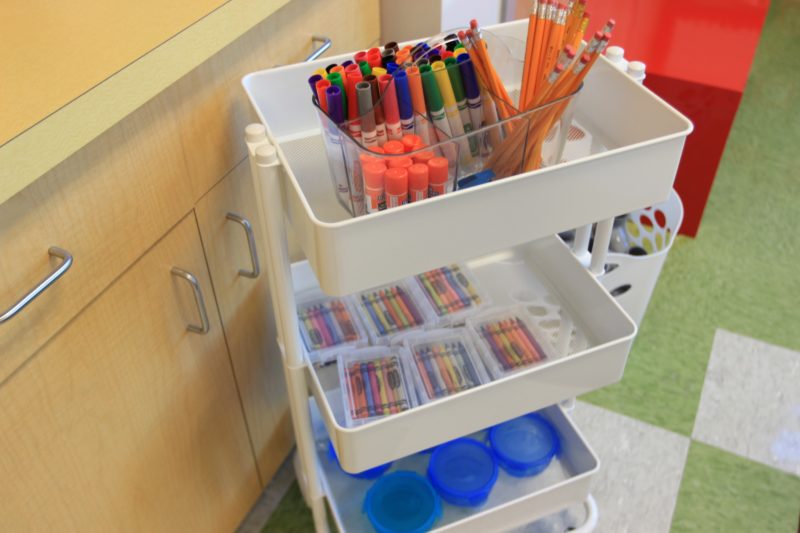 Another flexible seating option for Melanie's kindergartners are these fun and colorful scoop rockers.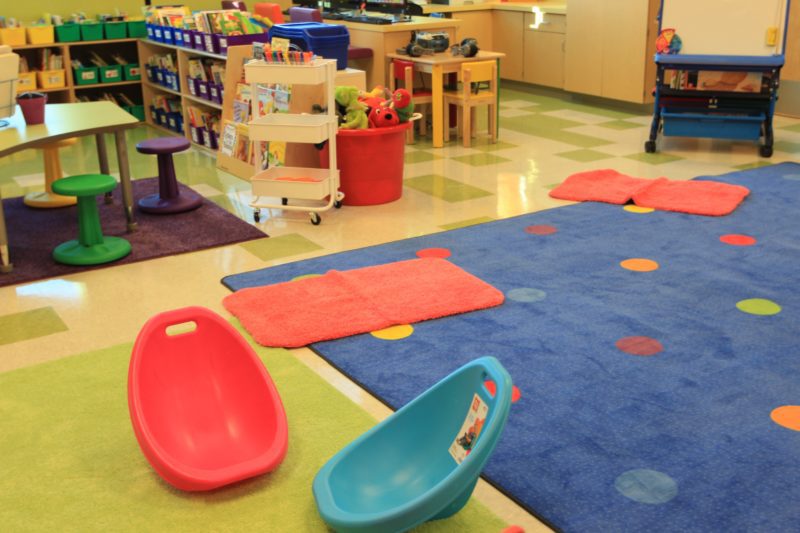 To bring chaos to calm, Melanie requested this door chime to use for classroom transitions.  It has a soothing doorbell chime that sounds at the click of a button.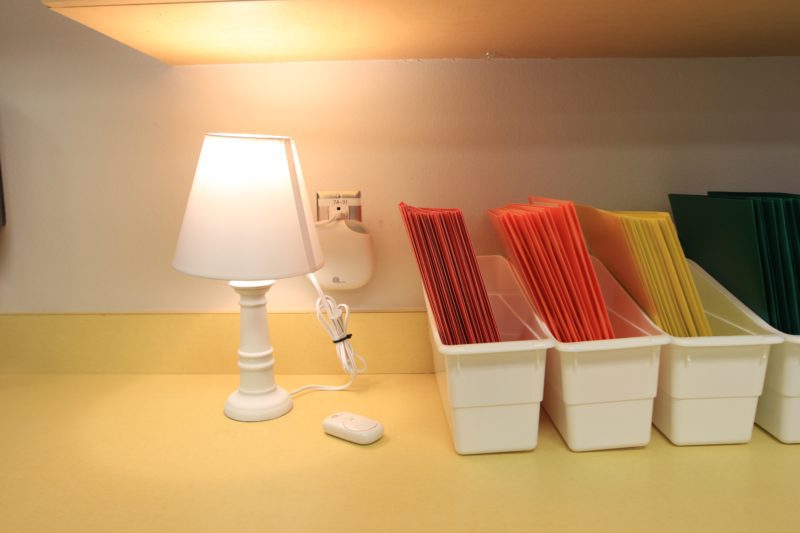 Moving to the opposite side of the classroom, let's check out the technology area and Melanie's teacher desk!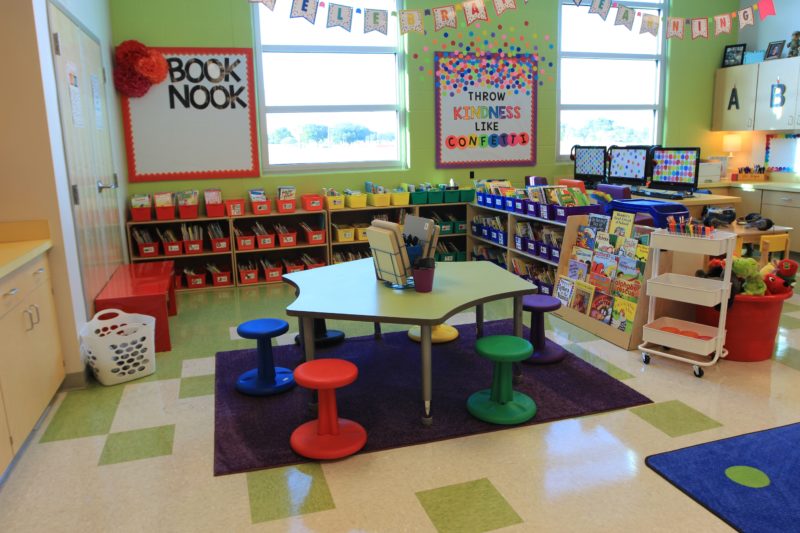 To create space, we used the peninsula of Melanie's teacher desk area for the technology area.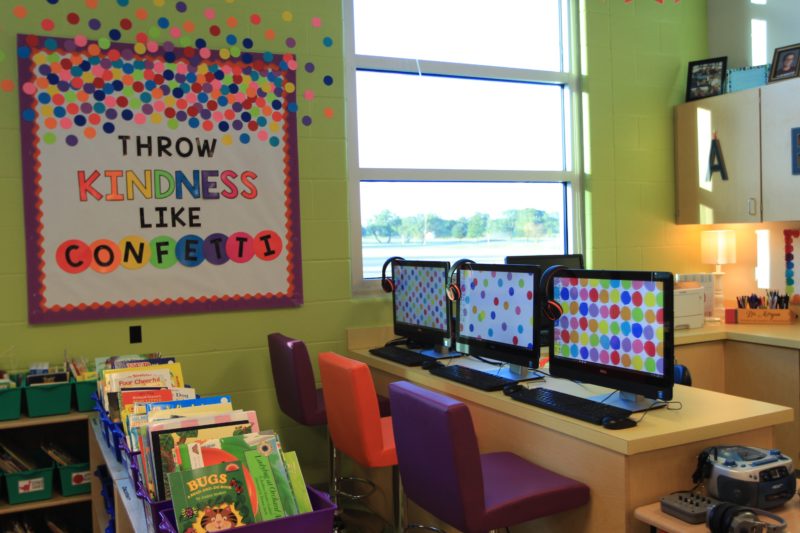 The fun purple and orange stools make for a comfy technology area while adding a pop of color!  The new headphones complete the look and can be found on amazon.
At the end of Melanie's technology area is a brand new listening center from Really Good Stuff.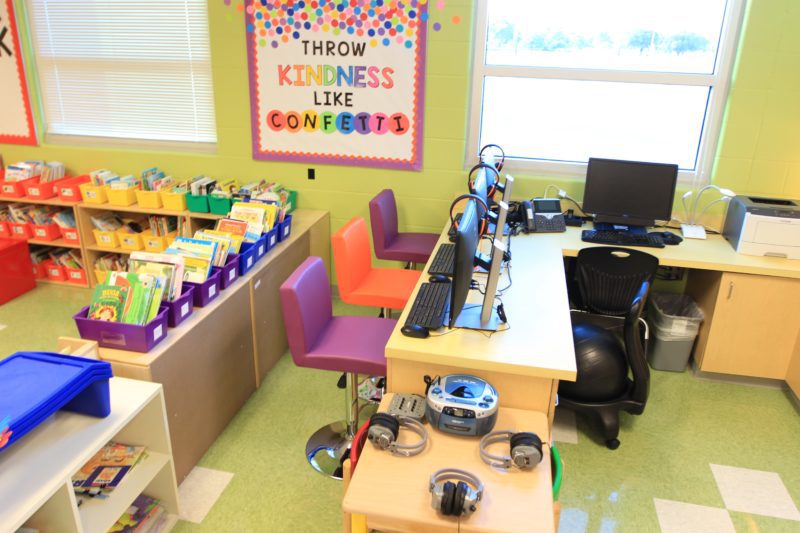 On Melanie's desk and above her cabinets you will find treasures and trinkets of love from students and their families.  It is evident that she has a great impact on those she teaches.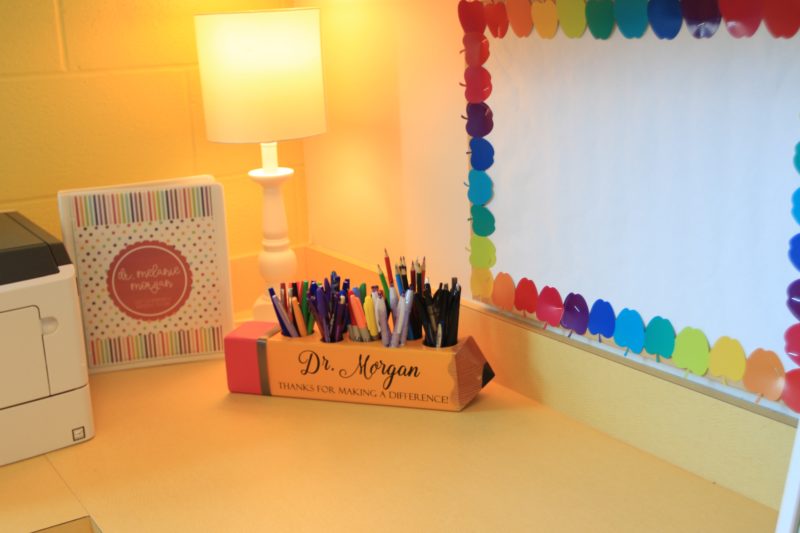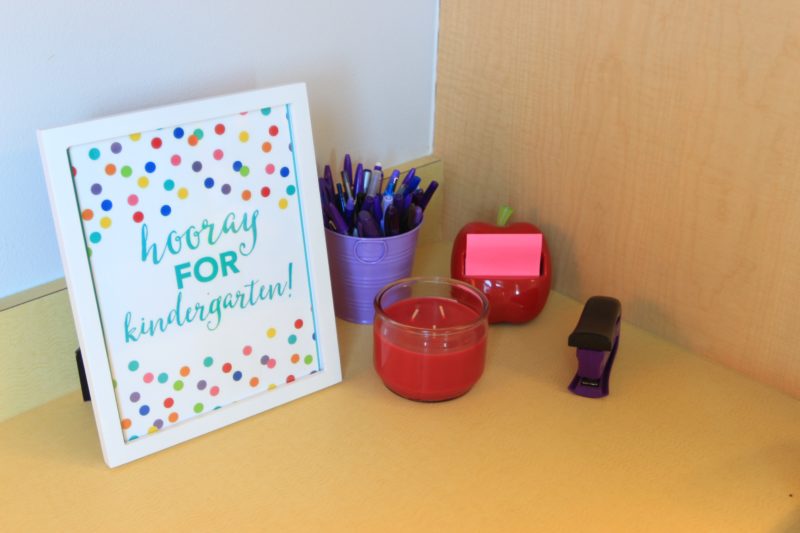 You will also find a pretty new planner from A Modern Teacher.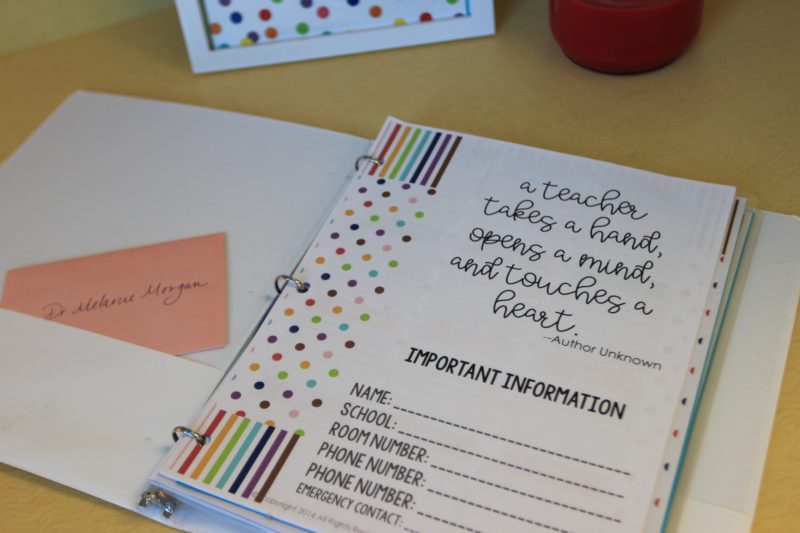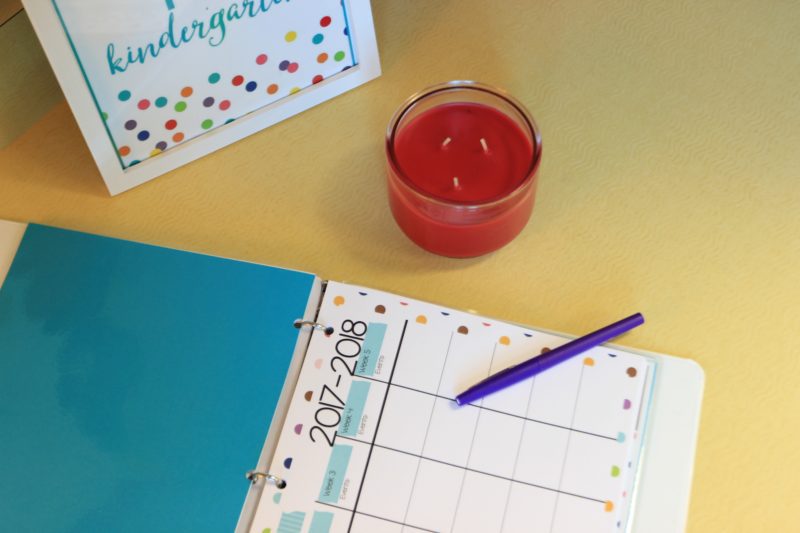 From Schoolgirl Style, this sweet little birthday area completes the desk area.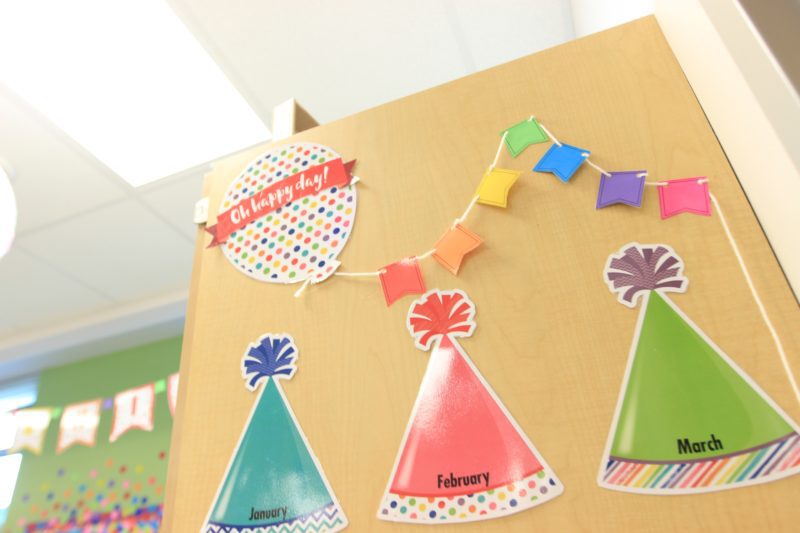 On behalf of the Astrobrights Team, I just want to say thank you Dr. Melanie Morgan for making such a bright a beautiful impact in your community!  It was an honor getting to know you!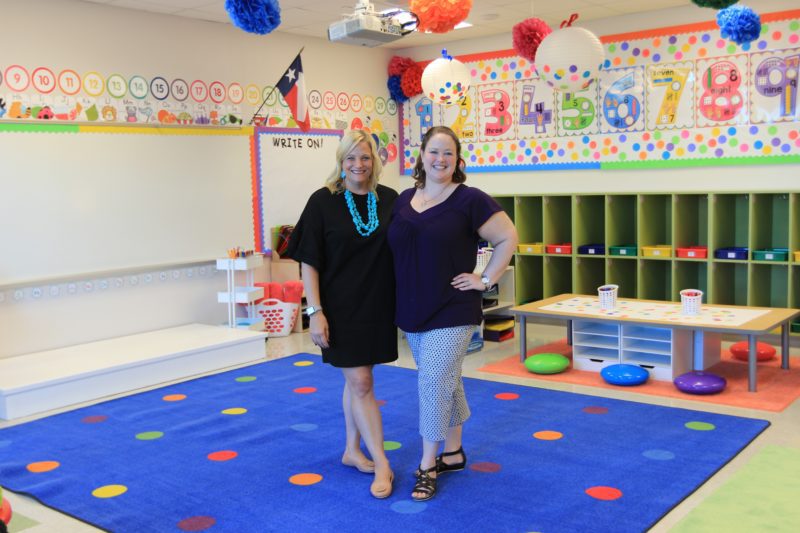 Being able to be there for this classroom makeover was full circle for me!  In 2014 I was shocked and amazed to win the first Colorize Your Classroom Contest.  I never thought my love for color in the classroom to both organize and bring a cohesive learning environment would lead me to working with other teachers!  Thank you Astrobrights for understanding and supporting the power of color in our classrooms!
I wish all of you the best for the 2017-2018 school year and I know for certain that Astrobrights will be cheering you on from the sidelines! Join the fun on Facebook and Instagram as we continue to spotlight bright ways to use color in your classroom!