Whew…it happened. I got to a happy place in the room today. I hope it will be a wonderful space for my incoming first graders.
Before we start with the zillions of pictures let me just say that there is very little content on the walls to start. All the blank spots are meant for future charts, creations, and reference needs of the kids!
Another important thing to note is that the back wall of my room is all windows. I absolutely love it. The blinds are always open but in these pictures I had to close them because of lighting. If a picture looks dark I assure you it is not the case. This room is full of natural light with a pretty view too!
There is not a theme, but rather a color and organization scheme. The walls and floor are white and a lot of the furniture in this room is black. Because of these two factors, I decided to go with black and brights scheme honoring the clean modern feel.
Clean and Modern = Calm and Organized
I tell you I have been organizing for the last month and a half. Every single center and activity is now grouped by skill in boxes.
Enough…let's get to the fun stuff!

Standing at the doorway looking in.
Looking to your left from the door (front of the room}
This rug came from HERE
More on the left wall.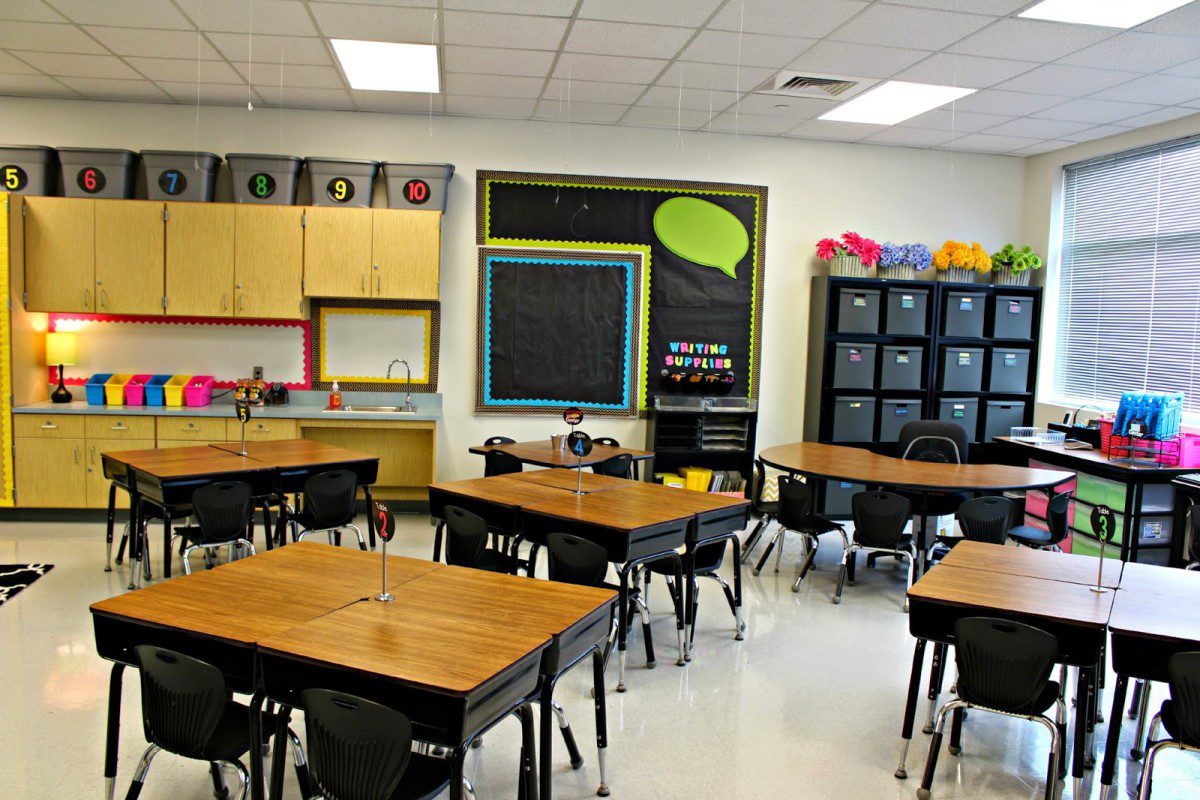 The writing center is here is nestled in the middle of the wall.
Back wall of the classroom with window blinds open as they usually are.
Standing in the back where the computers are while looking to the front towards the door.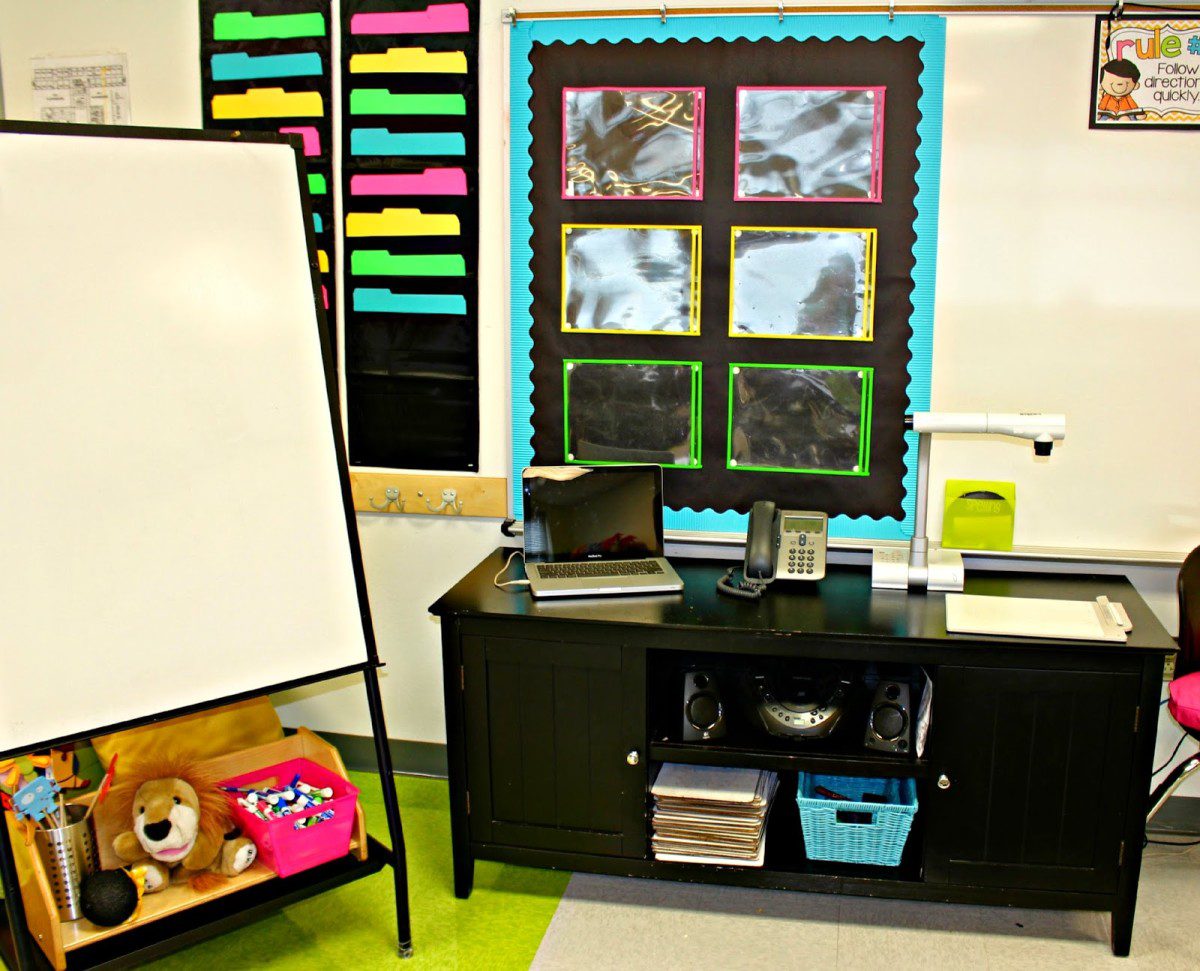 The pockets under the today arrow will have my objective cards. We change these out daily to match our day.
I grabbed these black file pockets at Scholastic HERE.
Right side of the front of the room a little closer up
The circles are my schedule. I got them from the amazing Ladybug Teacher Files HERE.
These are my free voice level charts
This clip board has my teacher cheat sheet which I use for daily documentation. Grab it on my Facebook Page under the freebie tab.
We use the super improvers wall and these are our class rules. I got them free from Amy HERE.
Let's turn around and face the opposite wall now. We are going to explore the left corner where I have my small group table set up.
This is a much cleaner look for me this year! The boxes I got from ikea are full of my centers and grouped by skill.
I still need to make 2 labels.
Example of how I grouped
Behind my small group table I have a little teacher table. My docking station, bucket of lessons for the week. supply caddy and paper tray. Under the table I have a group of shelves for both math and reading small groups.
I ordered this organizer thingy on amazon and I am CRAZY about how it holds iPads. You can find it HERE.
Going along the back wall are the computers. I tried to keep it clean and modern by lining them under the window in one long line.
These table place holders can be found HERE.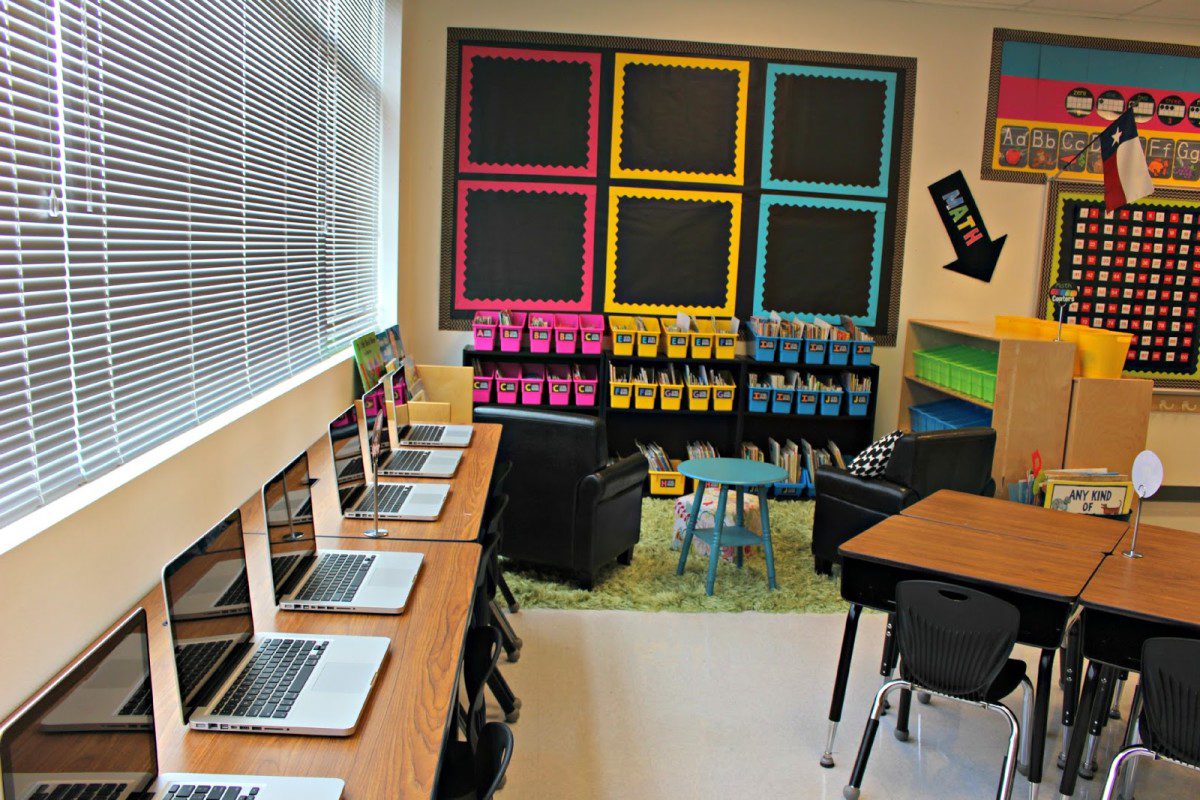 Jumping over the library we are going to check out the reference wall.
This is the most I have on the wall but I tried to keep all the reference items together to minimize the clutter. Everything here has a specific purpose in our daily routine. Students need to reference these concepts all year. Sorry about the glare! Lamination and flash do not mix!
To the left of the reference wall is where we keep our math tubs.
The math bin labels below on the green bins can be found HERE.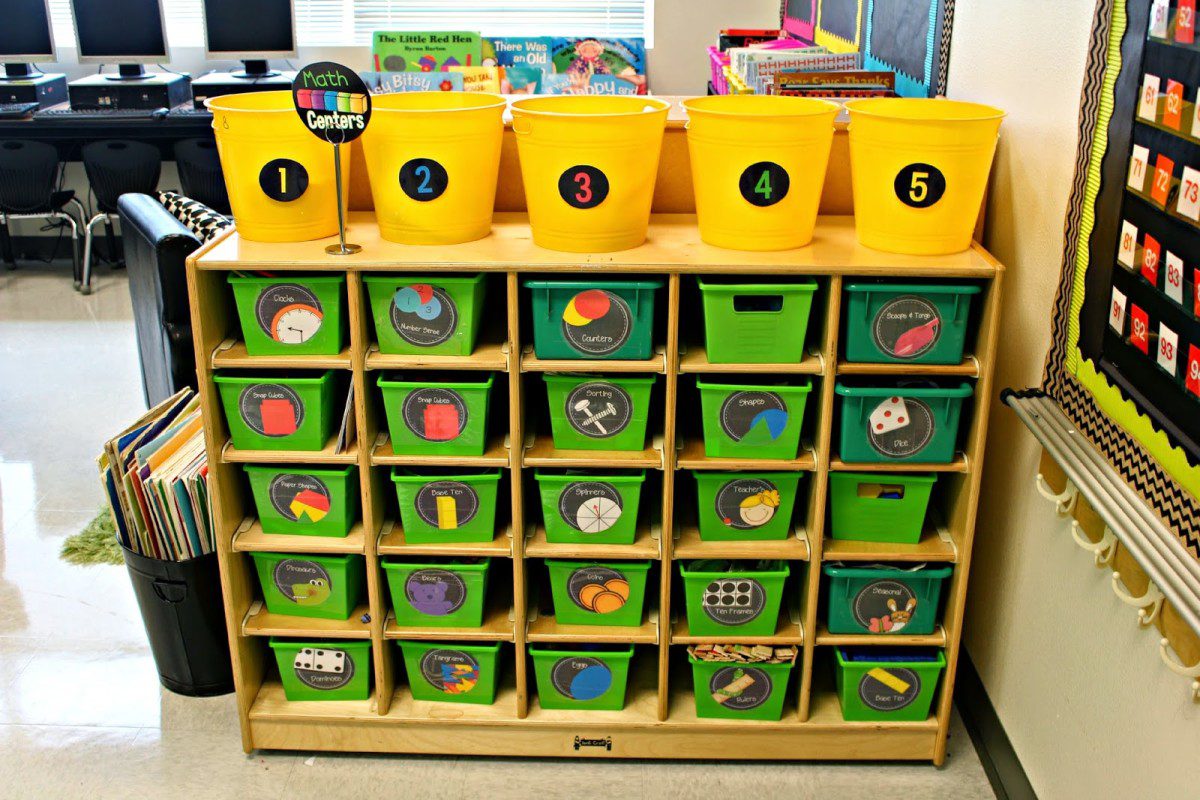 Another interactive area is our word wall. This year I put it on our cupboards. I really wanted more whiteboard space. I think it will work!
Next to the word wall I have some counter space. I put extra student supplies here.
Let's talk about the writing center! I have a square table here next to the shelf of materials, but I didn't really get it in pictures very well.
Next to the little table, I will have many different options for writing paper, but we start very slowly and build up to all those fabulous choices. For now we are bare. Students love earning new choices as we build up stamina.
This little supply rod from ikea just makes me happy.
I gave my word work station a little facelift with the help of Mel's labels.
Finally, the library! Okay so it isn't completely done. I took my library which was organized by genre and author and I leveled all the books using book wizard. I really wanted to do this because I felt it was so important to ensure my firsties had the correct books developmentally.
These six sections are color coded this way to bring calm and organization to the space. I have 6 anchor charts ready for our reader's workshop training time. I plan to use this space to anchor our learning throughout the year.
I bought Maria's library labels and got organized! As you can see I have the books organized, but still need to sit and label each and every individual book. I am considering hiring on some kids for this one.
My students will keep their book boxes right here in the library when not with them around the room. I guess I better not get more than 21 students since I don't have any more room. 😉
The labels came from Ladybug Teacher Files HERE.
This is my beloved big book tub. It has been 3 colors over the years. I got it at Target in the garden section. It was royal blue metal. It was 15 dollars and I remember I did not have the money to splurge on it but I knew that I just had to do it. This was money well spent!
Well that's a wrap for this year…oh wait…It's just beginning! Happy school year!