Use these end-of-year gift tags for students, teachers, teammates, and/or administration gifts.  All of the gift items were found at the dollar store.   To use the gift tags, simply print, sign your name by the heart, and attach them to your choice of a gift or treat.   Furthermore, use these tags for student, teacher, teammate, and/or administration gifts.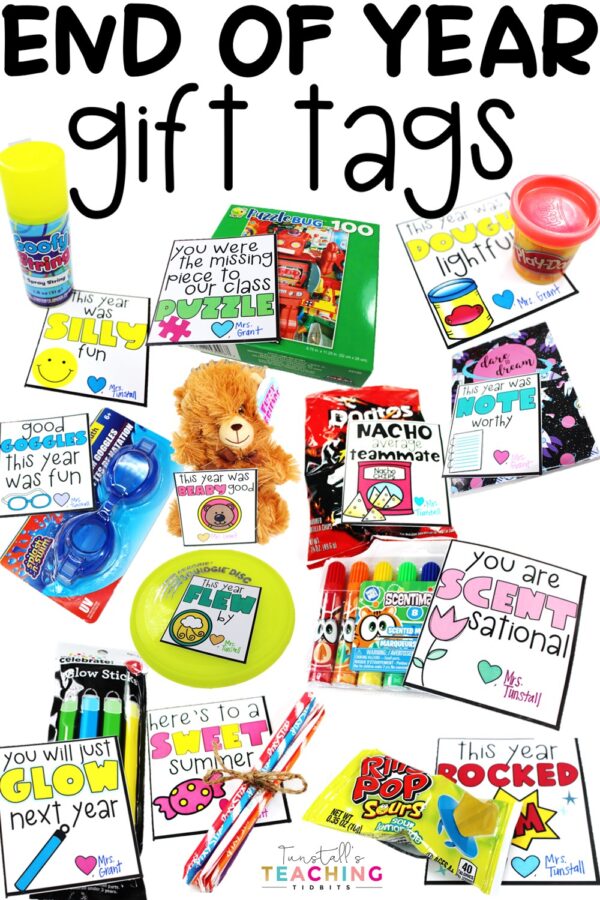 END OF YEAR GIFT TAGS
When it comes to the end of the school year, it's chaos at best.  Therefore, these gift tags are meant to help make gift giving simple, inexpensive, and adorable.  Below find the items and their sayings.
Included sayings with treat ideas
Have a cool summer- popsicles
The year flew by- frisbees
Have buckets of fun this summer- sand pails/buckets
Have a ball this summer- bouncy balls or beach balls
Thanks a bunch for a great year –buncha crunch box candy
Hope your summer is fire- hot tamales candy
You blew me away this year- bubbles, bubblegum, or balloons
O-FISH-ally summer Goldfish crackers, Swedish fish candy, fish fruit snacks
Shine bright next year- sunglasses
Chalk it up as a great year- chalk
You will soar next year- kites
You were the highlight of the year- highlighters
This year rocked- Pop Rocks or Ring Pops
You will just glow next year- glow sticks
Thanks for making this year just write- pencils
This year was silly fun- silly putty or silly string
Here's to a sweet summer- candy, Pixy Stix
Have a kool summer- Kool-Aid packets
We had a crazy good year- crazy straw
This year was dough-ligtful- playdough
You made this year so colorful- crayons, watercolors, paint
This year was reMARKable- markers
This year was beary good- toy bear or gummy bears
This year was T-riffic- T-shirt
This year was noteworthy- notebooks, notepads, post-it notes, clipboards
This year is in the bag- tote bag or treats bag
You were the missing piece to our class puzzle- puzzles
It's time to jump to the next grade level- jump rope
It's time to float to the next grade level- floatie
Good goggles this year was fun- goggles
Last day snack pack- pudding cups
Nacho average teammate- Doritos or tortilla chip bags
You're all that and a bag of chips- chips
You light up my life- candle
You're the balm- lip balm/chapstick
You are scent-sational- candle, scented car freshener, body spray
Thanks a latte- coffee, bottled coffee drinks, coffee shop gifts cards
You're extra amazing- Extra gum
Hands down you're the best- hand soap, hand sanitizer, lotion
This year has been nothing bundt amazing- Nothing Bundt Cake bundtlets
End of Year Awards
To continue, for the end of the year, giving out awards is always something special.  These editable and customizable end of year awards are 'punny' and will make for a great addition to the end of year gifts.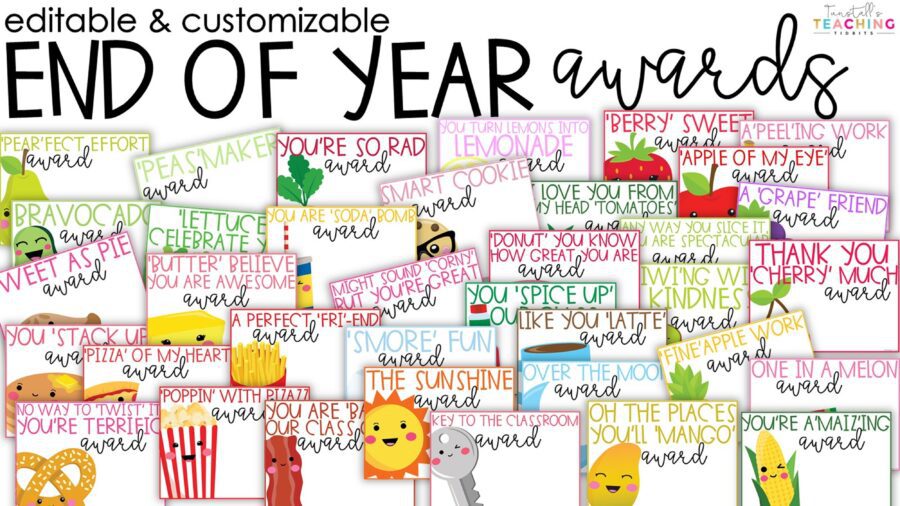 Likewise, here are some candy awards that surely bring a little something extra to awards day! Not only are these precious for students, but I love giving them out to my teammates and colleagues too!
More End of Year Fun
In the post below, you'll find one of my favorite ways to spend a final week in school.  Classroom Campout is so fun students will forget that they are still learning and will show up ready to be a part of the learning each day.