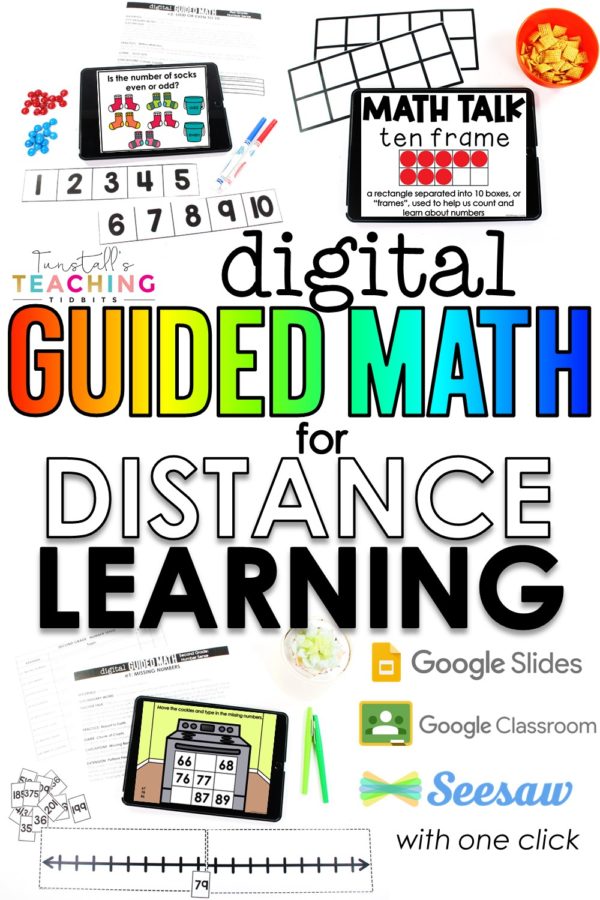 I am so thrilled to be able to share that Digital Guided Math for Distance Learning is here!  We have met your requests for high-quality standards-aligned math that can bridge home and school.  I can't wait to break it all down for you here in this post.
How is Digital Guided Math for Distance Learning (DGM) Different than Traditional Guided Math?
Whether you are a traditional guided math teacher or you follow an adopted math curriculum, the Digital Guided Math for Distance Learning resource will be your GO-TO solution to bridge home and school learning.  DGM is standards-based.  Every e-lesson has been aligned to the CCSS and the Texas TEKS.  This will make assigning home lessons, or teaching remotely a breeze!  Another terrific tidbit about DGM is that it reinforces the learning happening in traditional guided math without duplicating it.  All e-lessons reinforce the same concepts and skills but are totally different in their delivery and format.  The lessons in DGM are Google Classroom and Seesaw ready.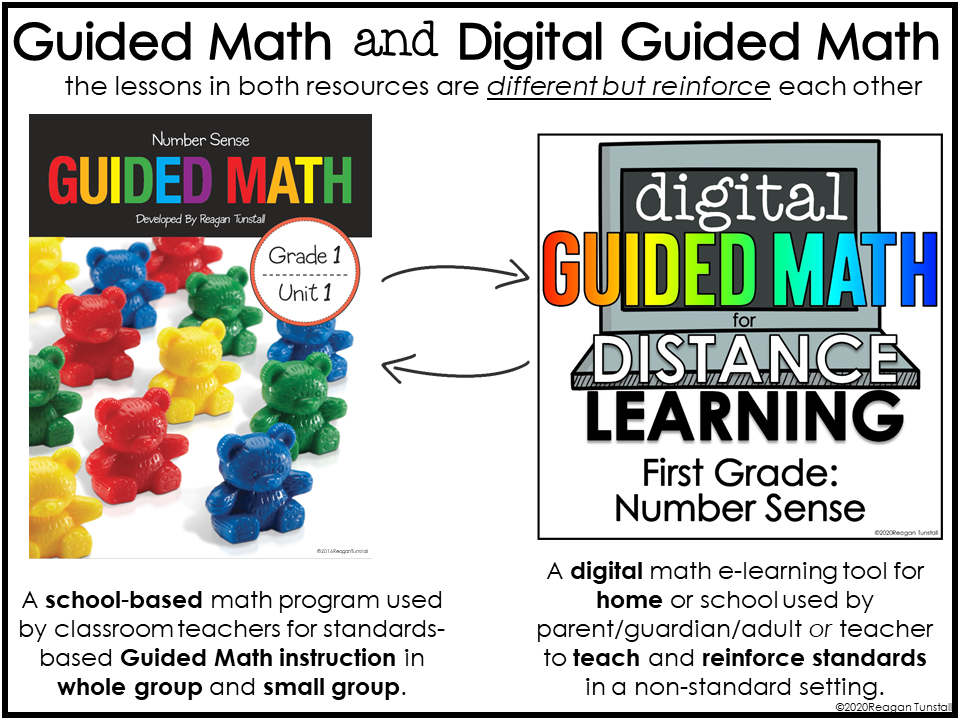 Planning, Scope and Sequence
This is an example (example is first grade) of how the planning maps are laid out for K,1, and 2.  Each grade level has 9 topics with 8 e-lessons per topic.  Each e-lesson has 5 parts to mimic the guided math structure.  Students work through these e-lessons over 2-3 days.  Each topic contains the planning map for all 9 units so you can mix and match to create the perfect order for your unique scope and sequence.  Now let's take a look inside an e-lesson!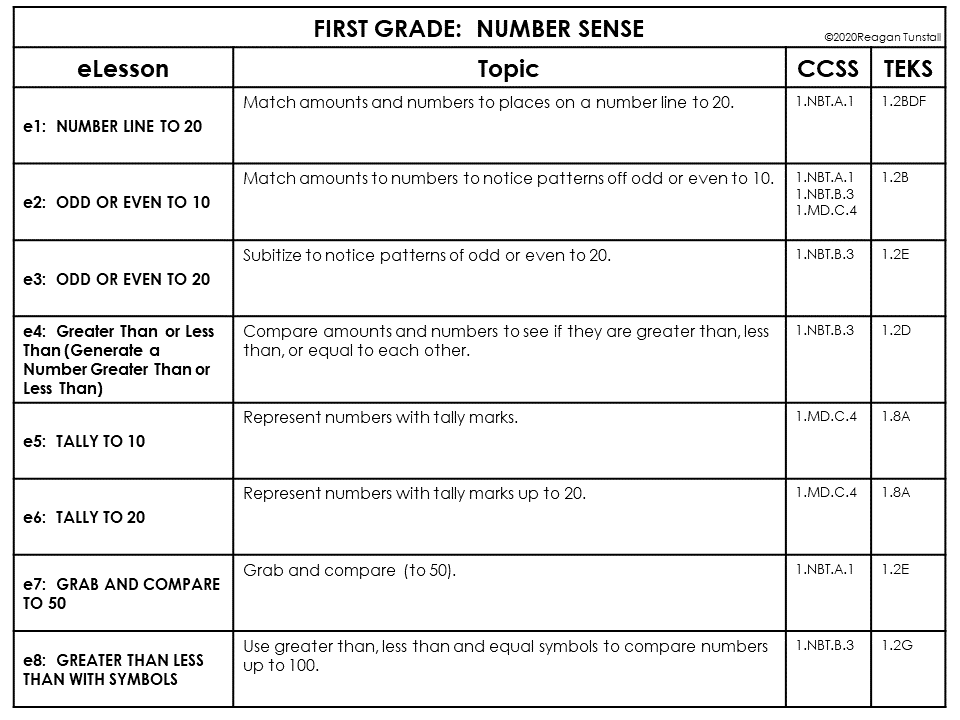 Links to Digital Guided Math for Distance Learning:
Inside an eLesson
Each e-lesson is created to mimic the components of a Guided Math classroom structure.  We begin with our Teacher Talk guided lesson.  This is written out for the teacher to deliver remotely, or for a caregiver (parent/guardian/adult) to do at home with the child.  Within the teacher talk lesson, there are math talk words that help the caregiver or teacher explicitly teach the math vocabulary.  This ensures that our students are using the correct language of math that they would in the classroom.  Each underlined math talk word has a digital vocabulary card or visual included for caregiver to use with child.  These are meant to be teaching tools to further the high-quality instruction.  In addition, there are also math tools included in the teacher talk lesson so students have the ability to work with the materials at home or at school.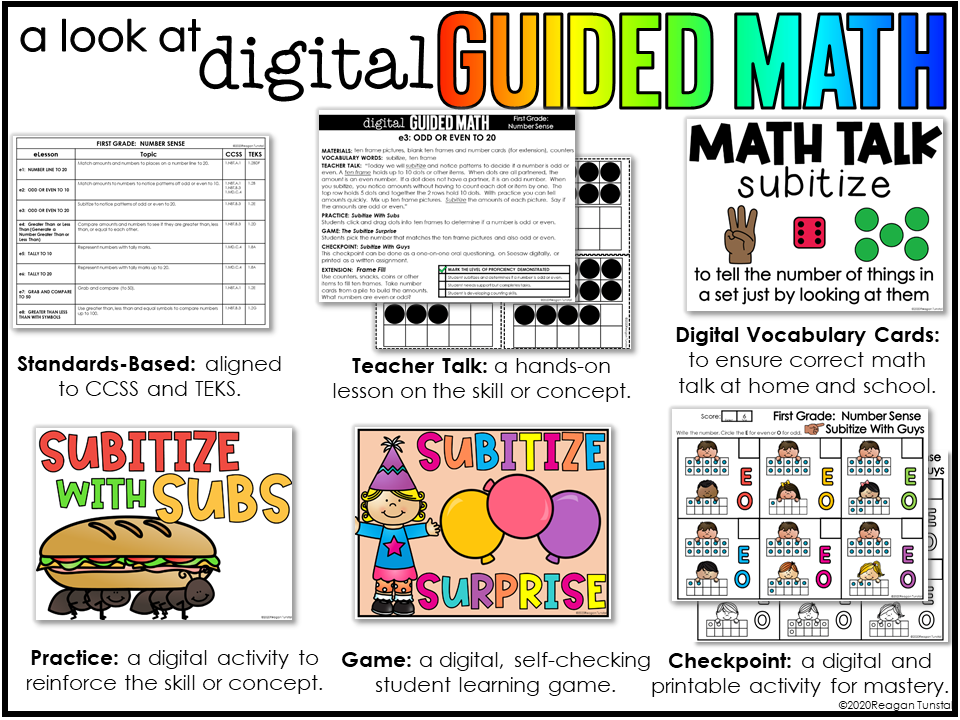 Next, students work through a practice activity where they are challenged to apply the learning from the teacher talk lesson in open-ended metacognitive activities and problem-solving.  In short, these activities are highly engaging and mirror the small group lesson in a traditional classroom.
Following the practice activity, students have a digital game.  I suggest assigning the game for the following day to allow students time to internalize understanding and apply learning in a new way with fresh eyes.  Each game is always a self-checking application of the skill being taught in the e-lesson.
Once the game has been played, a checkpoint is done both in a digital format as well as printable.  Therefore, this allows you to see how the student is processing and applying the learning in a more abstract format.
Grading and Assessing
A checkpoint is a perfect way to formally evaluate student work. We also wanted to include a way for parent(s)/guardian(s) to measure how well their student is doing.  Every e-lesson contains a math rubric for the caretaker or teacher to quickly and informally assess how the student did overall with the skill or concept.  This rubric is a terrific way to remind parents of the standard and help to see their child as a mathematician on a journey of mastery.
Below in the example e-lesson plan, you can see this digital rubric in the bottom right corner.  In the second grade lesson below, students are using materials supplied in the e-lesson to sort numbers by even and odd.  Therefore, in the rubric parents would indicate the level of understanding they notice throughout the 5 stages of the e-lesson.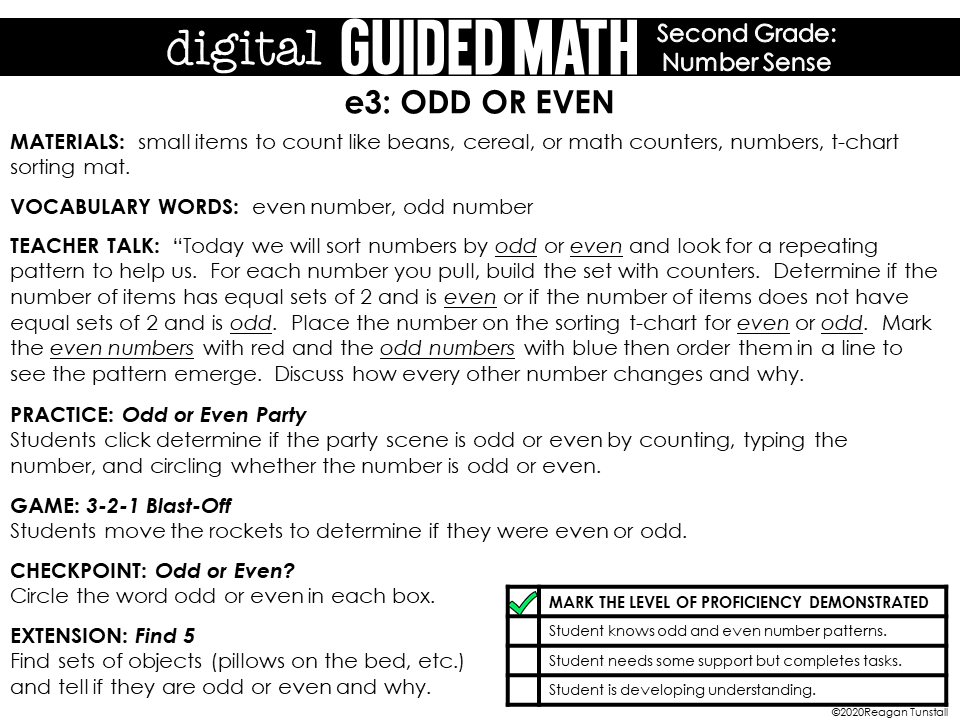 Links to Digitial Guided Math for Distance Learning:
The Guided Math Structure in Digital Format
Moreover, the graphic below is a breakdown of how the digital guided math for distance learning mimics the components of the guided math classroom.  Whether used for remote learning, hybrid learning, or even the technology integration of in-school learning, these lessons follow the structure of the guided math block.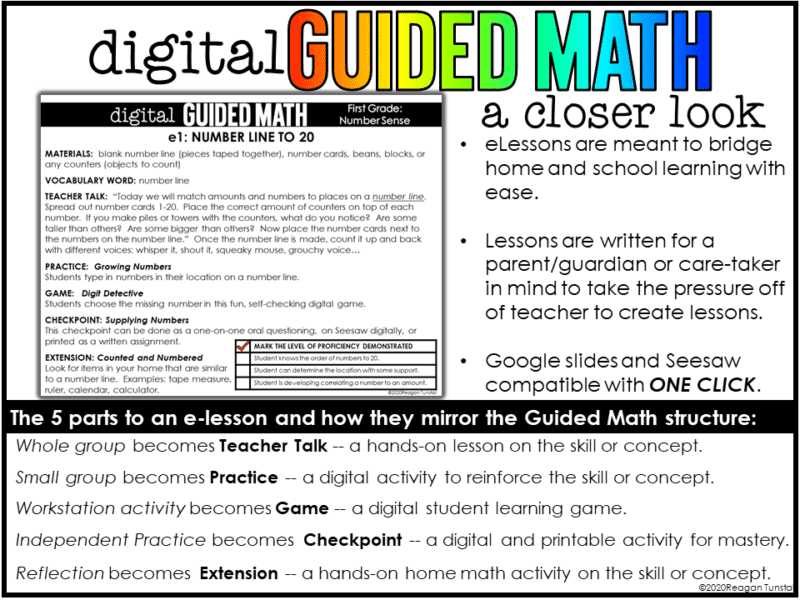 The How and Why of Digital Guided Math
While creating digital guided math for distance learning, careful attention was given to each component.  We've been around the block and have seen a lot of digital games and activities.  Therefore, our focus was on creating a program that would not only help students at home but enhance their learning beyond the four walls of the traditional classroom.  A team of educators with over 75 years of classroom experience worked together on each e-lesson to ensure the highest level of instruction and math gains.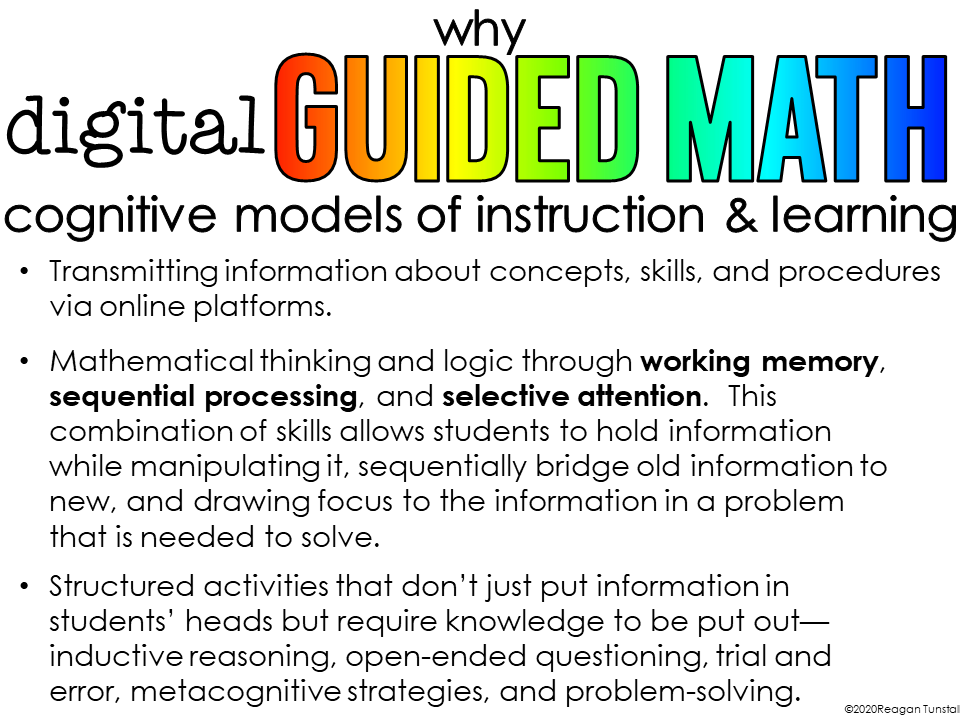 Guided Math Distance Learning Links
For ease of use, I have linked the bundles to the three grade levels for DGM.
More on the Guided Math Classroom
Recently, I shared my complete Math STACK system for guided math instruction.  Read more about that HERE in this post.