Join us for a special 'on-demand' Guided Math Virtual Professional Development webinar that you can watch at home at your leisure!  With the current restrictions on gathering in groups, we are providing a comprehensive virtual option for guided math professional development.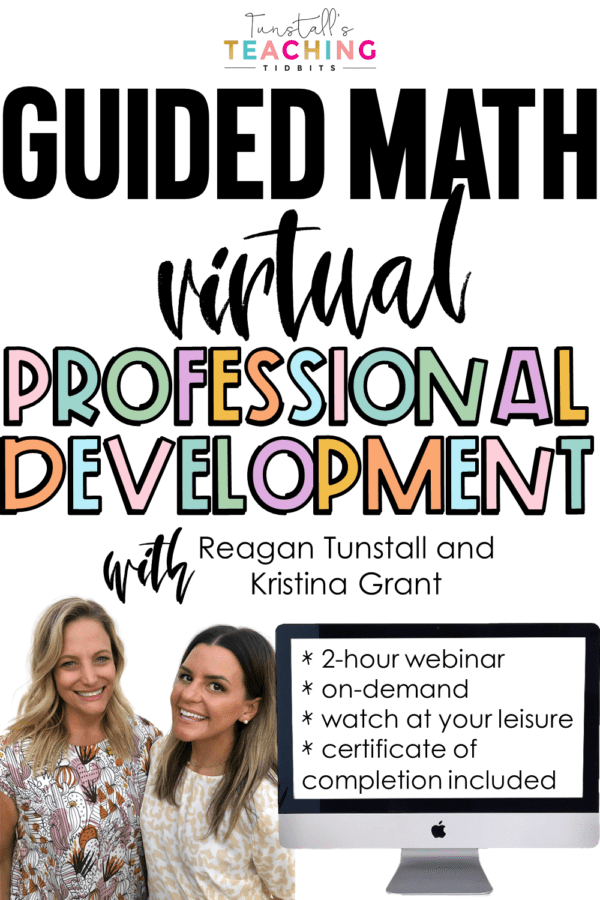 Moreover, this 2-hour webinar provides powerful evidence-based practices on the components of Guided Math with REAL application-level discussions including our new teaching reality for K-5. Once registered, you have 7 days to watch or replay the webinar at your convenience. A certificate of completion is included.
Webinar Information
In the webinar, you will learn the following.
The How and why of Guided Math
Get the research behind Guided Math but also how it looks with actual students.
How Guided Math looks in REAL classrooms K-5
Take a look into our classrooms as well as other K-5 classrooms with in-depth pictures and explanations of instructional routines.
The four components of the Guided Math structure and their purpose
Find the focus for each component as you hear and see how to create the best structure for your math block.
Small groups and interventions made EASY!
Explore how small group instruction and targeted interventions create lasting impact more easily than you think.
Close up on workstations from management to what choices to put out
See different types of workstation management with a variety of workstation choices ensuring you create a well-rounded mathematic experience for every student.
Steps to establish routines and expectations to develop independence
Foster independence, self-starters, and a growth mindset within your students for a trouble-free math block.
How To Register for the Virtual PD and Helpful Hints
To begin registration for Guided Math Virtual Professional Development, click here.
It will redirect you to pay with PayPal or a credit card.  Once you pay, return back to this screen (seen below).  This is where the registration starts.  You must click "REGISTER" to put in your information for the webinar.  Then from that screen (because the system now has your name and email) an email and password will be sent to you so you can watch the webinar.  You will have seven (7) days from the purchase date to watch the webinar as often as you like.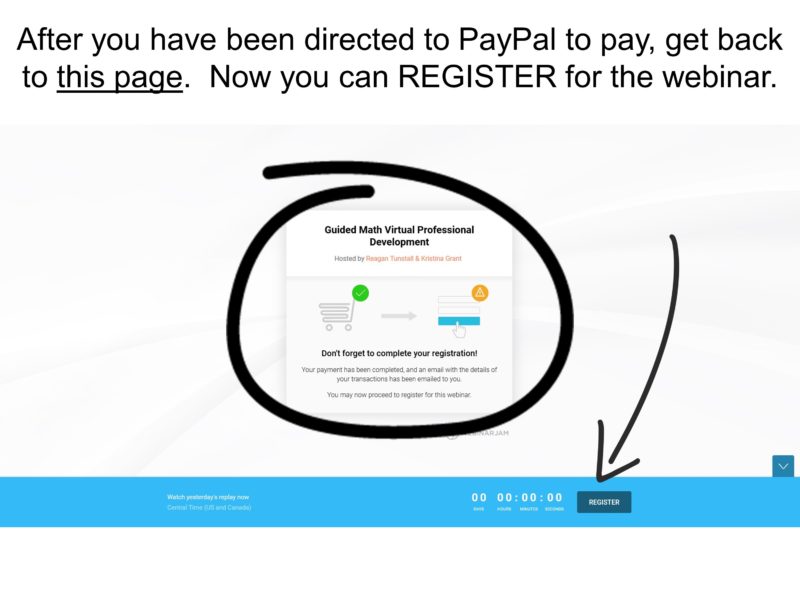 ****************************************************************************************************
Full-Day Guided Math Virtual Staff Workshop
Administrators: Please email [email protected]com if you are interested in signing up your staff for the webinar or for scheduling a full-day virtual professional development session with Reagan Tunstall and Kristina Grant.