During this time, many find ourselves needing to send work home with or to students due to school and district closures.  The work needs to be authentic, easily accessible, as well as on the students' level.  Offer something meaningful and appropriate to send home to our elementary-aged children with these ready-to-go, yet completely editable, homework calendars.  These customizable monthly calendars can easily be run off in a time crunch.  They can be put in a homework folder, binder, or spiral, or even emailed out to parents and/or students.
The purpose of these homework calendars is to provide ways for students to review skills learned at school while spending a lot of time at home the next few weeks.  The activities are a mixture of both oral and written responses.  They are designed to accommodate students with very little home support.  The preview file will show a full calendar filled out.  Each month comes filled with math, ELA, reading, writing, science, and social studies activities students can complete at home.  Each text box is completely editable as well so you can customize it to your students' needs.
Simple and Effective
There are no dates on the homework calendars. They are labeled Mon-Thurs.
There are 16 different activities per calendar (month).
Every calendar is FULL of different educational ideas.  You do not need to edit these unless you want to!   Everything is ready to print or email out.
This file also contains labels, cover pages, and titles for folders, spirals, and binders!
SUPPORTING THE LEARNING
When thinking about sending work home during this time, we want to have students keep up and practice all areas of learning, I created categories for each day of the week.  This ensures that students will evenly work on math, reading, writing, science, and social studies concepts.  These are completely filled out for the year but are also editable so any activity can be changed or altered to fit your classroom.
Monday Math
Tuesday Texts (Reading)
Wednesday Writing
Thursday Thoughtful/Thinking
Social Studies and Science/STEM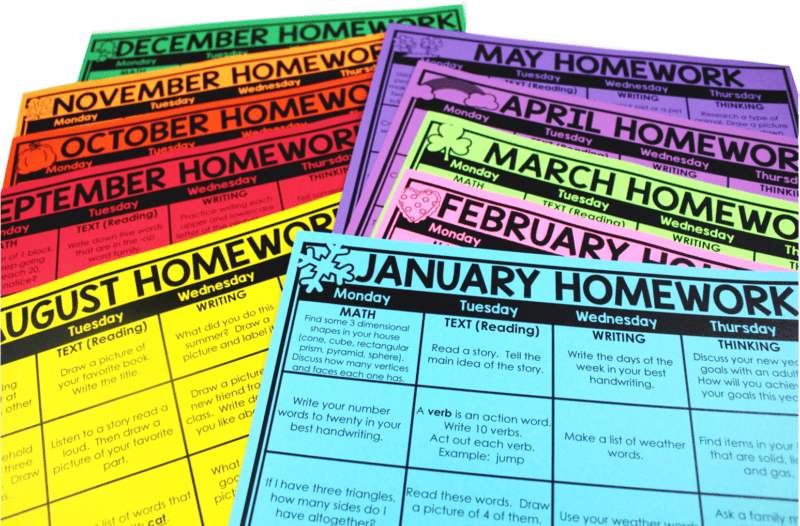 TRAVELING FROM SCHOOL TO HOME
Whether you prefer a binder, spiral, or folder, there are title pages and labels to make your life *a little* easier and to send something fresh and new that the student can work in while at home.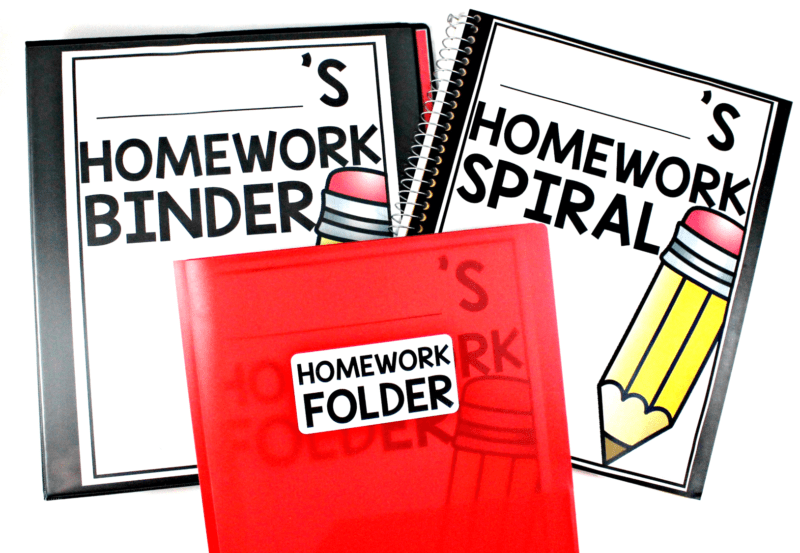 I prefer to use the plastic sleeve in a folder.  It makes it easy to change out and keeps the calendar protected too!   You can choose to add paper for responses or allow students to respond on their own paper at home.  Some activities have a written response while others are verbal activities students can do easily with a family member, stuffed animal, or in the mirror!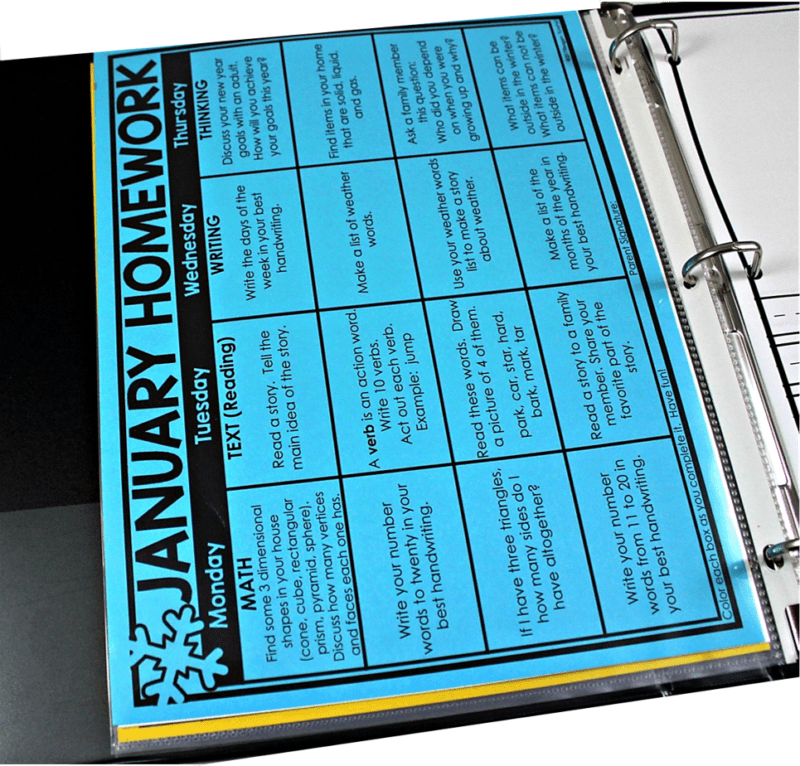 Reading at Home
Books can provide a wonderful avenue to home learning.  Reading is so essential, we want to ensure it is given time at home.  We also know that reading logs force reading and cause tears and angst for both parents and students.  For this reason, I will leave this in your hands.  Perhaps it is an optional incentive or perhaps it doesn't happen in your classroom.  Whatever your stance on it, I wanted to provide this for those who want it and live by it.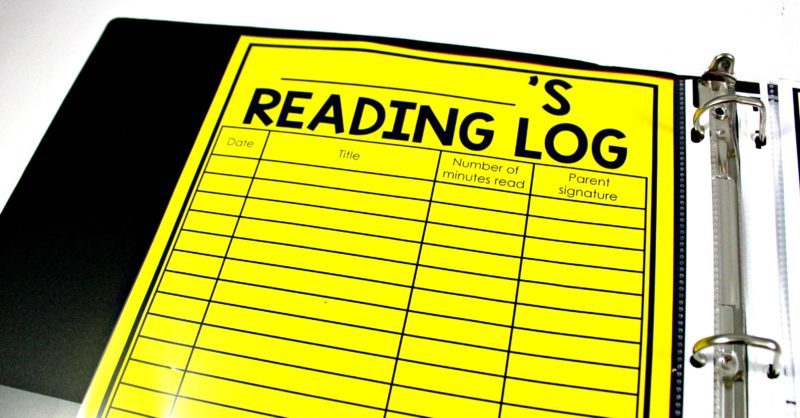 Also Included:
Labels for Folder, Spiral, or Binder
Cover pages for folder, spiral, or binder
Reading Log
Behavior Log
Writing Pages with varied writing lines
Editable Parent Letter
If you are looking for the editable monthly homework charts, you can find the links below.  You can also click any picture in the post to pin to Pinterest or to go to the resource in my store.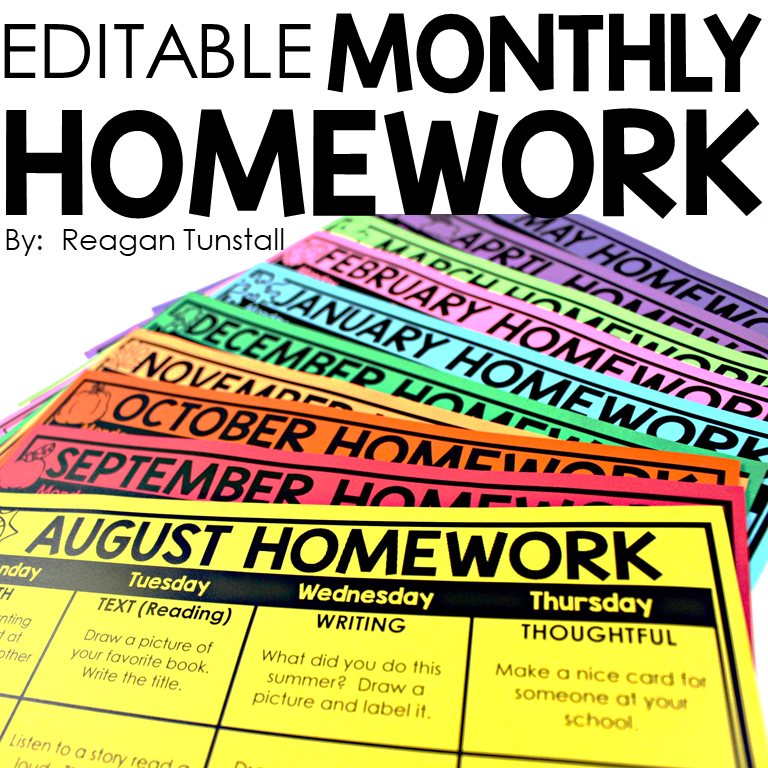 Editable Homework Boards
Daily Schedule
To further support families, we want to also provide this free editable daily schedule.  Families can use it to create a structure to the day at home with students.  This is both an editable PowerPoint as well as available on google slides to share out to families.