Join me, Reagan Tunstall, up close and personal with my guided math playbook in an engaging full day Guided Math Conference!
Become "game day ready" with this in-depth, play-by-play guided math game plan conference featuring hands-on demonstrations, classroom-tested management strategies, and real-life classroom photos and videos.   I focus on the classroom application of the components of Guided Math.  What does it look like in a real classroom?  You will watch how I "run the plays" during my math block.  We will see inside of other guided math classrooms and learn best practices together.
From intercepting management mishaps to running guided math plays with no fumbles, I will coach you through practical strategies to ensure you become a math MVP to your students and school!
Guided Math Game Plan Conference
Gain an in-depth explanation of the components of guided math through classroom research, video, photos, and experiences.  From warm-up and whole group mini-lessons to teacher-led small groups and centers rotations, get the BIG picture of what guided math is while at the same time having guidance in the details of each component through discussion and real classroom examples.
Materials for Participants
Receive these premium items to enhance your learning at the event and back in the classroom, helping you and your students reach the goal-line.
Set of guided math manipulatives
One grade-level, ready-to-teach, prepped kit
of Reagan's new guided math resources by 

(warm-ups poster, teacher lesson plan book & guided math cards & games pictured below)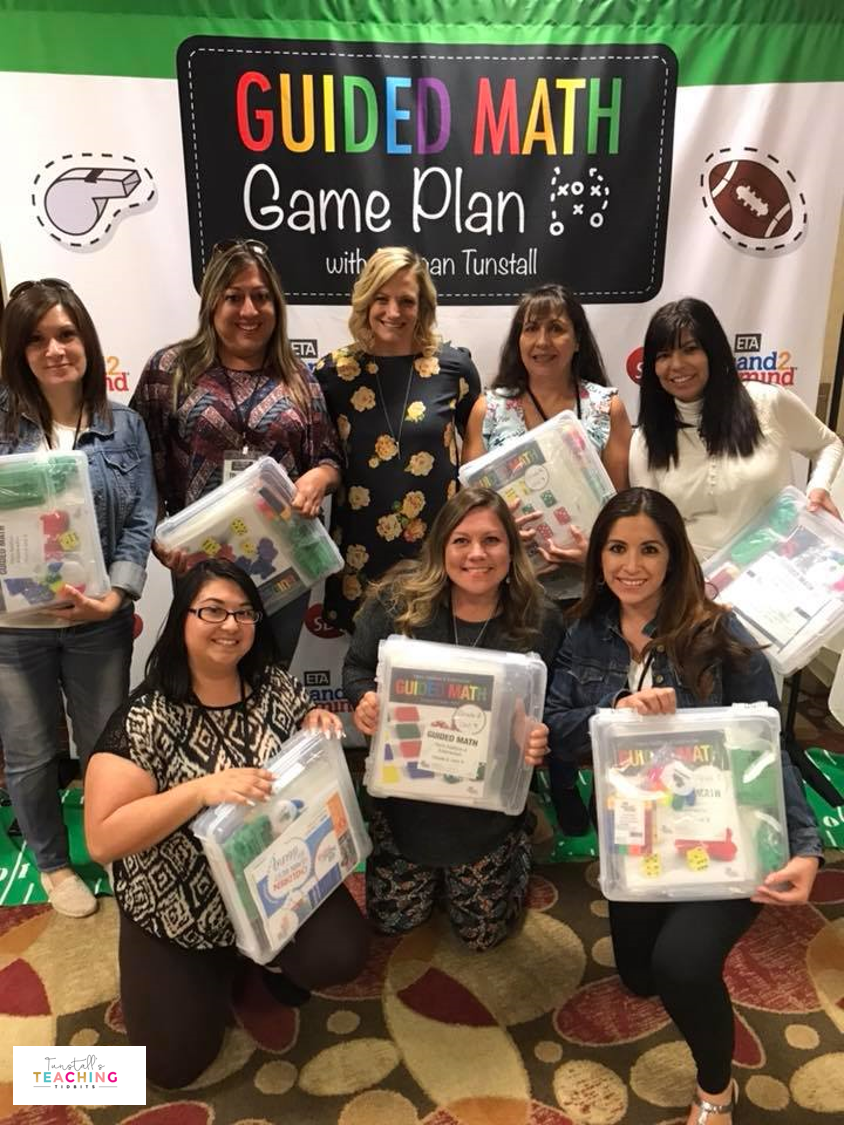 Join Me on This Journey
We will tackle the tough issues like differentiation and behavior management together! You will walk away with practical solutions that are classroom-ready! Discover how to incorporate all of the important guided math components in a way that makes students cheer for math time and teachers teach with total confidence.
Join me for this exciting opportunity to transform your math block and inspire your instruction!
Guided Math Resources
If you would like to see more of the resources that I have available for grades K-4, check out this post!
GUIDED MATH RESOURCES BY GRADE LEVEL
I have a free resource explanation and guide available. This reference is perfect if you are struggling with getting guided math started or what resources to choose and when.  Just click HERE or click the words below to grab the free download!  It should help to clear up how the different resources fit into the guided math block!  Want to see the standards alignment for your grade level?  It's linked in there for you too!