It's the special time when we learn about our families, traditions, and the first Thanksgiving! To help integrate those concepts with reading and writing, here is another interactive social studies keepsake book!
It starts as a pilgrim shirt. All of these activities can fit into a journal or notebook rather than making the keepsake book as well.
This book is bursting with activities. Thankfully there is a pocket that can hold extra pieces and activities if you need!
Choose to put all three pre-writing topics in a writing center or work on them whole group. I like to use the writing as a culmination of the book and all that they have learned.
When you open the first two flaps, I chose to focus on building knowledge related to the First Thanksgiving. The order and placement of activities is completely up to you!
Inside the second flaps I placed the items that focus on family, traditions, and comparing life then and now. (The tee pee has been updated to a wigwam)
The activities have examples and non-examples which lead to vocabulary and discussion. Natural conversations and questions arise when you are working through the activities.
The story of the First Thanksgiving is a take on a reader's theatre that I wrote a few years ago for my class. (It's free later in this post)
Students read the tabs and cut and order them onto this story board that is numbered 1-8 underneath the completed story. It's another wonderful lesson to help students think critically about what occurred over 300 years ago!
To get these activities for your classroom just click below!
Another fun lesson that I loved using in writer's workshop, was on perfecting our sentence writing. (Ha ha ha did I say perfecting? Just kidding we don't do perfect in first grade! We do better and best!)
I wanted to incorporate the turkey into our writer's workshop lessons. We read non-fiction books about turkeys, and then we wrote our own turkey facts. Students wrote each sentence in a different color. This was our editing lesson on sentences. Next, students wrote their final draft on hand drawn feathers by yours truly that I ran on colored construction paper. Having each sentence in a different color helped students to really distinguish what makes a sentence and when to stop and make a new feather.
The result, some fun Turkey facts on our very own lovable turkeys. We were swooning over our teacher drawn turkey friends. Since then, I have updated this template (thank goodness) and another fun turkey activity too!
You can tell these pictures are older, (around 2012 before I knew how to stand still for a picture apparently) The lesson was for verbs! What a blast. We read Run Turkey Run, and then we brainstormed verbs for turkeys. Trot, gobble, fly, hide, etc.
Finally, we chose our favorite turkey verb and we made our own little display.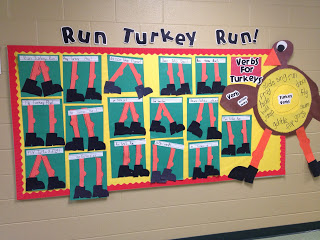 To get these updated freebies just click the picture below from google drive.
You can click the covers of my favorite read alouds to grab a few on amazon for your little turkeys too! These are the ones that I just couldn't find in our school library. (amazon affiliate links)
And finally…I created a resource of my favorite chants and poems to teach during this time. If I had an extra ten minutes at the end of the day, this was a perfect solution! We performed the reader's theatre that I wrote in this resource for our families and administration. Just click it to grab it free.
Have a great week!