You will find a paper cutter next to my daily devotional on my nightstand…. I don't always act rationally during this time of the year. While we are at it, there's a green container on my bookcase hurting my feelings. It refuses to look right in the space. During the school year, household organization and decor don't even register in my brain because- school teacher.
But this year life is taking a turn. For the last 18 years I have been teaching… I have known nothing else but teaching. Before marriage- while having babies- one thing that was always a part of my life was…teaching.
Last school year, things changed for me. An immediate family member began going through a debilitating health crisis. All of a sudden my priorities were being pulled away from school during the midst of a busy year. I went on intermittent leave to care for my mom who lives 40 minutes away. During this time, as anyone would be, I was dealing with all sorts of emotions, family role changes, and love stress, but at the same time I was devastated to be out of school and away from my school babies. I knew they were getting the content they needed. I was able to plan and communicate with my incredible subs and my team. I saw my students a couple days a week but then would be gone again.
Maintaining the lessons and creating for the classroom kept me sane during that time because it gave me something I am passionate about to focus on. It made me feel like I was contributing to my work responsibility.
My husband, kids and I decided that taking this next year to focus on our family needs is the best decision for us. My principal and team are very understanding. I am still very connected to my school and district, but this year I am going to focus on my family, education research and technique, and creating content for the classroom.
I am also very excited to continue to be a part of SDE conferences this coming year. I never thought it would be part of my life to speak publicly but when it comes to sharing about teaching, I can't get enough! It is a wonderful focus for me to be able to still develop and contribute while I care for my family. I hope you will continue to stay with me during this leap of faith.
Cue the sobs at the wailing wall (also known as my home) because this teacher doesn't have her own
classroom this year to decorate. Although I joke about it, I am going through a lot of emotions that wake me in the night as well as live in the pit of my stomach. I know that God has been with me through all of my ups and downs. It's a big step for me. I am leaning fully on HIM. I feel both joy and excitement at a new chapter in life but I also feel anxiousness and hesitation at letting go of the tangible classroom.
Although I don't have my own classroom this year, I am helping at my school, so I
will be sharing pictures of classroom/bulletin board design this month.
A wonderful teacher friend I connected with through the blog and facebook asked for a detailed lesson plan for back to school. I know some of you shared that it's your first year in first grade and anything I could share would help when it comes to back to school. It's funny, when I am going through the preparation for back to school, I can't even think about lesson planning until my room is ready. I mean paper and container choices completely take over my life for the month of August.
I put together a little checklist and description of the first day of school, and then a more general outline of the following days. But before you grab it let me explain…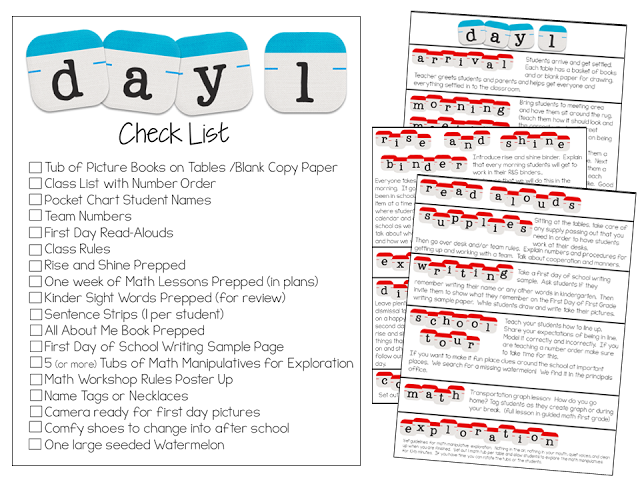 The checklist has more than you need for day one but the level of exhaustion after day one is similar to that of the wicked witch under Dorothy's house. can't.even.move.
Here's a little tip I learned after the first year: Have filler activities that you may or may not use already prepped and ready to be used at a tired/panicked moments' notice. Chances are you won't need it, but if you do it will be there. Waiting like a little activity dropped down from heaven.
Also, don't expect the first day to look like the rest of your year. Getting everyone to sit on the rug, sit at the correct table, say their names, make you a drawing, write their name, tour the school, eat the right lunch, and get home safely is a successful first day!
My first day plans are not in any order that needs to be followed. Everyone's schedules are different. I didn't include bathroom breaks or lunch and recess procedures, but of course that is going to be a part of your first day! Think of it as bullet points for things I cover during that first day. Then plug them in to your particular schedule.
I also added a basic overview of the rest of that week in the same download. Plus you can visit THIS POST to see last year's first few days of school in action. (It might explain the watermelon) The download has links to the materials that I use. After you download the first week plans, you can click the pictures to be taken to the activity.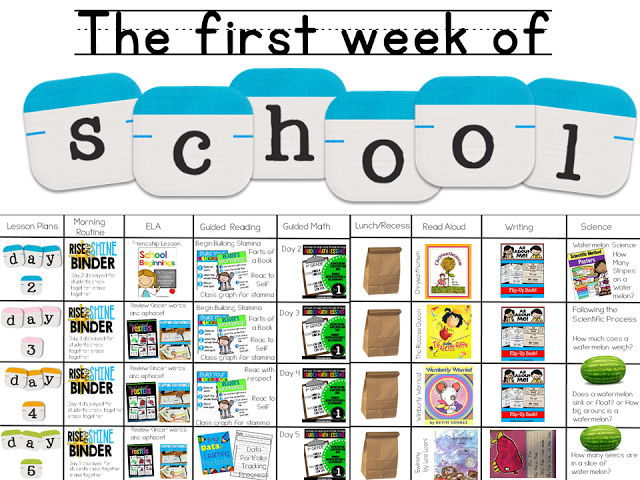 Let's take a moment here and talk about Meet the Teacher Night. A few years ago, I got so tired of the craziness I felt running around to make sure everyone knew what to do, that I made a system that parents could go through at their own pace. This ensured that as I was busy getting to know a student and their family, the other families could take care of important tasks without waiting around on my instructions. To check out what this looks like, just click the picture below!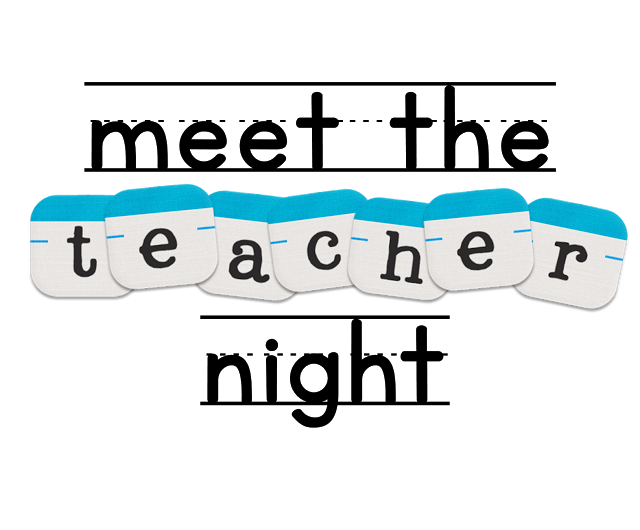 I hope this post has helped give you a couple more strategies and procedures to tuck into your teacher brain for the beginning of school!
Just in case you would like, here are some posts I have written in the past during the first two weeks of school: