So to get this party started I grab a variety of post its and my reading strategy beanie babies tub.
I know these little critters and reading strategies are nothing new, but one of our teamies had not heard of them so I am going to show them to you just in case you had not seen them before either!
I start with these…
Then quickly move to these…
These friends come next…
I think I am missing the kangaroo!  Gasp!
Look through your big books until you find one that has a mixture of simple sight words and more difficult words to try the strategies on!   We will start with this one.
At first I just take one beanie friend and we talk about how these animal friends will help us remember what to do when we come across words we can't read!  For lips the fish I show the first letter.  This way they can use the strategy of get your lips ready.  I move the post it slowly to the right.
This is a lot for one page but this is what it will look like towards the end of this week when we get to this point.  The words covered are bee and buzz. Great for lips the fish, eagle eye, or chunky monkey!  The great thing is that you can model using more than one strategy and check for accuracy.
A little hint is to put the post it with the sticky side on the bottom so the flap faces up.  Students sitting in front of you on the rug can't peek up at the word. I didn't remember this until later….sigh….
Here's another book I pulled for this week.
We are going to work on expository books this week, so this one will be perfect for that!
Chunky monkey helped us find a chunk we know in the word brown!
 Model more than one strategy!
Something that will come up is that students will guess incorrectly using lips and fish!  It's absolutely perfect when that happens because lips the fish isn't the best strategy!  It can help us sometimes, but we always need to check for accuracy!
Students will say grass for this mystery word….
We can then check the sounds in the word and reread the sentence to see if our guess matches up.  If not we can try a different strategy.
When I want my students to see two strategies, sometimes I will give them a little icon to help.  First, stretch the sounds and then check the picture with your eagle eye to see if it is correct!
Later down the road, skippy frog comes out to play.  He is allowing students to skip the word stalks after they tried 3 strategies and were unsuccessful.   I don't keep skippy post its on the book.  I make them as needed.  Once we finish the sentence we go back and read it again to see if we can pop the word out with all the other words that we now know.  I personally like this skip a word strategy because sometimes students get stuck on a
timed test and if they just used skippy frog they could move on and
still be successful!
Like anything else, if you stop using it, your students will forget and stop using it too.  About once a week, throw a sentence at your students like this one we used above, and keep it out of context!  You don't have to do a whole big book lesson, but just a good sentence full of strategies.  Here's the same sentence all covered up again.
What else am I teaching this week?!?!
Here's a peek!
We have been adding to our word wall every week and love reviewing with our word wall centers!  These 4 words will be added this week.
What about the writing center?
The writing center has been a popular place with our engaging writing activities!
Students love the mixture of hands on and pencil paper!
 This picture is a success story!  It makes me so happy!
Five senses writing went perfectly with our five senses activities in science!  Adding details is easy!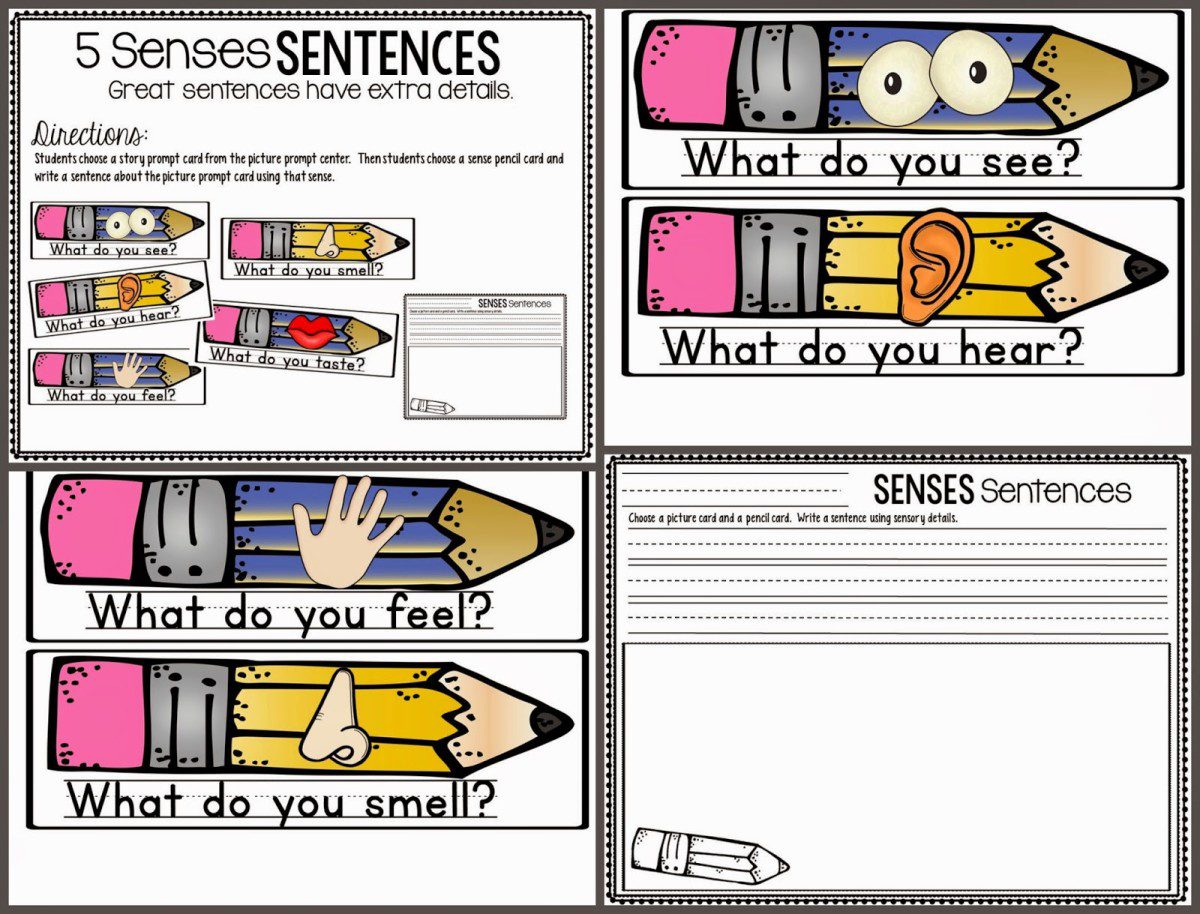 Last week we wrote a Did you ever sentence with the rhyming cards!  Oh so fun!  We practiced capitals and question marks too!
I am pulling from all sorts of places for our math whole group, small group, and independent activities!
Various Math Centers
A year of monthly Centers
Need math journals?
First Semester of Math Journals
OH.MY.GOODNESS.  I am totally wiped out and the week hasn't begun!  What are you doing this week?  How do you teach the strategies?!?  I would love to know!