This post is all about our math schedule. With all the components that we are required to hit daily for math, making it all run smoothly can be a HUGE concern!
I have received a lot of questions about how I fit it all in and what it looks like in my room, so I compiled some pictures of us during math these last two weeks in hopes to help show how I work on fitting everything in to our day.
Our math block runs from 9:30-10:40
We have just over an hour to cram it all in! Here's what we do.
First we meet around the rug.
I frame the lesson with our learning objective and any math vocabulary we will be focusing on that day/week. This is already set up on our little math wall so I grab from our wall as I walk to meet our kids on the rug.
(Last week on Friday I had a helper go get our objective off the wall
and I was happy that she knew exactly where to find it. That tells me
that students are connecting what we do on the carpet to our math
learning wall) This lesson is about 10-20 minutes depending on the
concept.
The math wall is next to our math tubs and manipulatives (top left picture)
It has objective and visuals (top right)
Math vocabulary (bottom left)
and Essential Questions/Big Ideas (bottom right)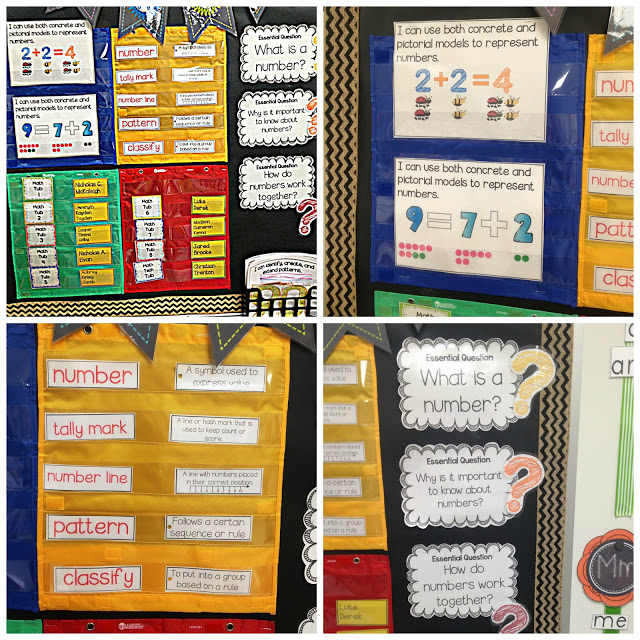 *Notice the little holder on the bottom right corner of the top left picture. It has all the pieces for that unit of study. It makes it easy to switch things out as needed during that 3 week unit.
I store the math wall units in an accordion folder by unit. It makes life so much easier to grab the unit out and have it at my math wall for those three weeks.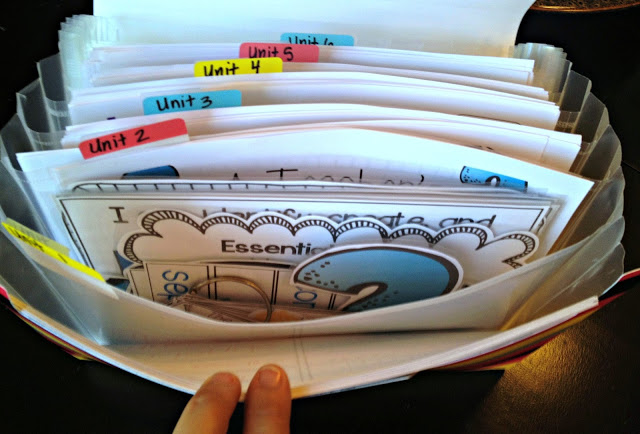 Whole Group Lessons from our first two weeks:
Becoming familiar with a ten frame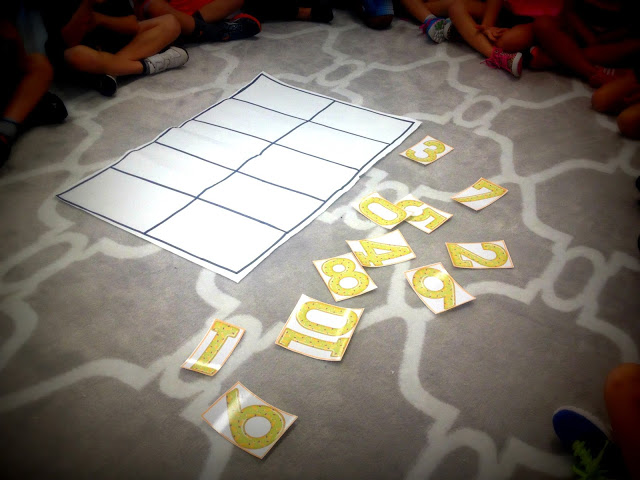 Practicing subitizing numbers using a ten frame
(Knowing the number of objects without having to count)
Ask questions about adding more/taking away/how many more to get to ten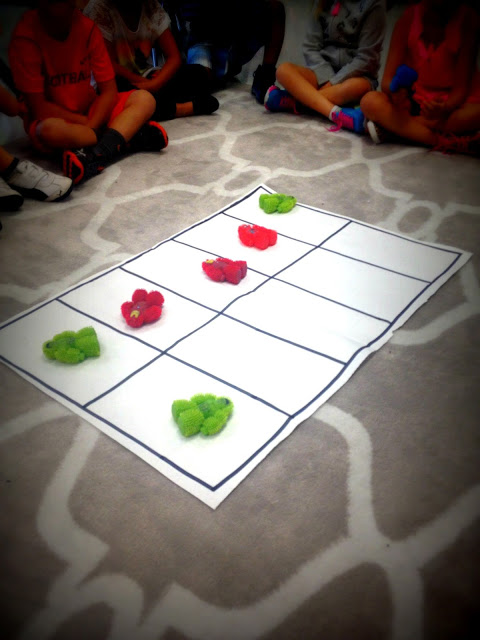 Open Number Line to 20
Odd and Even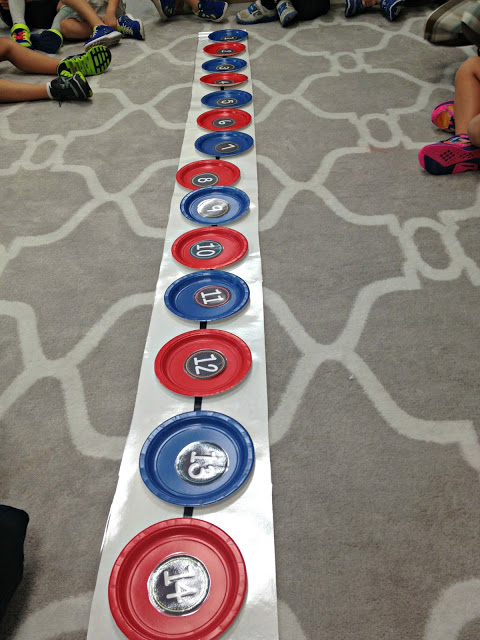 Moving forward/moving back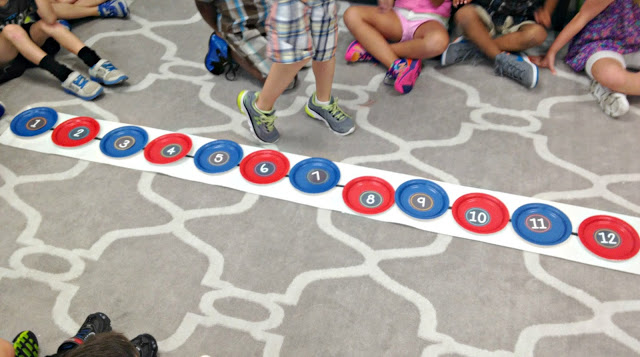 Understanding the equal sign
Balancing across the equal sign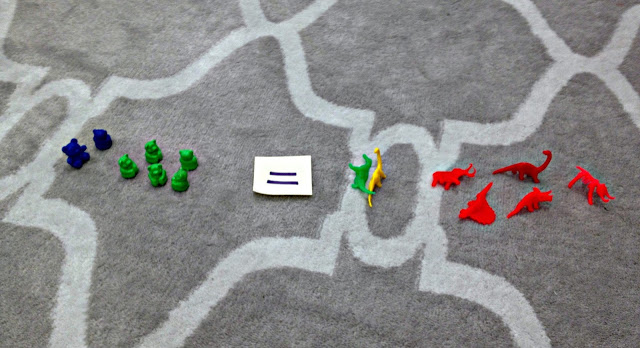 Materials were just fun high interest manipulatives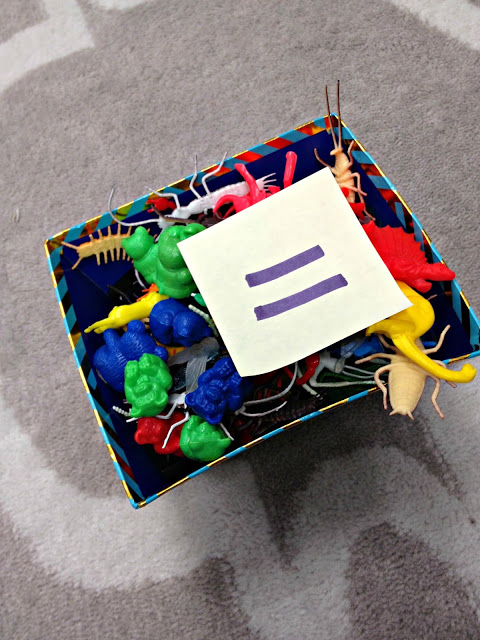 This is how we frame our lesson with our objective
We also noticed that it doesn't matter if your answer comes first, or your addends come first.
Both sides will amount to the same!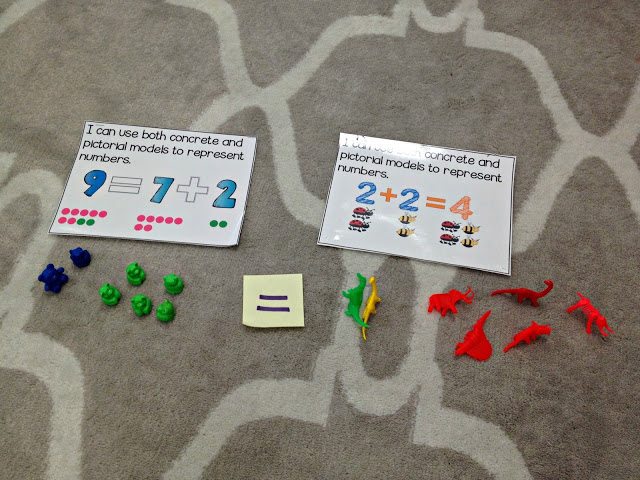 Once we have had our math lesson on the rug, It is time to break out into our math tubs. In my room every tub has a specific spot and my students rotate through the tubs. We do two a day for about 10-15 minutes each. It uses about 30 minutes of our time.
Math Tub Storage
Our math tubs live on top of our manipulatives making it easy for me to switch things out as needed.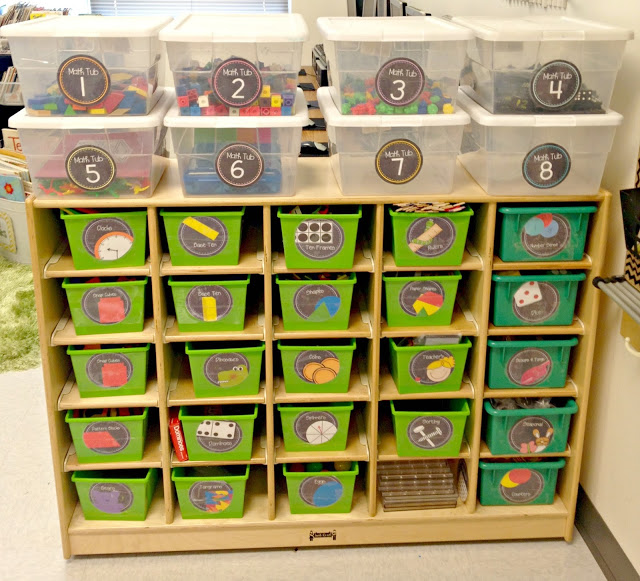 I normally don't change out all my tubs at once, but I will rotate one in at a time and introduce it right before math tubs time in the room. These concepts are review of skills that students have had.
I keep my math tubs in my tall file cabinet. I order them by month and skill and then turn the big envelopes sideways in my drawer. The back space is for lost pieces or extra parts to the tub that don't fit int he envelopes.
My Math Tubs are prepped from my TpT Store and other teachers' tpt stores too!
(Various skills throughout the year)
Students work at math tubs as I sit with a group and give some intervention or walk around checking off skills that I see students able to do independently.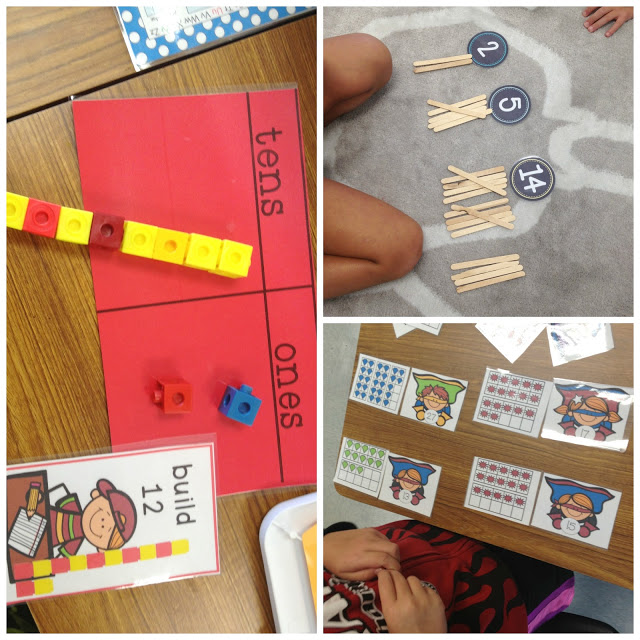 After our two rounds of math tubs, we clean up and put away. Next, we take out our math journals and do a problem of the day. I will either make a prompt or question that matches our whole group lesson or use my Taking on the Math Test Question Charts. Journal takes up the last 15 minutes of our time. I didn't take pictures during our journal time these two weeks. Mostly because I was making sure my students had dates, used margins, etc. 🙂 No time to even snap a picture I tell you!
Our school also uses Lonestar Learning so we have an additional little lesson on our projector involving spiraled review of our state objectives. (10 mins)
Many people want to know if the Rise and Shine binder is part of our math block. It is not! It is done during the morning trickle in time leading up to our morning announcements. I walk around and check as the announcements are ending and we move on with our day. It's quick, fun, and like everything in kinder and first grade, interactive. (buzz word!)

I hope this helps explain what it looks like for me.
What are your must dos? Do you have wiggle room? Is your block set up in a similar way or is it very different? I would love to hear about it!