About a month ago, our family got a new car, but before you get jealous or upset let me paint the full picture for you. It's not a pretty picture.
I had been driving my minivan for 9 years. I believe that my husband wooed me into this minivan during my prime in order to take away any allure or sex appeal I might project while out and around town. Seriously, I firmly believe this y'all.
In the past, I had made statements such as, "One thing I will NEVER drive is a minivan". Hubs was very aware of my thoughts in this area, so he waited until I had delivered my two children and was in a vulnerable, hormonal state, to entice me with intoxicating pictures of a 500 drink holding, DVD playing, leather-lined rolling utopia so intoxicating that I completely missed his muffled mention of minivan. I decided this was my dream car and we headed for the dealership. Did I mention it was brand new? Oh yeah… another dream fulfilled. Unfortunately the dream was a nightmare!
Over the next 9 years, I went from loyal weekend detailing and sponge bathing my luxurious baby carrier to a disgusted, resentful rank and file soccer mom driving a grocery-getter and glaring at anyone wearing lipstick and driving anything smaller than my eighteen-wheeler. Somehow that van became responsible for my weight gain, my new 9:00 bedtime, my loss of memory and muscle tone, the bags under my eyes and other such delights that happen after the age of 35. I had become an empty shell, rolling through life in the food-encrusted cabin of the giant life stealing mini-vehicle.
So 9 years later, in May, my husband surprised me with a new car. (not new new we learned our lesson the hard way on that)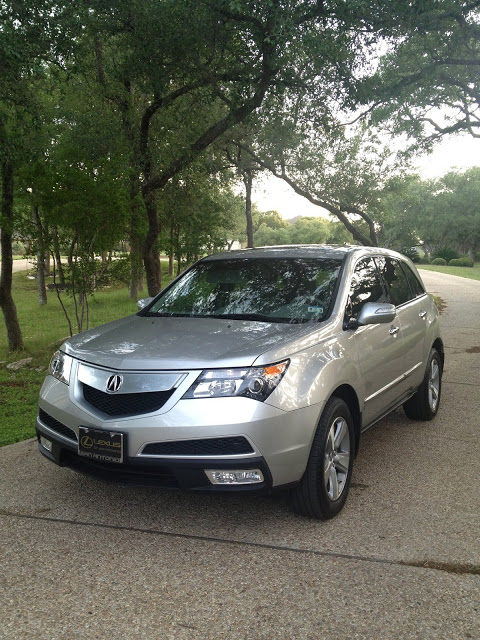 We are in love. My kids are now 11&12 so they, also, are ridiculously happy about the car. Being picked up in this car at school is just a tad more appealing than in the aging beast that dropped french fries and straw papers when the door opened in the car pick-up line at school. Other items would have fallen as well, but they were permanently adhered to the carpeting. (shudder)
The kids insisted that a summer road trip was in order with the new car, and I was in full agreement!
A quick phone call, a brief wait, screeching tires and Nana was on board!
We decided to drive to South Padre Island from San Antonio. Five hours of luxurious, individually temperature controlled and lumbar supported heaven! To begin the process, we all piled our luggage, trip food and beach paraphernalia onto the dining table. My mom and I quickly realized that we would have to lose the 15 outfits and 72 beach towels in order to fit in the car… the prioritizing began…no food was harmed in the process. Beach chairs were cut. We could stand and eat.
Adding to the packing dilemma was my children's travel expectations of being reclined across fluffy flowing comforters. They wanted to each have a seat with an expanse that rivaled the average jet runway. You must understand, when all the seats are up in my new MDX the very back luggage area that remains is approximately 6 inches in width. We're talking toaster oven.
As we began packing, it was quickly evident that we would be stuffing luggage, towels and beach toys in and around all the seats throughout the cabin of the car. And I say cabin with a smirk because with the seats up, it is more like packing a bin than a cabin.
We managed to get the car packed and set for the trip. The kids were so excited to hit the road, they begged to be awakened at the crack of dawn.
At 5:00 am my mom and I filled our giant coffee thermoses and woke the the kids. They were all a twitter with excitement and eagerly got into their car beds. It may have been the coffee, but I was pretty excited myself. I spent many a Summer day at South Padre Island growing up and hadn't been there for at least 5 years.
We shoved and stuffed and as we put ourselves in the car, my daughter who was wedged into her space, could not fasten her seatbelt I went into the back to help her accomplish the task. What resulted could have been a production in Cirque de Soleil. We finally reached the goal when I told her to do a backbend while I snapped the buckle.
As we made it onto the road, my son's small voice came from the back of the car saying,"I'm not getting any air, and it's not because there's a shovel and rake on my head." Then, before we had even left San Antonio, my son sent out another muffled call, "Mom, I can't feel my feet with this bag crushing my ankles"
Nana was quick to reply, "You think that's bad, my toes are stuck under the cooler which is leaking and I have frostbite from the ice water soaking into my shoes."
When my daughter didn't chime in, we had to check and see if she had snapped her spine and lost the ability to speak…
Siri (my nemesis) even chimed in from the GPS with, "Take the next exit and continue to follow the road for …the rest of your life…." and it seemed that we did… but then the palm trees began…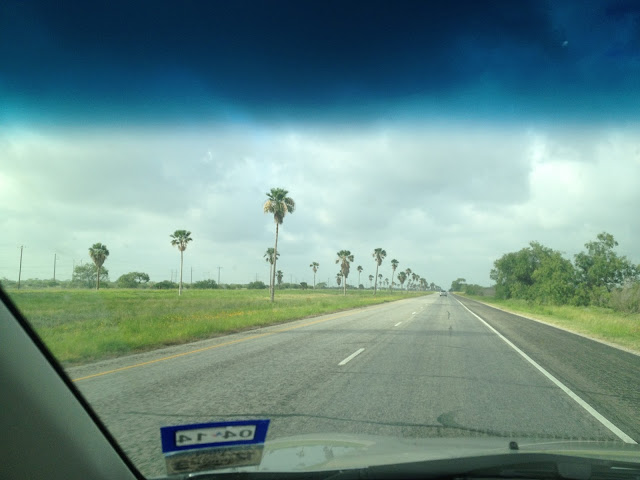 and before we knew it, we were on the South Padre Island causeway. Once we crossed the causeway and made it to the island the only other adventure was finding the condo that we had rented.
As a final jab, Siri told me that my destination was immediately on the right….But when I looked to my right…this is what we saw.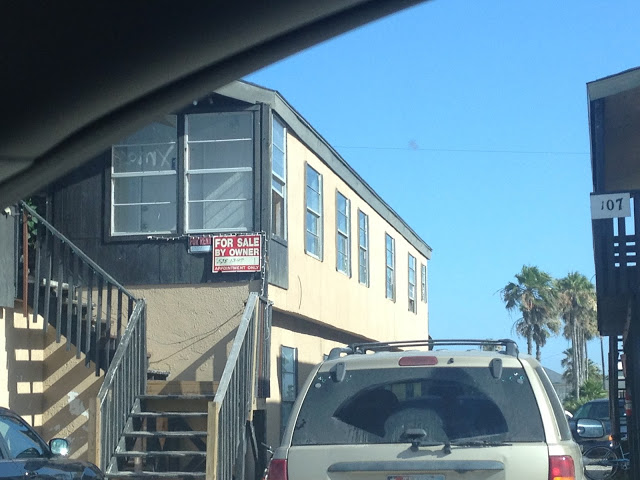 A silence fell over the vehicle as we all took in the sights of the condo that Siri was telling us was ours. With a cracked small voice my mom was trying to see the bright side of things and then I realized the broken condo house number did not match the one on my reservation and I peeled out of there as I gave Siri a piece of my mind… so did Nana… and her voice wasn't small or cracked.
We arrived at the correct condo and I can thankfully say that it is wonderful! Clean, safe, gorgeous! We are so thrilled!
It didn't take a long time OR Siri for us to get ourselves on that beach!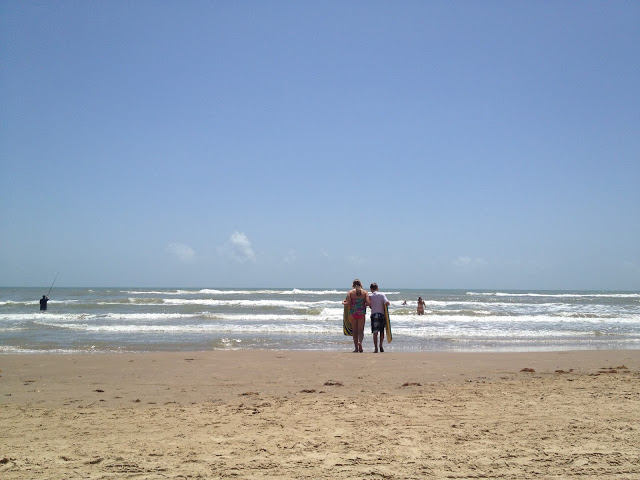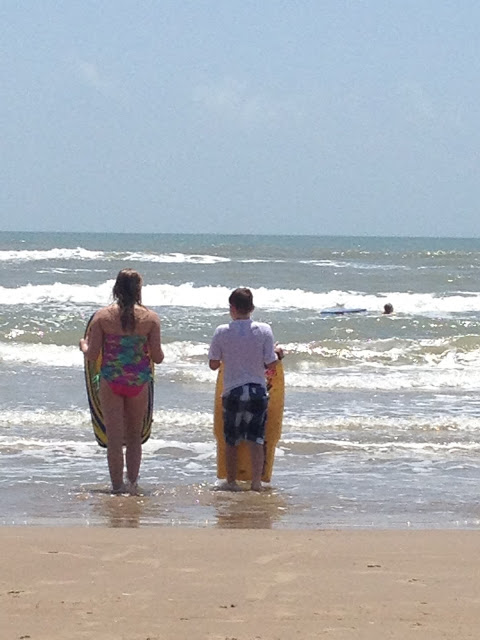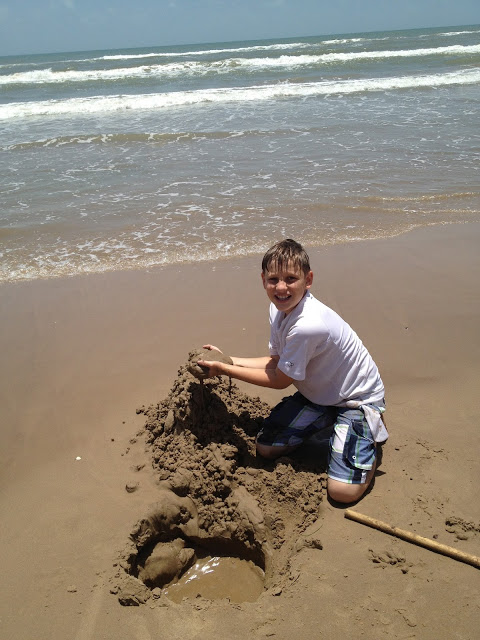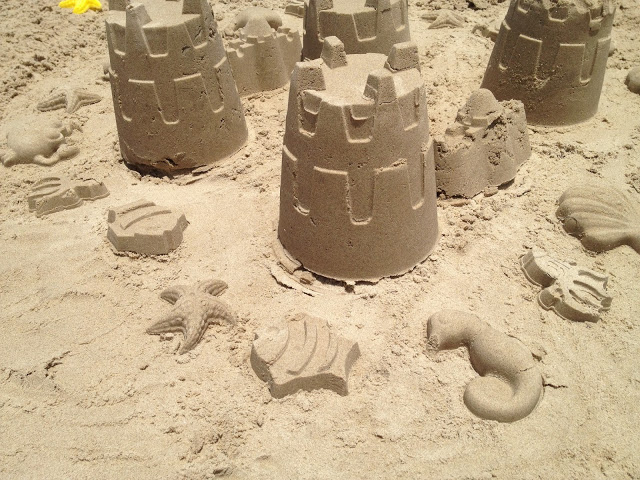 SOOOOO Worth it….!!!!