Tonight I have a couple cheap tricks to motivate your students when writing non-fiction stories.
I had a few other ideas in my head of things to share but I lost my mojo. Actually the mojo got mutilated when I showed up for my after school workout in the gym at school. I think it was the plank with my feet up on the wall that I held while trembling and turning new shades of blueish white… or possibly the endless cycle of burpees, push ups, tricep dips and squat jumps. I just can't be sure at what point the mojo left –but it is G.O.N.E.
I blame Pinterest for my torturous workout regimen. (Apparently pinterest isn't just for cooking, clothes, and teaching ideas…What?!) Trainers actually want to find ways to torture their dear sweet little teacher groups.
I thought I signed up for some comradery and some stress relief, but today I found myself hugging the muddy gym floor while rocking some monster pit sweat rings and holding back some tears mixed with language that would have me sitting in D-Hall. Then while doing lunges across the gym floor as our "resting minute", I tried to tell my teacher friend next to me something funny that happened today in class, and my lunch started coming up. I had to stop talking during my "resting period" so I wouldn't lose it. (By the way, someone needs to inform Pinterest that lunges across the gym is NOT RESTING) My trainer and my friend thought my hunched over lack of talking was funny. I failed to find the humor in revisiting my oatmeal and oranges at 3:45pm. All I was missing was Jillian strapped to my back…
Anyway…
I will move on to the teaching ideas as I know that is probably why you came here in the first place.
This first tip I shared last year but in case we have recently become BFFs in the blog world, I want to share it with you again quickly.
When you are ready to start up a new science unit, set up the tables with a large piece of butcher paper, markers, and photos or items that would be a part of your studies.
For our ocean unit, I put out some pictures of ocean animals.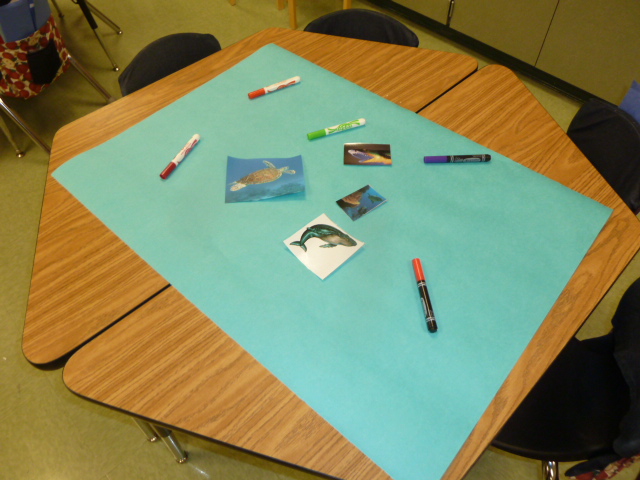 I could have also brought in a flipper, some shells, fishing gear, etc. You can go all out to peak interest or keep it a little lower key.
Students walk around the room with their hands behind their back while you play some music. During this time they can't touch or talk, but are to look and think of a comment and a question about any of the pictures. When the music ends, they can go to any table as long as there is a marker available and write their question or comment.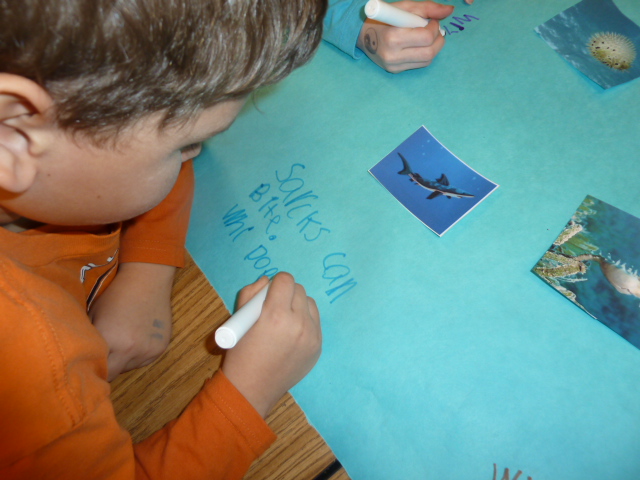 This activity goes very well with science units. I can also think of ways to incorporate social studies too. Bringing in a passport, pictures of the Statue of Liberty, tattered clothes…
My second idea is to help you when you are trying to pull rip tear encourage non-fiction writing out of your students. It's really a no brainer idea but it's working well and I feel like the kids are organized and ready to make their ocean animal report.
I gave them a regular piece of paper and had them fold twice to make 4 boxes. Students took a non-fiction book about their sea creature and as they read it, they put one fact in each section of the paper front and back. I modeled this process in front of them on some chart paper and I talked through my book. I reminded them to read the pictures too because sometimes the text can be too elevated in those non-fiction books.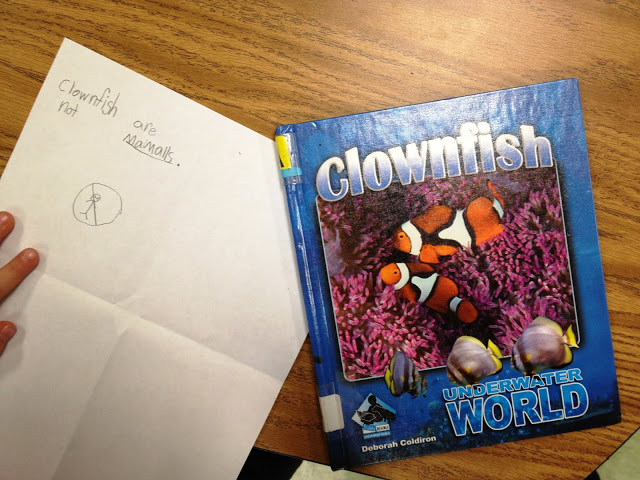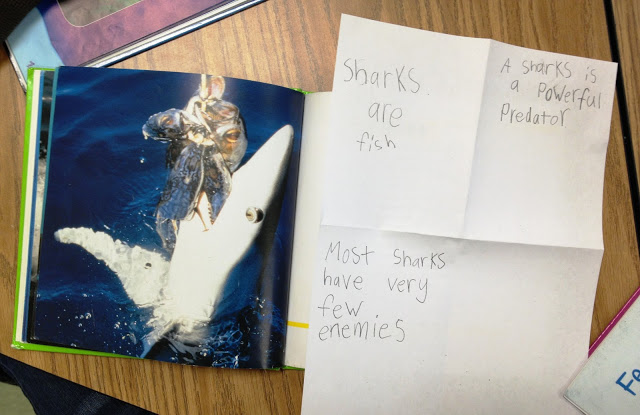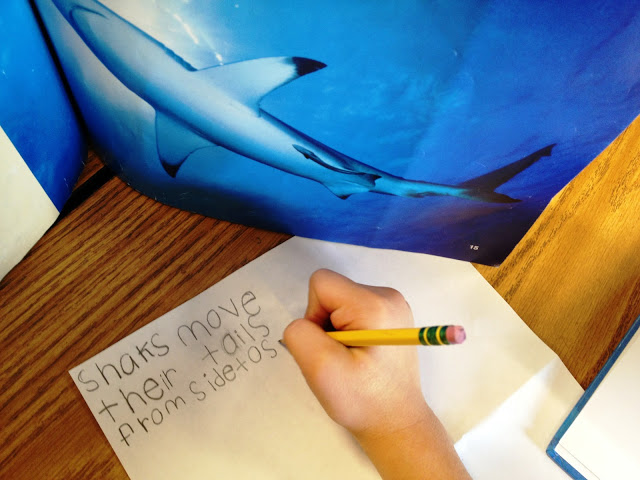 This one below drew some of her facts. The bottom corner showed how stingrays camouflage themselves on the ocean floor. I will totally take that! I love it!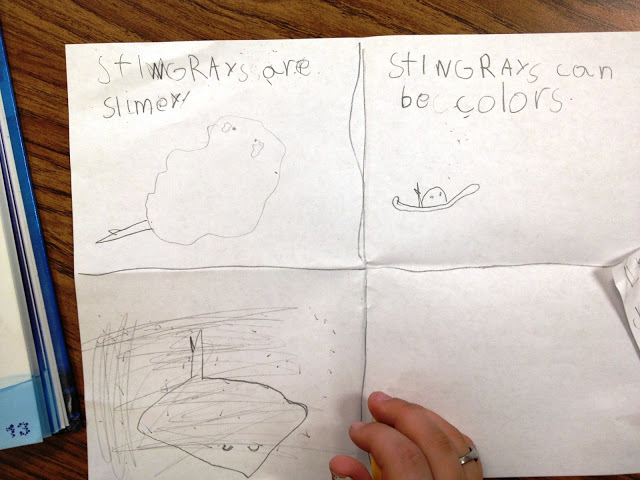 Some students finished all eight boxes yesterday so they started on another 8 today while the rest of the class worked on finishing up their first set of facts. The amount doesn't really matter. It just helps keep the fast finishers going to let them fill up another sheet. We will turn these fact boxes right into a fact book! We will cut the boxes and put them in order as another way of organizing our writing!
Before I go, I just want to show you my loot! With the help of some really sweet facebook friends and student's parents liking and pinning our board, our Techy Santas won the MPM school supplies
bulletin board contest
! I guess Pinterest isn't ALL bad… 😉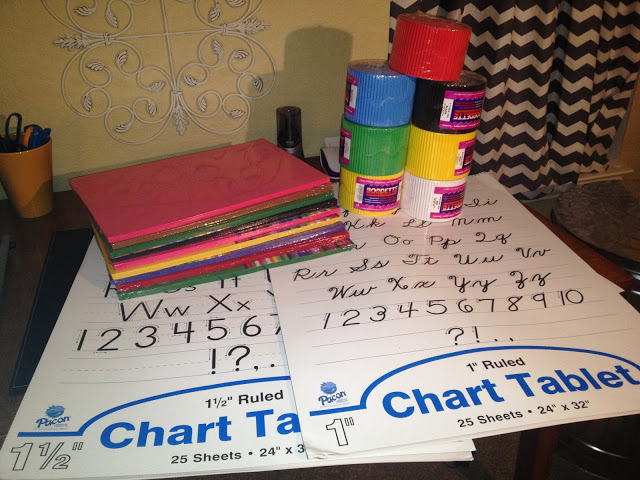 The first place prize was 100 dollars to spend at
MPM
! I spent about half so far and I am so excited! The shipment came yesterday. I had forgotten to tell hubs about any of it so I got a text from him while I was picking up my daughter from school asking what in the world I had ordered. I would have been in deep hubs trouble normally but thankfully I was able to say, I got it for FREE! 🙂 Want to know the best part?! They have HOT pink construction paper!!!! My school has NO construction paper so I was like a crazed lunatic ordering up all the colors I want for Spring) I just got giddy thinking of art projects done in hot pink. Be still my teacher heart…