This post has been on my mind for awhile.
I want to share my journey as a blogger, teacher, mom, wife, and TpTer…I know we all have a story to share. It's why we are bloggers!
Here's mine.
I first discovered teacher blogs in May of 2010. I spent that Summer building my blog. I learned code, tried out some graphics I got for free, and all in all spent $3 on creating a blog! It was so amazing to connect with teachers, check stats, share ideas, and see what other teachers were doing in their rooms! It was an escape that I couldn't get enough of!
On my blog I could be funny. I could be creative. I could be anything I wanted to be. It was an absolute outlet for me. I spent endless hours reading posts and learning so much from everyone.
But months before blogging, my "real life" started to fall apart. My husband told me one day in late 2009 that something was "wrong" and he needed to go to the doctor. This isn't too normal for him so I was worried. The doctors could not give a name to what was going on with him, but after trying a few remedies they called it chronic pain and sent him to pain management. At this point he was no longer working and the disability which was very small had run out.
My teacher salary was all we had. My teacher salary is less than our monthly mortgage payment and we are a family of four. We began to juggle bills with credit. Not only was my husband in pain all day long, but he became depressed because he could not do anything but recline and even then he was in pain. He didn't sleep at night because he was always resting so his body didn't want to sleep in a normal sleep pattern. When I was home from work he was in his dark office reclining and dozing off and on throughout the evening. Needless to say. Things were difficult.
I remember him saying the words pain management and it sounded like a life sentence. I was a mess. A total basket case, but I didn't want anyone to know. I was so scared. My husband went for nerve deadening procedures every 6 weeks, but they did not help. We would look forward to the procedures as if they would take care of everything…and then nothing. I didn't want to see friends and family because I didn't want the dreaded question of how is your husband doing?
This went on for a year and a half before we decided to put our Texas dream house on the market. We could no longer afford it and we had to do something or we were going to lose everything. So we added another stressful layer of putting our home on the market.
It was terrible. It was dark and scary. The night before it was time for yet another procedure, we were having a marriage group at our home and my husband for the first time shared that he needed prayer. Everyone knew that things were not good for him or for us, but this time he verbalized it and our pastor and friends from church prayed for him right then in our home. I was so hopeful the next day and as I sat in the waiting room during his procedure. When he came out he looked miserably awful. (Is that a word?) I will never forget his face when he was wheeled out of the room. They got him into our car and on the way home I had to pull over twice for him to get sick. It was so terrible. I was crying and wondering how we would ever get through life.
The next morning, my husband walked out of his office and said…"I think this time it worked…I feel like trying jumping jacks!"
I couldn't believe what I was hearing. Month after month I had felt that he and the doctors had given up. That there was no hope. That this was going to be our life. I was amazed and I have no other explanation than the healing power of prayer.
My hubs started easing off the medicine and the pain was not returning. He started looking for a new job. Our house was still for sale because we were so far into debt that it seemed like the only solution. I begged him to just take back his old job. We were so beyond desperate for a paycheck. He said he just wasn't ok with going back. I was so upset with him yet I knew that he wasn't happy with his previous job.
Within a month of looking during a bad economic time, husband got a job with a company that has so much more to offer than his old job! He is in finances and he has really taken off with his new job. Things for me took off with TeacherspayTeachers through blogging, and we no longer had to lose our dream house! We took it off the market in April. This year since January has been a complete turn around for our family. We have been able to recover from a very dark time in our lives and live life better than either one of us hoped for. We even got to go on our first family vacation since moving to Texas in 2007.
I learned so many lessons looking back at those two dark years…
I learned that teaching is a passion and as miserable as you can be at home, when you are in the classroom working with children you can completely forget everything else and get lost in your passion. Working with those sweet children absolutely saved my sanity. If you can believe this I was teacher of the year while all this was going on at home. I had thrown all of myself into teaching because I had to put my mind on something other than my home life.
I learned that without going through the dark depressing times, we would not have found these new jobs/passions that both of us love and are so grateful for. We would not have changed our path had it not been changed for us.
I learned that my husband and I can get through anything. Our relationship was put through the test and there was a lot of low lows between us during those 2 years, but now we know what we are made of together.
I learned that my children can go without and they will be ok.
I learned the joy of having a peanut butter and jelly sandwich for dinner 3 nights a week…ok that was not fun. I didn't enjoy that at all. We love to eat and it was very hard to be stuck with a bare pantry.
I mostly learned that God has perfect timing. I certainly didn't think things were going to ever be ok. I couldn't see any reason why we were going through any of that while we were going through it. But as I look back, I see how as things happened it changed our path, our thinking, and our plans.
I don't know if my story will help anyone else out there. I hope somehow it will. I have been nervous to share and really put it all out there. On my blog I can be funny, and I can be "perfect" but real life is just so…real.
Ok….now that that is off my chest….
Since this is a personal post, I am joining the linky at First Grade and Fabulous to share a family recipe! (and some family Thanksgiving pictures too)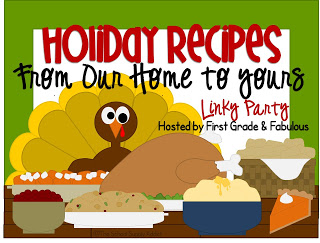 This is a rice dressing that we serve at Thanksgiving. My grandmother was the first to make it for me and let me tell you, I don't normally love to eat rice, but this is SO different! It's absolutely delicious! It can even go in the bird as your stuffing if you are not big on bread stuffing.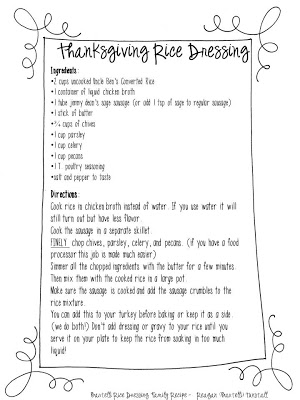 Plus if anyone has to eat gluten free at your get together this is a perfect dish for them!
Here's a few pictures from last Thanksgiving!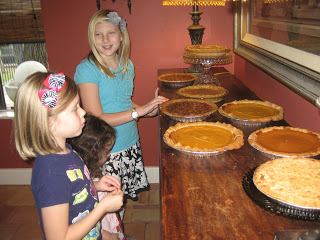 Please link up your family recipes so we can all enjoy!