We have been talking about Veterans Day this week. Because of our newfound knowledge and focus on our beloved armed forces, the students have begun to show synthesis through playing at recess. (Hope my administrator reads this because I just rocked some Bloom's verbage)
We have these thing-a-ma-bob's on our playground. (Hope she stopped reading before that line…) Let's call them whoville phones shall we?
Here's one right here.
He's probably yelling, "MAN DOWN!"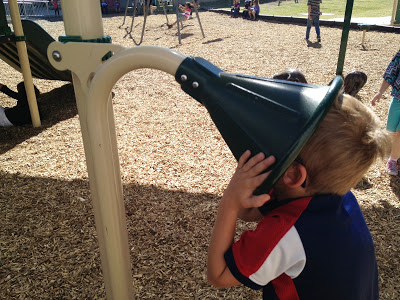 Meanwhile,on the other side of the playground you can find this matching whoville phone that is magically connected. (Don't ask me, there's 8 tons of mulch on this playground) This guy was saying. "Stay strong soldier…we are on our way! Roger that! 5150."
( ad lib as I was not actually in the germ infested phone myself)
On normal non Veterans Day teaching days, these phones can be rather tempting for first graders and as I stand near one side of the phone on the playground I hear things like "doodoo head!" and "poopy pants!" "Hahahahahahahaha!"
Needless to say this playground attraction is NOTMYFAVORITE. Did you hear me? I screamed it in the whoville phone so you would hear it out of your computer speakers…
Here's what caused the all the ruckus at recess.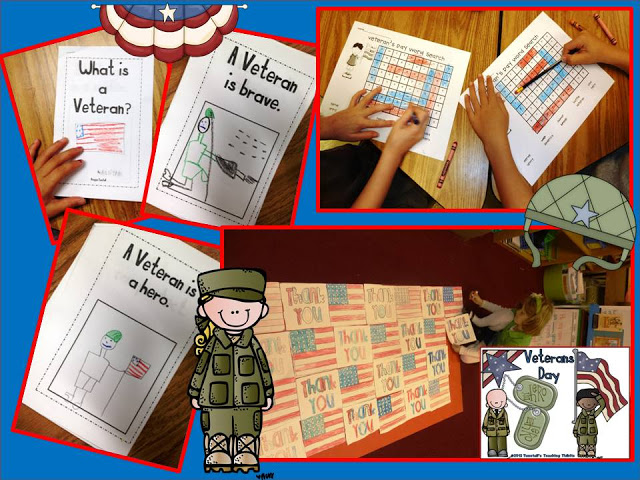 We are working on conventions in writing these days…You wouldn't know it because I keep doing fun book studies and reading responses, but it's true we really are working on conventions now. Here's the rubric I use…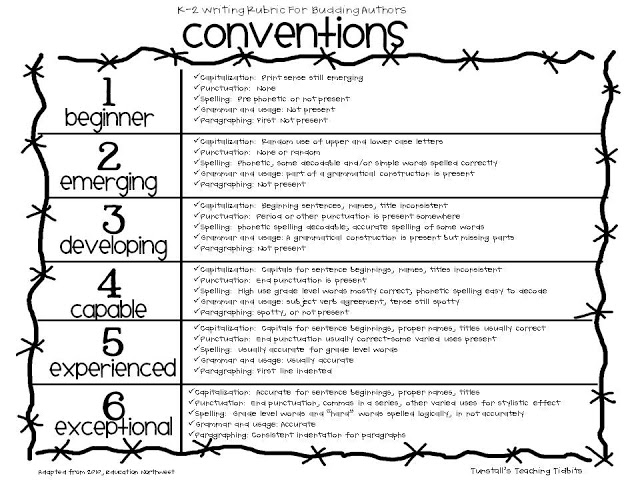 But year after year I tell them to use capitals, periods, spacing, etc…only to feel like no one can master this skill. I know I know they are young! I totally get it! So this year I came up with a solution! We met Eddie today! He LOVES to edit. And my kids ATE IT UP!!!!!
Here's a little slurb. (snippet and blurb) of what we did in pictures.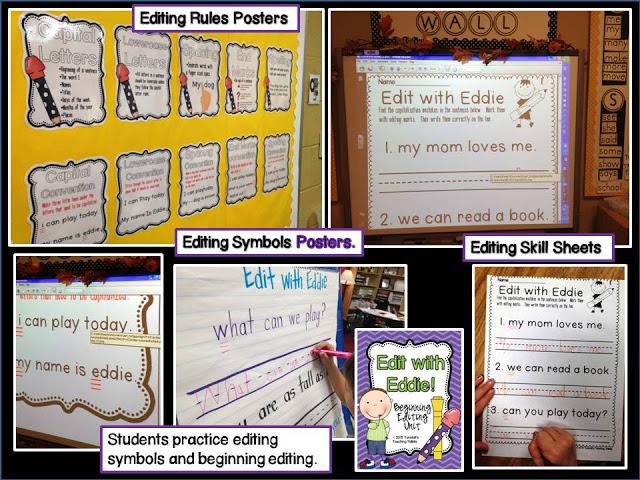 It was so exciting because they get to be in charge of edit marks this year. NOT ME!
With this unit, they get to practice and correct making editing marks for capitals, spacing, lowercase letters, end marks, and spelling corrections. (Don't worry the spelling correction part is only for word wall words or color words)
Also…I was printing from the pdf file in my room and noticed the large projected pdf on my smart board so I actually left it up and taught from it. Lightbulb Moment Folks.
Why haven't I been doing this?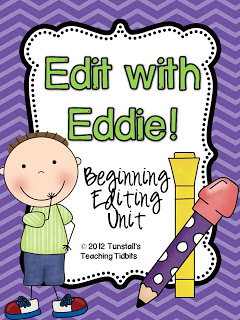 Let's see if we can make it till Friday. Keep one ear in that phone for me…will ya?