Why is it harder to teach on the weeks that you know other people aren't teaching?  Some of you who shall NOT remain nameless, "Squirrels" from Going Nutty, is on Fall Break.  I am only 80 percent sure this is even a real reason to take a week off from school.  Mr. Columbus and I are NOT on board with this nonsense.  (OH AND I didn't get Columbus Day off either!!!)
Well as you sit knitting blankets and sipping warm beverages we are having spider week in first grade at my school, so don't call the exterminator!  And as much as I love hanging out with spiders and 6-year-olds, I am still a tad jealous that SOME of you are not teaching.  Just a tad.
ANYWAY…let's get on with it shall we?
Here's the spider mania we have enjoyed the last 2 days.
I am going to separate it out by subject for thrills. Hold on to your laptops…it's getting exciting in here!….ahem….
When the students came in on Monday morning the science center looked like this.  At first, they thought I had decorated for Halloween, but pretty quickly they clued in that it was ONLY spiders.
We read a nonfiction book and then created a quick circle map about what we had read. (and by quick I mean please don't look too closely…it's embarrassing!!!!)
Then students took their circle maps and chose a spider fact sheet to transfer their learning to.  Some choose 3 facts and others chose 4 or 6 facts.
Today, they took their spider facts page and we did a lesson on how to take information from a graphic organizer and create sentences with it.
I became the coolest teacher ever when I said their work was so good I wanted them to sharpie it!  "Are you sure Mrs. Tunstall?"  "Yes boys and girls this writing is AMAZING!"  🙂
Tomorrow we will put together the web, spider, and create the bulletin board.  I am pretty sure the anticipation of a new bulletin board will be getting me out of bed in the morning!  Did someone say freshly cut construction paper?  I'm IN!
Spider Math Centers…
I added the spider centers to the October centers I had going this week!
Spin a Spider from Spider Week
Pumpkin Place Value
From October Math Centers
 Fly Away Bat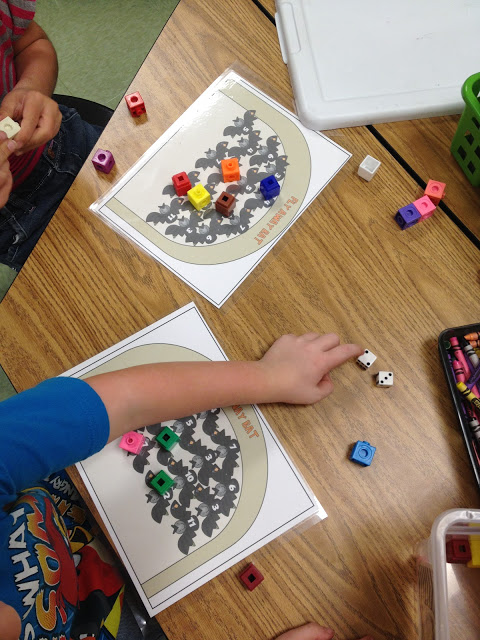 Compare and Order by length
October Math Centers
Kooky Number Sentences
October Math Centers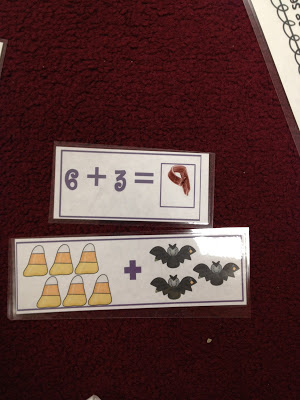 Spider Addition
Spider Week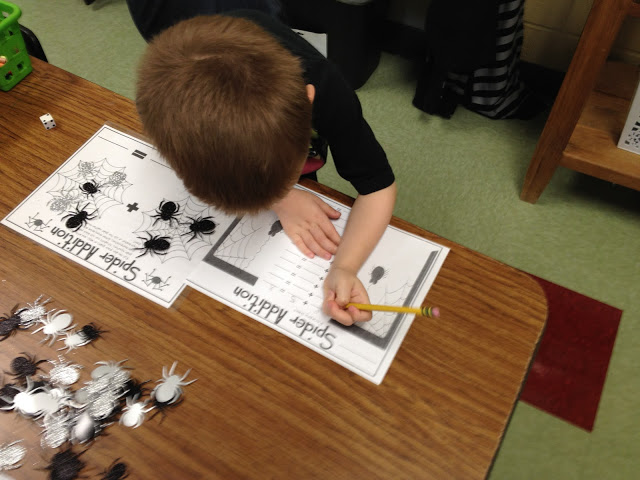 The highlight of today was playing one of the literacy games!  I named it EXTERMINATOR 5.  Students pass the bucket of spider sight word cards. They reach in and pull one card out.  If it is a sight word, they read it and the class reads it back.  Also, if they pull out an exterminator card then they place it on the right of the pocket chart.  If we can get around the entire circle before we pull out 5 exterminator cards, then we are not exterminated!  We had SUCH fun playing this today.  We HAD to play it twice in a row because it was just that exciting!
Look at these precious faces!!!
This spider came from the dollar store this weekend.  She sat on the table that was working the quietest today.  (I was pretty thrilled with this dollar purchase because my class was working silently for this little lady!)
****************SQUIRREL ON FALL BREAK*********************
Did I ever share this little number?
My team mate found it on pinterest from Jen at Finally in First
Me on the Map
This is our version of Jen's Me on the Map! 🙂
Well I hope you made it to the end of this LONG post!  if you are here I love ya for it!  Thanks for coming to school with me!!!