This week I am going to focus on What makes a Sentence with my Firsties.  I like to do this with  Who What Where When (and later we can add Why).
To begin we make a chart like this. (be sure to color code)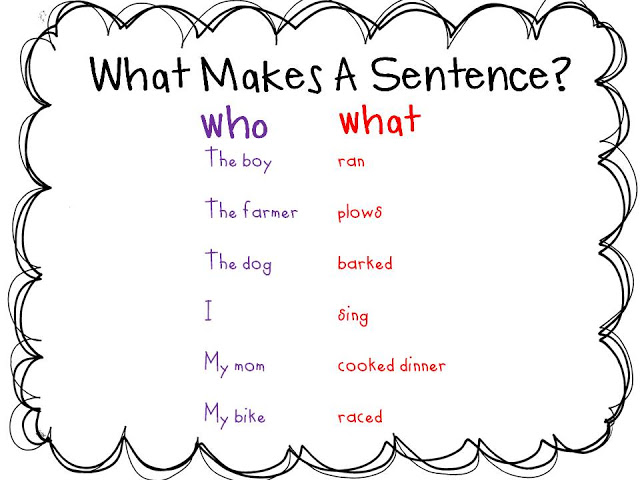 The students and I come up with the Who and the What together.  This is a process of talking about Who as anything my story is about.  It does not have to be a person to be a who. When you do the What portion of the chart try to use a variety of tenses for your verb so that your students don't get stuck on just past tense only etc.
On Monday  after making the chart pictured above, my students will get a strip of blank paper (or two or three if they are quick workers) and they will go back to their tables and write a Who What sentence.  I will set my timer for just a few minutes.  Students return to the rug with their paper and sit on the perimeter.  Each student shares their Who What sentence.  We all clap and celebrate that we can write a Who What sentence!
On Tuesday we pull out our chart and review and then add a Where column.
After coming up with the where column we go back to our tables to write a Who What Where sentence.  Students will want to give you when statements for where so this is a great way to explain the difference.  Picture it in your mind.  Where is the Who doing their action?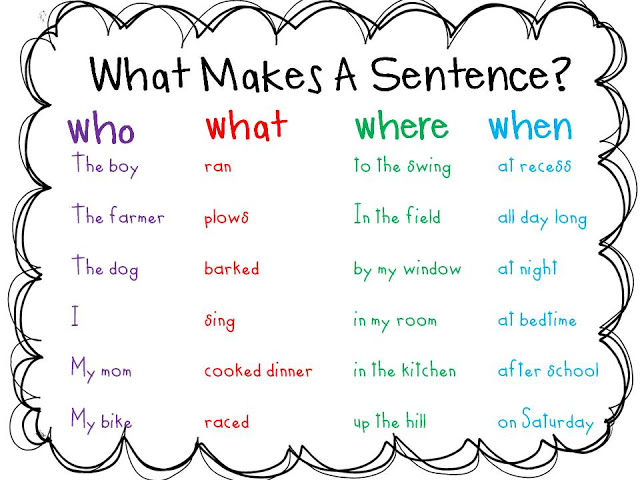 On Wednesday we review and repeat the same lesson if necessary.  If we are ready we can go on to the Who What Where and When sentence!  The students think this is just AMAZING.
This simple process helps you all year long when your students need to know when to put a period in a sentence.  It will also help you to pull more out of them and create those super sentences that your students are not great at writing just yet.  You can do this monthly and incorporate the season into the Who so that you have a seasonal chart.  This can also help to jump start a story for some of your students.  These ideas are adapted from information I read on Project Glad.
Visual Plans
Here's my visual plans for the week!  Click the picture to see them in google docs.  From there the pictures and words are linked to the items in the plans.  There are some freebies for you too.