We have launched our writer's workshop. Today was our first real try at it. I am thrilled. Because it's probably my favorite subject to teach! I just find it so fascinating to get the thoughts they are thinking in their first grade brains on to paper. I took this picture during our quiet 10. (Quiet 10 idea is from the book, No More I'm Done by Jennifer Jacobs)
(Ten minutes of background music, thinking, drawing, and writing-no interruptions)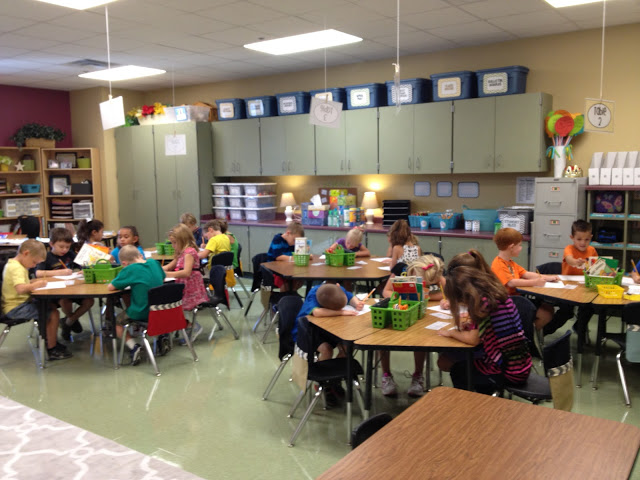 Then we gathered together with our writing and had author's sharing.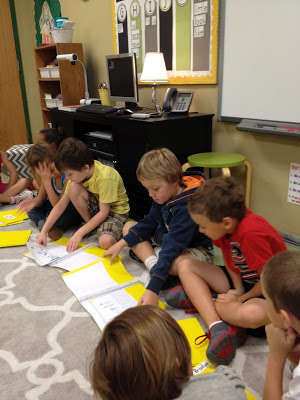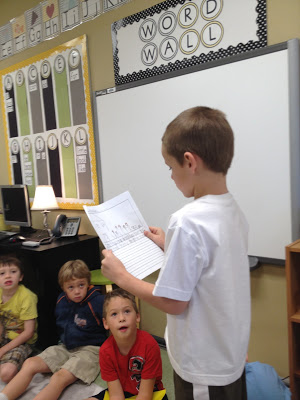 This morning we got a special delivery! Just look at their excitement! We made intelligent guesses based on clues we saw on the box! ( Forgot to snap a picture of the chart in all the excitement!)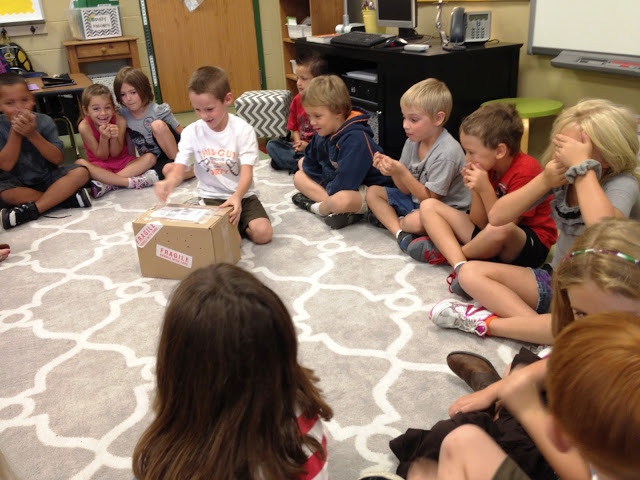 Then it was time to see if our guesses were right….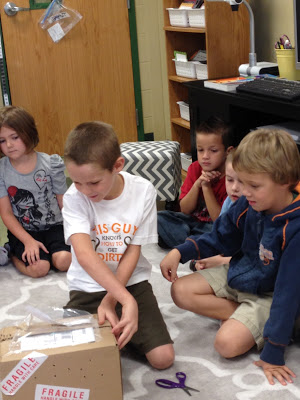 Can you hear them ooohing and aaaahing? They also said…"Be careful it says fragile!"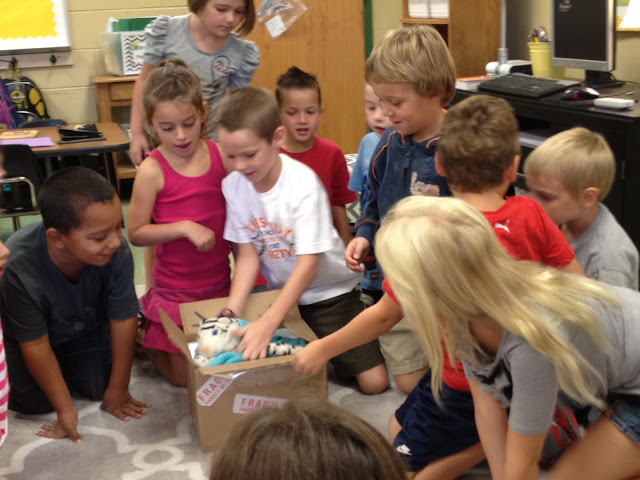 And on a blazing HOT day in central Texas, Snowflake The Tiger was named!
(The two most popular choices were Snowflake and Jethro…) Snowflake won by 4 votes!
Snowflake helps me watch for excellent behavior. He's got sharp eyes and great instincts.
No messing around on his watch.
More on Special Delivery Writing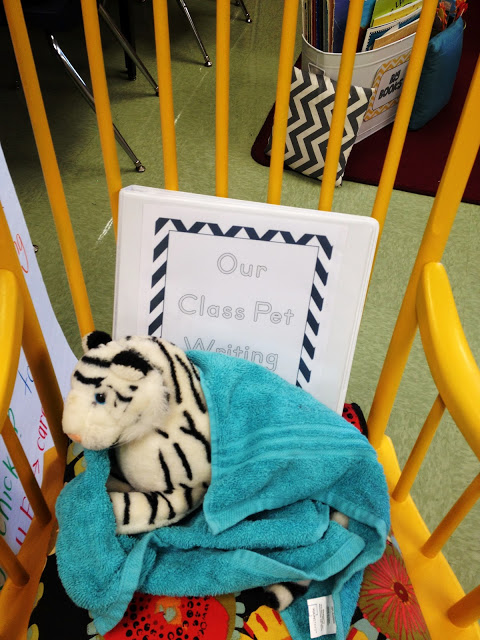 Launching the Daily 5 has been a big part of this week. We really haven't gotten too far in yet with stamina, but the students are practicing their read to self behaviors and learning the three ways to read a book.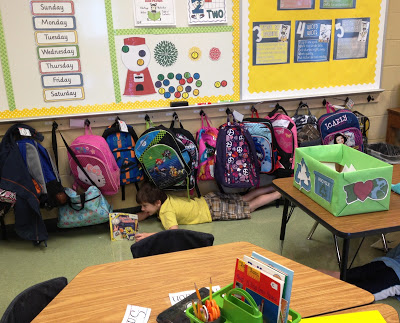 We are charting our progress on the smartboard. I copied this chart I made on a thumbdrive to share in this post and left the thumbdrive in my computer at school…So please come back for that next time! I also left my will power at school in the gym at PiYo class because I just ate a handful of dark chocolate covered blueberries…I have LARGE hands.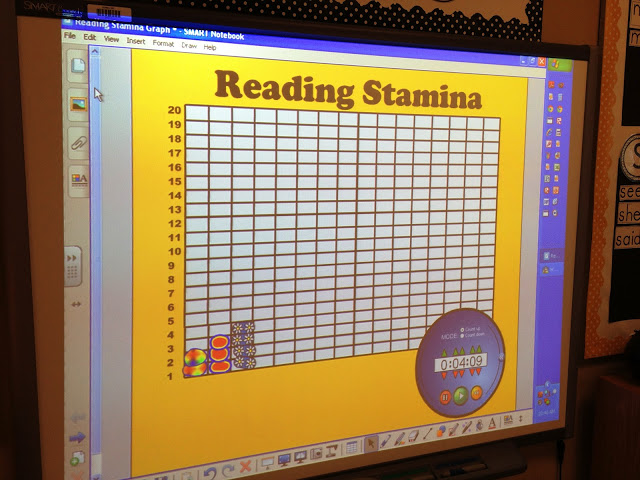 In science we are studying insects. Here we are placing them on ten frames so we can count to see how many insects we had in the bucket. We counted by tens to find out that we have 100 insects!
(Bridges anyone?)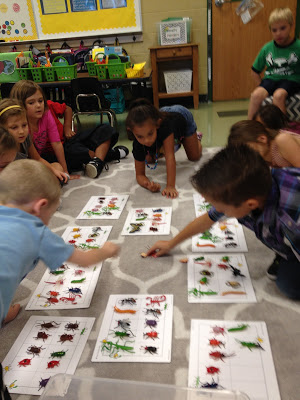 We used our singapore math bracelets to figure out what number our friends were holding up.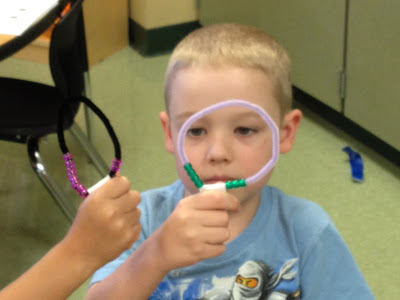 …This was our first class meeting. We defined what it means to be a school family. It came out of my school beginnings pack. But you can make this all on your very own. It was a sweet lesson.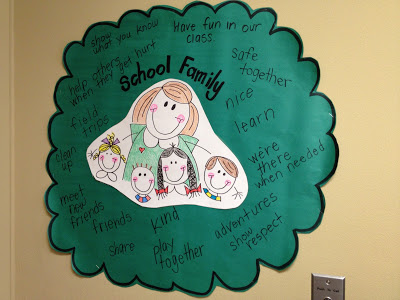 This post has been brought to you by the letter T as in
Tumblebooks
!
It has saved my strength and energy this week.
While some kids are finishing up some work, others are able to enjoy a book.
I loved the highlighted captions, music, and sound effects.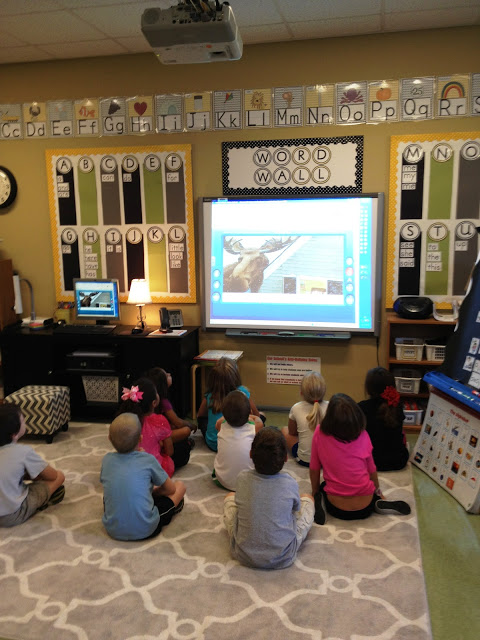 TGIF! Happy Long Weekend!
I'll be back with next week's plans and that smart board file this weekend!