Hello Bloggy Friends!
Monday might be my favorite day of the week during the Summer…Oh the possibilities!
I am sharing a product today because I have had requests lately for more daily math review pages and I just finished the set I plan to start my school year off with. (In the FAR FAR FAR distance)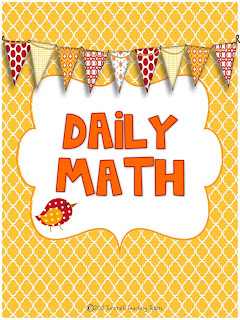 I use this as a daily warm up. In a crunch I have also used it as homework or a little assessment to see if my students are really independent with the activities and concepts.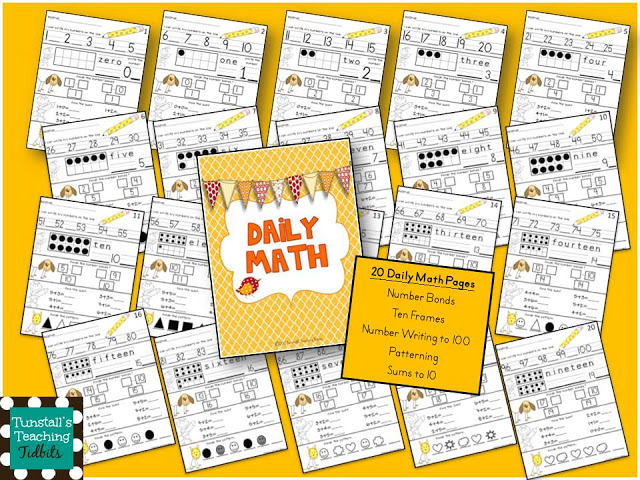 At first we do this whole group and because the pages are set up in a pattern and just increasingly get more challenging, this quickly becomes independent and the students feel very successful!
These sheets cover:
Number Words 0-19
Number Writing 0-19 and 1-100
Ten Frames up to 19
Number Bonds up to 19
Sums to 10
Picture Patterns (basic AB, AAB, ABB, ABC)
*For those of you needing the Common Core Alignment:*
Kinder:
K.CC.1. Count to 100 by ones and by tens.
K.CC.3. Write numbers from 0 to 20.
K.OA.2. add and subtract within 10
K.OA.5. Fluently add and subtract within 5.
First Grade:
1.OA.1 Represent and solve problems involving addition.
1.OA.3 Understand and apply properties of operations and the relationship between addition and subtraction.
1.OA.5 Add (and subtract) within 20.
1.OA.8 Work with addition (and subtraction) equations.
I am going to make a coordinating Daily Language set to go with these. It is next on my To Do List. But first I am planning some fun with my kids! Hooray for Summer!