Tuesday April 17th.
Dear Teacher Diary,
Today was day 148 of first grade.
I am starting to think my students will follow directions soon.
Maybe tomorrow is the big day.
Maybe everything we have discussed for the last 148 days will just ripen marinate sink in mature click. make sense come together.
Yes I am sure of it.
We are working on our book study of Sylvester and the Magic Pebble. It goes well with studying rocks. 4 out of 5 teachers agree.
Isn't there always 1 that doesn't agree?
I am pretty sure 5 would agree….
but 4 out of 5 makes a better fraction and rocks and fractions are my life right now. MY LIFE.
Today I played the John Lithgo version of Sylvester and the Magic Pebble off of United Streaming.
A video in the morning?! Can it be true?
Then we worked on our book study. (fancy way to do a theme-y reading response)
Don't these two below look like Rocky and Ce Ce from Disney's Shake it Up?
It's cute till you hear the Be Be Be my BFF song 24/7 at school.
I have
officially banned the song.
OFFICIALLY.
Dream Squasher in CHARGE
Guess who else came to class today!!!
I introduced the class to Sharon Stone, Slate, and Punk Rock.
They were a HIT! I even went into the story line a little bit.
Then we went out on the playground to find our own pet rocks.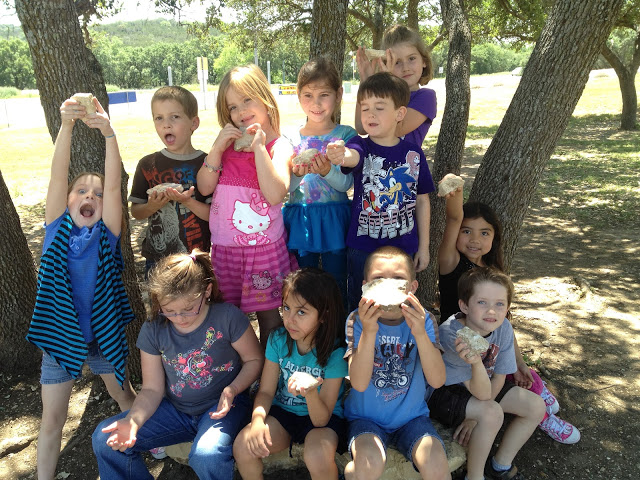 no Kristin this isn't my entire class….just the ones that had already found their rocks. 🙂 🙂
While we were out finding pet rocks a very upset first grader came running to me pointing at a group of my kids that had gathered in a huddle.
The student was stuttering due to being so upset. He kept saying. "He killed Nate! Nate! He killed Nate!"
My heart and stomach lurched. Everything went into slow motion. My mind was racing and my body was not moving fast enough to get to Nate and the huddle.
I was thinking Nate? Did I get a new student? Who killed him? Was it a rock to the head? and finally the stutter ended with He killed NATURE!!!!
As I reached the huddle I found a squashed worm. Apparently named Nate. or Mr. Nature. In anycase he was dead. It was awful to see Nature there dead on the ground.
Moment of silence.
Taps playing.
You should see the bloody knees and elbows from a friendly game of tag.
In the Science Center this week we are sorting by color and graphing our results.
Tomorrow we will paint our pet rocks and add their eyes and hair.
I am totally the best teacher ever.
Little do they know they will be writing ALL ABOUT IT.
Then it was fraction time! We did two activities today.
Shoe Fractions
————————-squirrel—————literally——————–
Ever since reading Going Nutty with Miss Squirrels, I have encountered many a squirrel and thought of her blog and her funny personality. Well today I just couldn't resist snapping a couple pictures of a certain squirrel ride on our playground.
———————that was for you Miss Squirrels!———–
About a year ago I made my teacher song and video set to Infernal Gallop.
But since I hadn't made up a silly teaching song in WAY TOO LONG…
Daughter and I wrote the lyrics, genius boy did the filming, and a few of my FUN and FABULOUS coworkers (and some teacher kids) starred in the video.