What a blast! Here's who was there…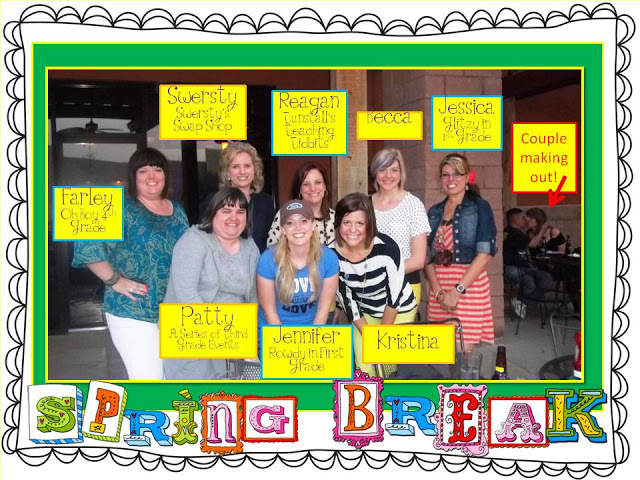 This picture is me with Jennifer!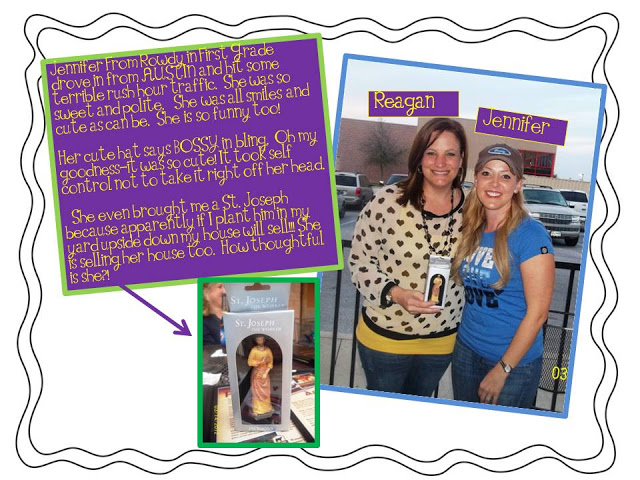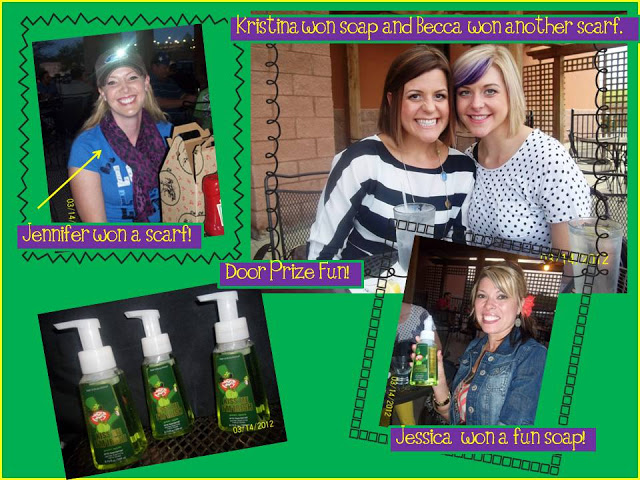 Farley (Oh Boy Fourth Grade) was there with her lashes and her lava lamp fingernails. It was like old times! She is so hilarious…I learned a lot more about her! That girl is incredible. She FO SHO a trend setter. (remember the giraffe scarf incident?) She just makes you want to buy stuff. Her bangs are SUPER cute too!
Swersty (my librarian) from Swersty's Swap Shop and I showed up second and we did the 6 degrees of Kevin Bacon thingy and found out she and Farley knew a person who knew each other. Swersty is fully inaugurated into blogland now with her 2 posts! 🙂 She is excited to start making some freebies. She has 20,000 books at her fingertips, give or take a few, and her lessons are picture worthy! She is So creative!
Then Barbara came. (not pictured) She doesn't have a blog but she reads them and she was a RIOT! Love her… (!!) Hope you made it home eventually Barbara! It can be tricky getting out of the Forum…maybe you'll just find another man on the street to call ya baby and head you in the right direction!
Next came Kristina and Becca. Fabulous first grade teachers and sisters too! Could they be more adorable?! No! Kristina taught across the hall from me two years ago and then abandoned me to live closer to her home. (not bitter-so happy for her!) I now teach in the classroom that was hers. (You know those cute seat sacks, curtains, and lamps in my room? They were hers!) I only taught with her one year, but that girl is amazing and she had the most positive influence on me. I absolutely adore her. Kristina's sister lives in Corpus. She is just as cute as Kristina and we were all jealous of her new purple streak in her hair! How adventurous! They are just precious and I am SO glad they came! They aren't bloggers yet, but Kristina will be guest blogging soon! And I have a feeling Becca will too!
Then, Patty arrived. She teaches across the hall from Farley and her blog is called A Series of Third Grade Events. I didn't get a chance to talk with her too much, but I did hear some funny stories about a particular student she and Farley are familiar with. (was that vague and general enough?)
Next was Jennifer from Rowdy in First Grade and she came bearing gifts to help me sell my house!!! We can totally relate on the stress of trying to move. She is absolutely sweet as can be and thankfully for us she is not yet moving to Seattle. Jobs are keeping them here…at least for now!!! Boo for her though because she is done with the Texas heat! One of the topics that came up was that the architects and builders don't actually consider teaching when they build…She told us she has an EXIT sign in the middle of her bulletin board…So we asked the obvious question if the whiteboard was magical and we could exit through it….apparently not….That got us going on a whole slew of other odd builder's choice options for schools. Farley gave us all the solution…sweet talking the workers and giving them cookies. Farley and her team got their boards moved and hung the very next day when they saw that things were not going to be teacher friendly. I am telling you that Farley has some serious influence.
Finally, Jessica from Glitzy in 1st Grade made it through rush hour traffic and arrived in style. She is gorgeous and teaches dual language first grade in my district. She has breakfast in her classroom too. Moment of silence for us and all the messy sticky desks we get to clean every morning… I almost had it out with the server (no not really) when I graciously reminded her that Jessica had not ordered…she responded, "I know." Theriously?! All of us teachers were quick to remind her (behind her back) that the correct response would be, Yes, Ma'am. (it is Texas and we do say that here) Or at least, I am happy to help you right away etc…insert kind remark here…ok I am going to let it go….now. Jessica has a crazy schedule but she is very dedicated to her students. She is so fun and cute and her classroom pictures are over the top!!! You should peek! Jessica also has 4 kids of her own from age 4 to 16 so she is AMAZING! (We were all shocked too.) I am starting my diet today thanks to seeing her rocking bod 4 kids later!
The evening was so very fun and full of hilarious stories. It was trivia night but we could not stop ourselves from gabbing to hear the trivia at all! What a fantastic evening! Dress code was a BIG topic, so were crazy parents, hilarious students, school building design, our own kids, potty training, chaffing at 6 flags while trying to act sophisticated, more dress code woes, neon colors being very IN, crazy principals of the past, present, and future, our undying passion for teaching and blogging, oh….and hair and nails of course.
We are counting the weeks to the end of year and I am totally going to have to PUNCH my kids the last two weeks of school like Farley and Patty do. Punch their cards that is! What a great idea!
It was a WONDERFUL night!!
—————————–
Also during the blogger's gone wild get together Holly from Crisscross Applesauce in First Grade got a blog makeover! And to celebrate she is having a giveaway! I am part of it (yay-she asked me!!) so PLEASE go give her some love and see her new design!