So I woke (for work—insert feeling sorry for me here) and I found that I had a message at my teachers notebook store. I always freak when I get those because my first thought is that something is messed up in one of my lessons or units. Well I was surprised to find this amazing note waiting for me! (She said I could share it)
"Thank you so much for all of the wonderful items in your shop! You
truly are a teacher's life saver. Last week my school announced that
they would be closing for two weeks due to a bombing ..
…
.that
occurred here and we needed to send home work with our students for
those two weeks. Although I was shook to the core from the bombs (one of
them was down the street), I had to put my mind to work on the packets.
So, I quickly bought your Pet Pack bundle and March centers so that I
could send home the daily language and math papers from the bundle and
begin preparing for March with your math centers. Some of my students
saw the different papers in your bundle (the ones with the cats and dogs
for writing) and asked if they could have those in their "school at
home" packet. I had to tell them "No, we need some lovely things to do
when we return." So I know that they are waiting for those papers. 🙂
Once again, thank you for sharing your creativity and love of teaching
with all of us, you always brighten my day with your stories."
We continued to talk and it turns out she teaches in Syria. Ya'll that's incredible. Amazing. Unreal to me. A teacher in Syria is teaching my stuff. And your stuff. And I could not love this blogging community anymore. I hope you will pray with me for this teacher (originally from Ohio) and her students and all of their families. I have already sent her some more stuff. I will keep you up to date on her if I hear more info.
So here is a pic I snapped tonight. It's a typical school night here….Check out my laminating! With all the cutting I will be doing, it's gonna be hard to concentrate on the terrible outfits Ben wears tonight….I shall overcome.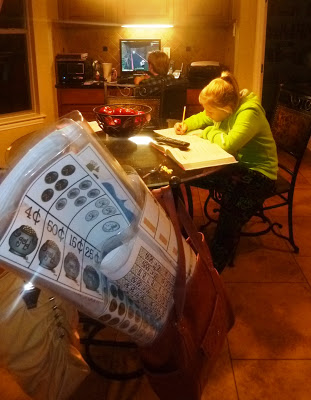 laminated march centers, Baby girl doing homework, genius son on computer…
Also I just wanted to let ya know you
can enter the giveaway for one more day. Tomorrow at bedtime I am
going to pull the plug on this baby. A lot of you are feeling lucky!!!
yay! Also Hadar told me no one would love me enter
my giveaway if I didn't take off the word verification thingy. But I
have always had it off. And I double checked and it is still set to
anyone…So I am not sure what is going on?!!! Tho Thorry!