I had the best night reconnecting and making new friends at church! We had a Nights of the Round Table (An excuse to get together, eat, talk, connect, laugh, win prizes, you get the idea) The tables were round and thus the name…The seating was random so you were forced would be able to get to know new ladies. My round table totally rocked! We had 7 ladies ranging in age from early 21 to 85! 5 out of 7 of us were teachers in some way or another! The discussion was absolutely fantastic. I am energized and I feel such a connection. It was so similar to blogging and getting those amazing comments from colleagues that just brighten your whole day! Here's the only picture I took.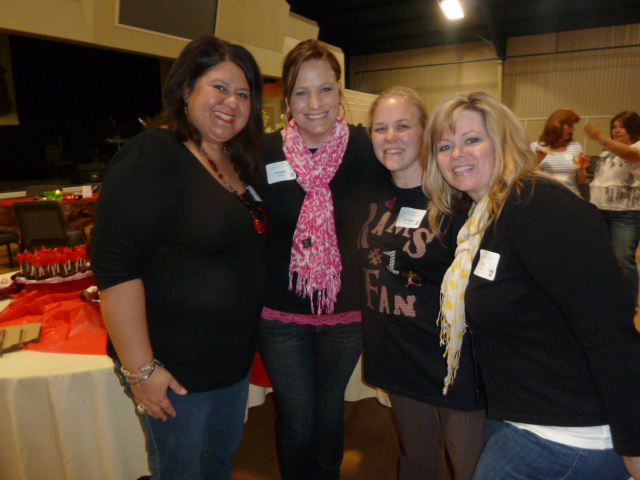 These women are in my life group that meets on Sunday nights. I am in the pink scarf. It would be better if it had gray giraffes on it like Kristina and Farley's…but it will do.
I wanted to share that because it just made me want to shout from the rooftops internet about how much having the support of other women, teachers, and friends, can change your perspective and fuel you with the insight and knowledge to get through anything you may be going through…and we are all going through something! So I just want to be sure to let you all know how much I appreciate every comment, follower, and blogger that I get the privilege to know…or virtually know…!!! I also appreciate when some of you email me with questions! I love getting to know you!
Also I got tagged and I think I was playing FREEZE TAG because I didn't respond very quickly and now I feel a little overwhelmed. So most importantly I want to thank these ladies for wanting to play tag with me!
Chrissy at Buzzing with Ms. B
Kara at Treadwells Math Adventures
Staci at Let's Teach Something
Jennifer at Herding Kats in Kindergarten
Anita At Mrs. Bremer's Kindergarten
Katie at Adventures of a 6th Grade Teacher
I am going to pull a Hadar (Miss Kindergarten) here and post a video instead of answering questions. Mostly because I don't have it in me to answer 12 X 6 questions…sorry I teach first grade…I don't know my 12s anymore. So please do the math yourself. It's the weekend…so if you don't want to do the math I grant you a math pass.
I am also posting this because my teacher singing video was brought up tonight at our ladies night at church. A third grade teacher at my table said they played it during a staff development thing for her district and she recognized it as me. I can't even believe that. I had a small movie star name in lights moment but…then I remembered how I sang on that…. and that brought me right back down to reality. But terrible singing or not…I did it for teachers because I know we can all relate. So I am going to post it here as a tribute to teachers young and old, elementary and secondary.
And you can unfreeze now…because I just tagged you!