Please forgive me because I won't be throwing 2984 pictures at you in this post. Turn on the mental images and let's go… * oh and it isn't about teaching so I will probably get cold feet and delete this post if I don't get some fast feedback! I feel vulnerable.
So here's the deal. I have been a fake blonde for EVER. In high school when my hair began to darken from blonde to light brown, I was a diver. Since I was in the chlorine daily and out in the sun daily my hair naturally started bleaching itself. (if bleaching itself and naturally can be used together in a sentence)
Anyway, I am Italian. My brother, mother, father, and grandparents have dark brown hair. I have dark eye brows…you get the picture…but I have kept my hair blond all my life. I let the brown show underneath because I am cool like that, but I have been a slave to the hairdresser for almost 20 years. (please don't do the math=I am oldish)
Well I last had my hair done before Thanksgiving so you can imagine the 3 inch dark roots I have going on right now. My daughter keeps staring and then telling me how brown it is etc. I sing black and yellow to myself in the mirror. I hate getting ready in the morning. I finally broke down and texted my hairdresser…but I really really want to tell her to make it dark brown. Not light brown. I want to go dark. I have been asking friends and cooworkers, check out ladies, drive thru people, and random strangers in the hair dye box aisle. (not kidding)
EVERYONE says keep it blond. WTH?!
I am afraid that I can't be right if so many people don't want the change. I know you don't know me and can't see me very well, but I don't know what to do…I need bloggy friend help. Ok I guess I am going to put a picture in here so you can see what it currently looks like. Then I will add a picture of what crazy thoughts I think I could look like with brown hair. Please tell me the TRUTH. Don't tell me to go brown if it isn't a good idea. But if it is a good idea then feel free to tell me I am right.
Is it spelled blond or blonde….my spell checker likes both and I may actually be blonde for not knowing.
me currently…bleh…feeling vulnerable.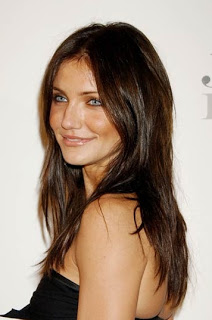 me when I walk out of the salon…I have green eyes…it could happen p.s. I want extensions but they aren't in the budget
ok friends. Please advise…