Farley beat me to the blog! So if you haven't heard I will give you the run down!
Table for 7
4 people showed up:
Farley-(yes ya'll! I was sitting next to the "Currently" Genius! among a million other things…)
Kristina-Teacher friend and blog stalker that I can tell anything too so we had to catch up on new things and old things as well as all things! Be watching for her to guest blog! (she isn't a blogger yet but it is a matter of time!)
Katie-ABSOLUTELY precious new friend and rocking blogger for middle school teachers! The Adventures of A Sixth Grade Teacher. She may be the sweetest person I have met in FOREVER. She drove far to meet us! I heart her!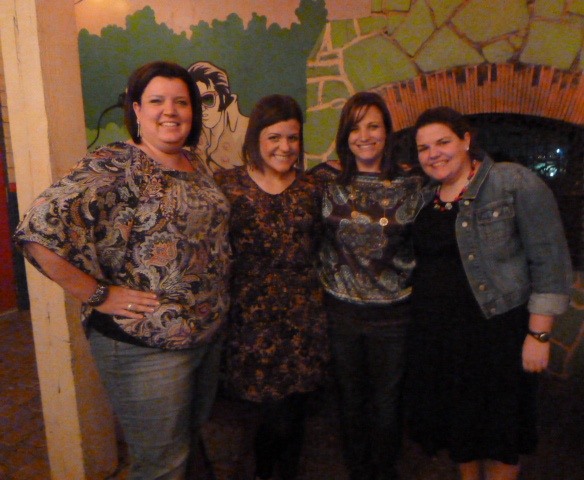 Farley, Kristina, Reagan, Katie
Farley and I got there early and I think we talked NONstop for 30 minutes. It was like a whirlwind and I knew her as soon as I saw her. Not even a hint of awkwardness. Old buddies instantly!
So here's the rest of the night:
Quite a few laughs, nodding heads, slapping hands on table in agreement, chips and salsa, more laughs, nodding heads, where are the rest of them? Is that one? She could be a blogger…oh no…not sitting at our table…
more laughing, constant chatter of all things teaching and other. Begging of Kristina to be a blogger.
Where are they? What time is it? She could be a blogger…oh…no guess not…
Let's go ahead and order I think we got stood up!
Insert food
…hours passing…As we practically interrupt each other to talk (ok that was just me)
To see the complete list of topics please visit Farley's Post.
We are going to see when Kristin from Teeny Tiny Teacher is coming to Texas to visit her twin who knows a thing or two about living in a great place called Texas!!! Then we are going to plan a Summer meet up! Stay tuned for my hair color and Farley sporting a scarf with giraffes on it.
Anyway, whether you are Texan or not you are always welcome to San Antonio to come talk about opposums, hooker boots at school, and EA kids talking smack the importance of blogging!