It was a tough few days being separated from sweet little cammy my camera. To be totally honest I was always with a part of her. But never all of her… camera, cord, and charged battery…so today all three of those important parts of her were together and in tact. whew.
Are you ready? Here we go! 🙂
Here's what I did in pictures step by step…
First I cut out matching felt hearts.
Then I got out a yarn needle (a dollar at walmart) and some cute heart buttons (also walmart)
I sewed a button on the front of a little heart and then started stitching around the two hearts That's my leg in front of the fire…ahhhh….I loved it there.
Then I stuffed some fiber fill or batting whatever you want to call it. (yup-it's at walmart too)
Here's the finished product! I made four little hearts total for my Sunday family dinner. My daughter loved hers so much that she wanted to make one too. Then she slept with the heart I gave her all tucked in her 11 year old hand. That's a life memory I will keep forever.
I ventured on to a big felt heart pillow made exactly the same way. This is similar to what my students will make for their families.
Here is how it looks stuffed…oh so sweet.
My dog is in heaven here with my lap and the fire. She also decided to lick the pillow a lot. I guess it's the felt??? So strange. Anyway…here's my mom and her hearts and animals sitting in my chair by the fire…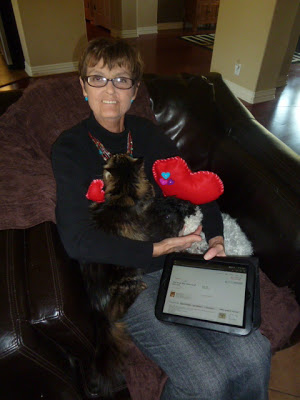 The animals like my mom a lot. She is filled with love and patience. I made her watch dance moms right after this. Poor sweet momma. (she hung in there)
Okay Now for Today!!! At School we had the culmination of our Ocean Unit. Students had to bring in an ocean animal project. We did all the research in class and they were supposed to bring in their ocean animal in any form to present to the class. I never imagined this coming in the door.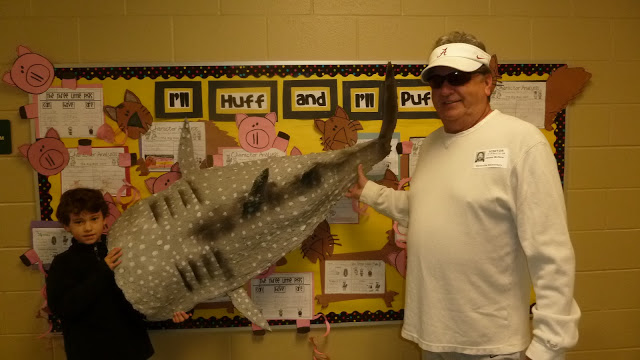 This is Carlie and the whale shark…It might possibly be actual size of a real whale shark. It's on the floor of my classroom. Probably scared the pants off our custodian after school!
Maddie brought the coolest jellyfish ever. It lights up and she even brought a tank to submerge it in!!! It was incredible. The jellyfish had gel in the top so it was totally realistic!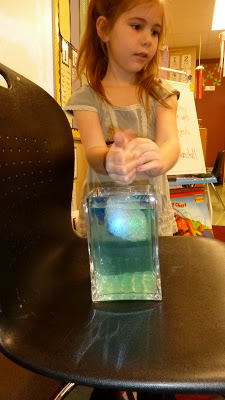 too bad you can't hear the ooohs and aaaaaahhhs from the class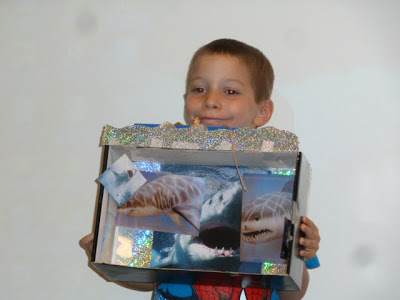 Little Robert brought a great white shark display. There's a lego fishing guy on top in a boat. Hilarious!
Each kid presented their knowledge of their ocean animal along with their project. I HAD to say there were also being graded for their listening skills…It's not easy listening to 20 ocean projects…especially when your turn is over.
Here's what my back counter looks like now.
In case you missed the huff and puff bulletin due to the enormous whale shark in front of it here she is in all her glory. Now we are on to the billy goats gruff. 🙂
Hello mini-lesson! big bigger biggest. fat fatter fattest. (it's in the book I know it is a bad word in first grade so we had to just talk about it and why the troll wants the fattest goat) Today we did the story elements cut and paste. It was so much easier now that we have already done one for the Three Pigs.
And finally I am all laminated and ready for my February Math Centers!!! And darn those stinkers for getting their math tub time taken away from them!!! They were all kinds of crazy on Friday last week and I told them we would have a week without math centers…so here they sit ready to go with no one to play them!!! These pictures are just to show you how I organize all my millions of math tubs. These are my February Math Centers. I have zip locs for the entire year in order in two file drawers. In each bag is all the contents.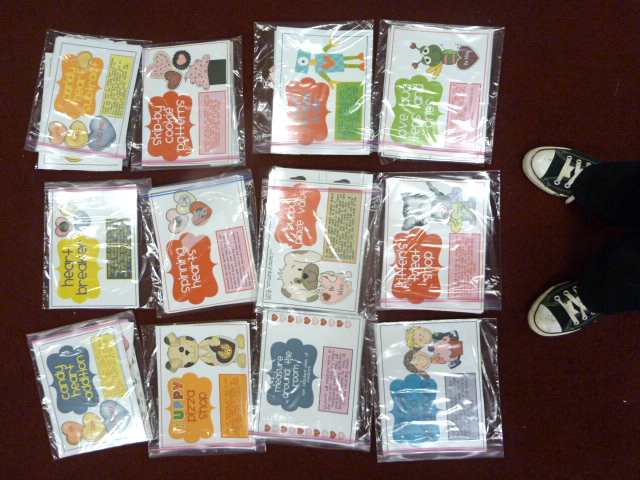 I wore chucks to school on a Monday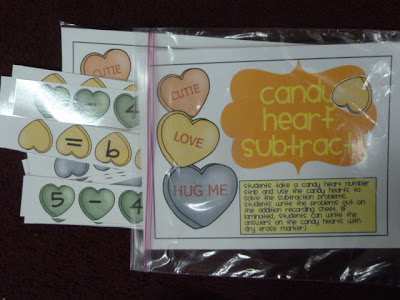 each baggie has the contents…just throw in the tub!
Click the picture above to check out Feb. Math Centers…12 centers for $6.
Now I just need to catch my class being really good and then reward them with getting their math tubs back!!!!!! (for my sake!)