I gave out a New Year's Freebie sample of both the language and math daily warm ups and since then have had requests to make more! So….here they are! I can't wait to add them to our day. It will be much needed skills practice!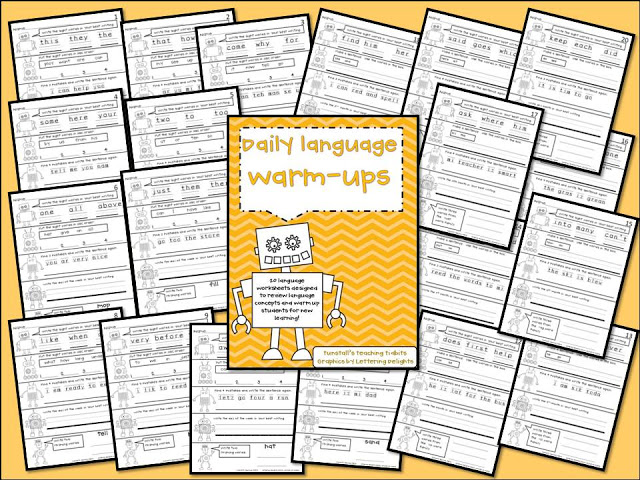 The skills on these sheets include:
sight words
handwriting
editing simple sentences
days of the week
months of the year
ABC order of simple sight words
word families
rhyming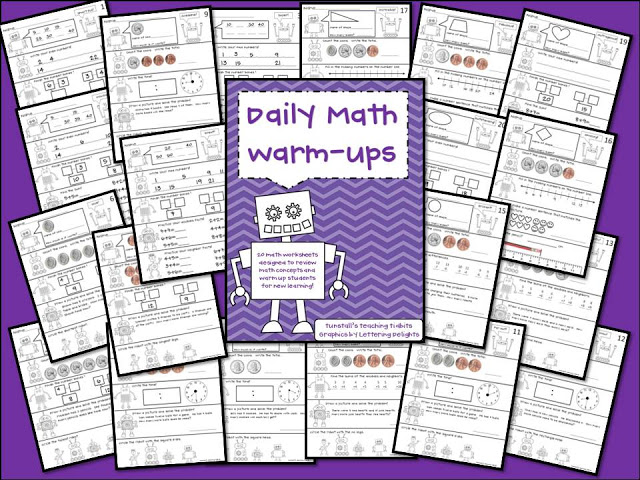 The skills on these sheets include:

coin names

coin value

shape names

counting sides of shapes

telling time to the hour and half hour

skip by counting

number line

measurement

addition to 20

subtraction to 20

number bonds

story problems
They can be used as a morning warm up, an extension activity, homework,
or seat work.
These sheets can also be projected
on an elmo or smartboard and reviewed whole class.
Now that I have lived a day in a lot of your shoes, I am wondering what you did on your day off?
I woke up early and ran 7 miles! I was totally feeling my music and just kept going. I ended up running to the town water tower and back. It's hilly and it was misting. It was gorgeous except for the scattering deer and squirrels that did not appreciate my elephant hooves pounding the pavement and my off key singing and heavy breathing. What music do you run to? Today I had Gavin, Justin Timberlake, Cake, Kings of Leon, U2, Kesha, Mary J Blige, and Lady Antebellum…among others…It took me an hour and a half! blah.
Also I want you do meet a new blogger! She teaches in my district and we are planning to meet up on Friday night for dinner! Please visit her and give her love on her brand new blog! It's called Glitzy in First Grade! Thanks to those of you that already made your way there to say hi yesterday when I facebooked about her! wow!! I was so happy to see you there!
And then after my run and shower I looked around at the GIANT MESS we have created this weekend doing absolutely nothing (how does that happen?) and decided to shrug it off and blogstalk…but my cell phone rang to let me know that a house showing was scheduled. The four of us started cleaning and running around. There may be some things stashed in places that will NEVER be found again. We mopped, lit candles, vaccumed, made beds, hid stuff, shoved stuff, scrubbed, shined and jumped in the car only to hide out about two houses down. The showing went really well. We are top of the list according to my agent!!! We have had many many many showings and with all the stress of getting it perfect it is such a let down when you get no feedback. This is a great milestone for us to know that our efforts mattered!
Fingers crossed, we can relax now and enjoy the rest of this day off. I am thankful for a sparkly house…at one point my husband asked if I sometimes just say we have a showing to get everyone off their buns and cleaning…(what a great idea!!!)
I am really excited about my daily language and math and hope you are too. The first three bloggers that comment will get either the language or the math for free. Be sure to leave me your email and which one you would like!
Much love friends!!! I am going to go play with my hair and then cut out my February Centers!