Hey Friends!!!
I am sad to say goodbye to this lovely weekend, but there's nothing like celebrating the 100th day on a Monday…My teacher bag (yellow bird) is about to explode, she's so full…
Anyway, I am halfway through my robot daily language and math review packets. I know a lot of you are using them so I wanted to be ready for you when you get to the end of those daily review packs!
Here's the next set!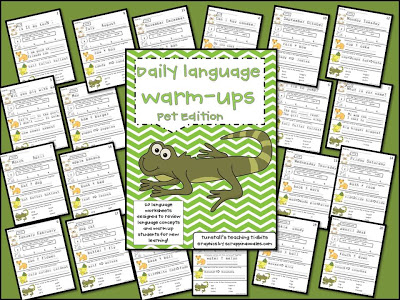 I only have the language set done so far, but now I am working on math. I hope to have it done by next weekend! I didn't want you to feel like you were left hanging!
Click the store buttons to check out the language warm-ups pet edition.