Today we made one of our parent gifts—the sock snowman! My class totally thought I was running a build a bear factory right in our room!

Here's your shopping list for your sock snowman-I get everything at walmart in one trip-
1 bag (10 pairs) of plain white tube socks. (in men's size) makes 20 snowmen
5 pound bag of rice. I used 3 lbs today and wished I had more
1 large bag of batting or white filling for the stuffing (craft sewing section)
If you want them stuffed more than mine you may want 2 bags. (it's cheap!)
assorted colors of buttons
assorted colors of felt cut in strips for scarf
pom poms
googly eyes
1 orange felt sheet cut in small carrot (triangle) shape for nose
rubberbands -2 per sock
jingle bell for neck (optional)
Here's the step by step
(Two students work as a team)
Station 1 Students put 2 dixie cups full of rice in the bottom of their sock. It gives it stability and weight for sitting up. I love feeling the rice on the bottom for some reason!!!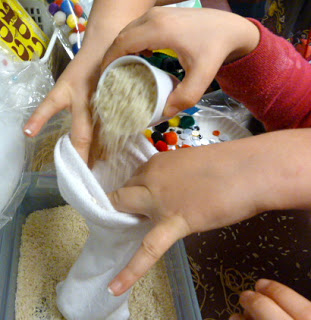 Station 2 fill your sock up with batting. half to 2/3rds full…It's always different student to student. I sometimes tell them to keep going or to take a little out but usually they stop in about the right spot.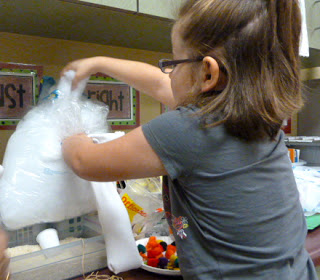 Bling it up station
They pick their scarf, pom poms, & 3 buttons , eyes, nose and bell. It all goes on a little plate with their name so if you get backed up you can just stack the plates and call them over when it is their turn.
(no picture-but everything set out for them to choose from)
Rubberband your snowman where the scarf will go and at the top of the snowman's batting to make a head.

Roll down the sock to make a mock beanie on your sock snowman's head.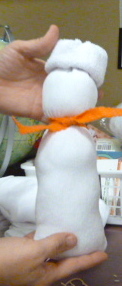 tie on the student's scarf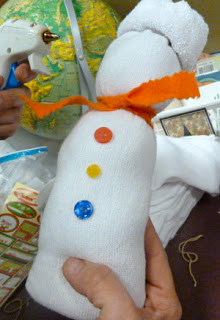 Glue gun the pieces on while the student ooohs and aaaahs at their new best friend at Christmas! They always have someone in mind that they can't wait to give it to.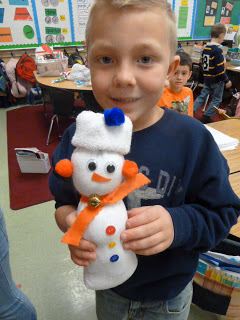 While we had our snowman factory we also made splat the cat! It kept everyone so happy and so busy!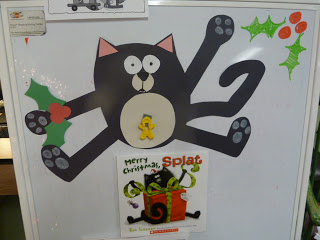 We read Merry Christmas Splat the Cat. We LOVED the part where his little sister looks at him sarcastically and says REALLY?????? I think they may have heard that from me before…just maybe. We died laughing. Ok I died laughing. Then they did too.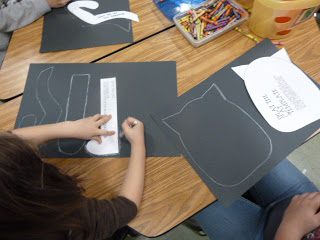 I modeled how to trace and assemble Splat from all the templates and then I set them free to work and they were so into it!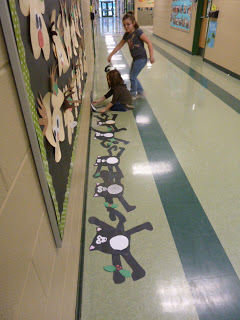 Because they were so big we set them out in the hall under our bulletin board. We got LOADS of compliments from the passersby!!! It became our little thrill of the day. A few teachers begged for the templates because their classes went nuts when they saw Splat. Two classes are making him tomorrow! That's exciting!
If you want Splat and a few other of my December projects click here to get it at TPT.
And as one of my students said today….This is just so darn cute Mrs. Tunstall….
I wish every week could be full of art and Christmas cheer!!!!
Jenn at Finally in First and Jessica at My World Made by Hand are both having Christmas Gift Linky Parties and I am linking up to share ideas and hopefully get a couple more for next year! See you there!!!