Many of you know how much I enjoyed teaching all the Christmas related crafts and lessons in December, but when all my bloggy buddies were posting about their Christmas Traditions around the world —and for some, the LACK of ability to even mention the word Christmas in their classrooms, I began to worry that I was not giving my students enough knowledge of other traditions. As I focused on Santa, reindeer, and all the FUN of a Merry Christmas I avoided my guilt by telling myself that each child in my classroom celebrated Christmas and no one spoke up and told me differently. So there. It was ok to teach them using the fun of the holidays to spark interest and keep their attention… Right? Right…UNTIL…..
One of my boys (we'll call him BOY) asked me (probably during one of my fabulous Christmas lessons), when we would be learning about the Star of David. Then he asked me if I light the candles at my house…SHUT THE FRONT DOOR…I started to panic and asked him in a slightly higher and more shrill voice than normal, if he was celebrating Hanukkah at his house. BOY nodded and said when are we going to learn about it? I started thinking about the fact that the last week before vacation was half over. I had sent home Christmas themed word work, writing, math, science, and holiday traditions for the last two and a half weeks. We were seriously seconds from making our last part of our CHRISTMAS gifts…the Christmas Cards. And now I learn this valuable piece of information? NOW? It's ok…I can handle this. I can handle anything. I have been doing this for 14 years. It's all going to be OK…
So the Poem on the card that the students had to write was:
Roses Are Red
Poinsettias are Too
Merry Christmas
I love you!
I thought quickly and changed his to read:
Roses are Red
Poinsettias are Too
Happy Hanukkah
I love you!
Brilliant right?
How do I come up with this stuff? Must be my liberal studies degree….
Then I switched up my Christmas lesson the next day for a Hanukkah lesson highlighting BOY'S special family traditions. BOY was beaming with pride. I went just a tad overboard (it could have been the teaching guilt) But that boy was celebrated! (at least for one lesson out of 15 days of straight Christmas mayhem)
On Friday when all the students were coming in for our last day and Christmas party, in walked BOY'S mom carrying a platter of cookies and BOY had a gift for me in his hands. I was amazed at their generosity considering all things and I quickly went up and thanked her and then I said, " I had NO IDEA until Wednesday that BOY is Jewish" She looked at me and cocked her head sideways. Then she said, "That's because Boy isn't Jewish." UM…what? "But he asked me about the Star of David." "He said you lit the candles." She said, "We are not Jewish." "None of that is true." Then I blurted out…"Well your Christmas card says Happy Hanukkah!" Then we just looked at each other, looked at BOY, and started laughing. I thanked her again. Stared down BOY as I shook my head and began my Christmas party. (at this point BOY will for certain have total holiday identity crisis for HIS ENTIRE LIFE thanks to me)
Later when school was over I texted BOY'S mom again to thank her for the generous gift and the Christmas cookies. Then I said Happy Hanukkah!…she texted back that it was all they could talk and laugh about at her office all day.
S-H-U-D-D-E-R…..I have relived that whole scenario just a few times over the last few days…just.a.few.
On another note!!! (please, let's change the subject!)
Here's what we did at home yesterday. I made the kids take pictures and then we went down to the Riverwalk for our traditional Christmas picture with the big tree downtown.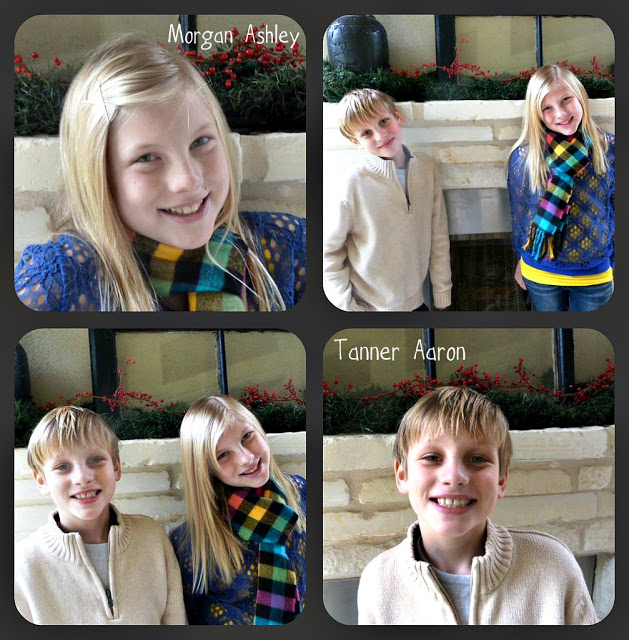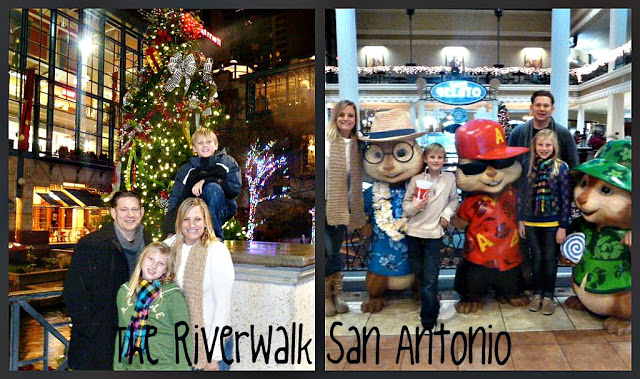 Happy Hanukkah and Merry Christmas!