I actually made a list of all the things I NEED want to blog about tonight!
First off, I have to be a tad bit NON-teachery because it's almost the end of my vacation (going in to school tomorrow) and I want to savor every minute!
My SIL (sister in law) gave my kids each a blanket for Christmas and as soon as they opened them they freaked and wrapped themselves in it's amazing warmth and coziness. The family members that did not receive one of these blankets started putting their orders in immediately. Seriously! So in case you are in need of one of these incredibly warm and beautiful afghans yourself, I wanted to share my SIL's link to her blog and her etsy! I took these pictures today of my family enjoying their snuggly afghans.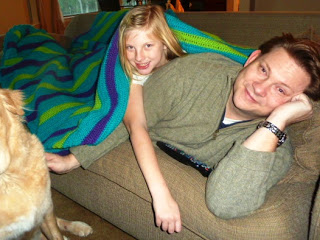 Daugther and Hubby when he came home from work. He picked her up and got under the warm coziness! She didn't mind a bit!
Genius son writing code with his blankie. He LOVES this blanket almost as much as hacking into accounts and fixing HTML. jk he didn't actually do it.
To check out SIL's blog and etsy click HERE!!
Secondly, while I was snuggling up and enjoying what feels like my last day off because you and I know that once you go in to school the mind won't turn it off…(long run on about to get longer) I was catching up on all the posts I hadn't read using my new Christmas present the HP touch pad. Well you have to understand my current technology unlike many of you out there is this thing pictured to your left.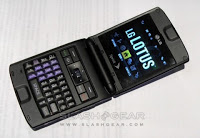 yup I rock a flip phone that is not touch screen. I can't even send pictures, have music or anything cool because we don't pay for internet on our phones. So I have been mortified if my phone rings and I am forced to pull it out of my purse and wait for it…flip it up to talk. I am the only teacher at my school without an iphone or ipad or some sort of fancy android type thingy. ANYWAY…I am thrilled beyond belief to have my new fancy portable blogging device touch pad. BUT I am NOT friends with it yet because when I type using it I get so frustrated. If I want to say that my dog loves dog food. It will decide that what I really wanted to say was ballerinas are bulldozing with machine guns. I don't think it likes me or that we are getting along. I keep trying, but so far I can't even find a rhyme or reason about what words it decides to pick. Does anyone know anything about this? Just know that when I leave a comment in the future, I really don't mean to tell you that birds are dancing in refrigerators. What I mean to say is how much I like your post and you. There…let's just call that a warning for anything I may write to you in the future.
Ok I feel better now…NEXT…
I am slowly gathering some items for January in my cart at TPT, but I want to know what others are picking up too. (!!??) I have the cardstock and full cartridges of ink ready and I am going to school tomorrow so hurry up and tell me what you are using!! I mean I would love to know what you have found to be useful! I am so excited that people are digging my Emperor's Egg Book Study, Winter Reading Response Pages and my Art and Writing Pack for winter! THANK YOU!!! I hope it makes your life much easier!
Here's what I've got so far for next week
Set Expectations ALL OVER AGAIN like it's the first day of school
Have a class meeting and make an I KNOW ALL ABOUT FIRST GRADE Expectations Chart
Introduce a new class incentive for behavior for buy in. Maybe I will make something and post it. Like Penguin Points or get 10 penguin eggs to hatch…I am not sure. but I will keep pondering. and finally, work their little hands to the bone so they have no time to blow it with their behavior. ok there…done.
If I do anything cool in my classroom tomorrow I will take pictures and share. Nana's got the kids so I am totally flying solo and hope to get TONS laminated while no one is looking done! Also a student gave me an office depot gift card for Christmas so I am going to buy paper and smelly markers. Sad that I have to buy my own paper, but if you remember paper is like crack at my school. It's VERY hard to come by, makes you skinny and hyper, and messes up your life bad. ok just the first part.
If you made it to this point, then monkeys are frying artichokes on skates. (just checking to see if you can handle my future blog posts on my touch pad)