This may be the first time I am sitting down since Thursday at 12:22. As my first graders were cleaning up our math tubs (talk about the most chaotic 3 minutes of the day), my classroom phone rang. I was shocked that the call was put through during teaching time. Turns out it was the school nurse from my daughter's school with a request for me to come get my upset and injured 6th grader. I scrambled to find someone to cover my class and then made a mad dash to rescue my daughter. 3 and a half hours later the x-ray showed that she separated her clavicle ligament from her clavicle. So LOTS of TLC for my baby girl and a moment for me to mourn the independence I depend on from that sweet girl. I remember almost sprinting through the store to grab a year's supply of ibuprofen and then dashing home. I had to hurry because much to my dismay and intestinal upset, I had an appointment with a house stager. Yes, about two weeks ago and the most unperfect time, we decided to sell our home and move closer to our places of work/school.
Anyway, back to my ailing daughter and stress over stagers entering my home and judging my every nook and cranny…yikes!!! I secretly prayed for an old frumpy Betty Crocker type that would call me sugar plum and tell me that my house was perfect without looking at it too closely, but then I had to laugh to myself because anyone who is in the home staging business has GOT to be type A…I mean come on.
As the dogs barked to announce the arrival of my home stager, I realized last time I had looked in a mirror was about 5:15 am when I finished getting ready in the morning. I had on a school t shirt, jean capris, and some boring slip on shoes, My hair was almost a perfect school marm low pony in the back, not a spec of make up left. I just sighed and answered the door. It wasn't one stager, it turned out to be 3 gorgeous Texas beauties decked out and ready to judge my entire house room by room. I cringed internally and sucked it up with a smile and a handshake. I felt like an ugly duckling and wished I could just have a do-over.
The next hour and a half was a total blur of stress and joy and everything in between. It was the most wonderful experience! OH. MY. GOODNESS! At one point I was jumping up and down and screaming at the cuteness. They used my stuff and just made it look fantastic!!! They were very complimentary and we oohed and aaahed as they moved things around. I have some pictures, but not nearly all yet. The house has some areas that are perfection, and then some where it looks like disaster relief should be showing up any second.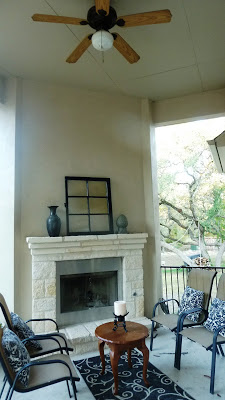 I painted the window pane black today.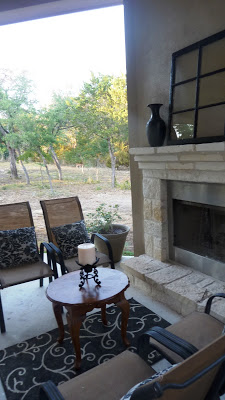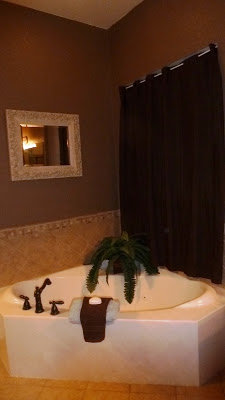 I also painted the chocolate walls today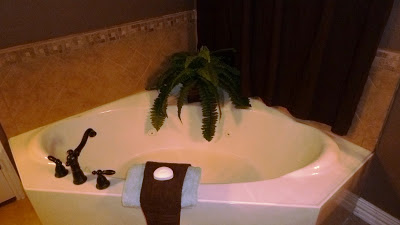 Oh I will miss you my jetted bathtub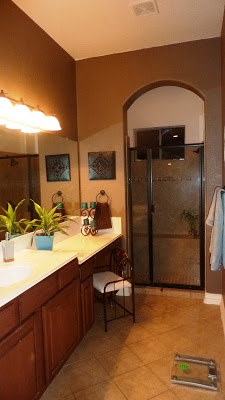 I planted the plant and spray painted the candle holder and little chair a chocolate brown today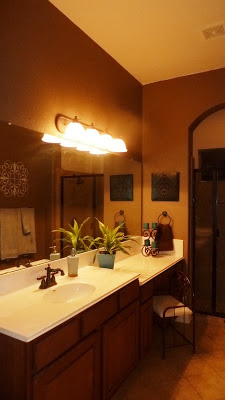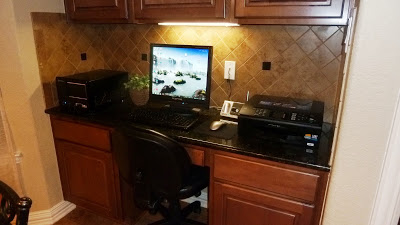 This is where I am sitting now. It's clean and dusted….I am almost giddy about it.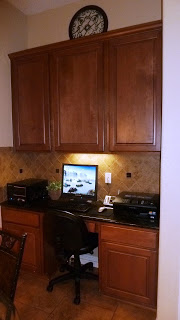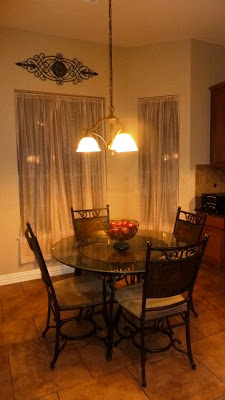 breakfast nook, aka dinner table…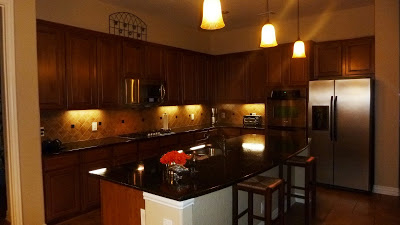 This is the lighting I am supposed to use for showing the house. It seems dark in this picture, but it looks pretty in person. Notice the extremely cleared off counters…that's not easy. I mean who lives like that!!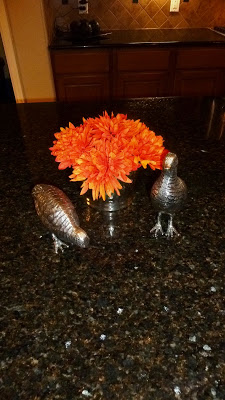 I was so proud that the stagers loved my birds and flowers. SO PROUD.
I did stage the front porch and I have lots of good house pics from before the drought, but the thought of finding those pictures and getting them into this blog post, is making my eyes tear up…oh wait, that could be all the bleach, paint, and surplus chemicals I have been knee deep in today.
I was going to apologize that this blog post isn't about teaching, but I think I will just leave it at thank you for taking the time to listen, and come into my house. I am off to watch TV with my favorite girl in a sling….
Didn't mean to neglect my son or husband in this post. They are being super helpful and wonderful. I just haven't spent much time with them! Tomorrow we plan to tackle the garage. It isn't too bad, and once that is done we can start moving out the all stuff we want out of the house. ok now I am seriously going to get my tired body onto the couch…